Clock ticks in Jahi McMath case; experts say court clash went too far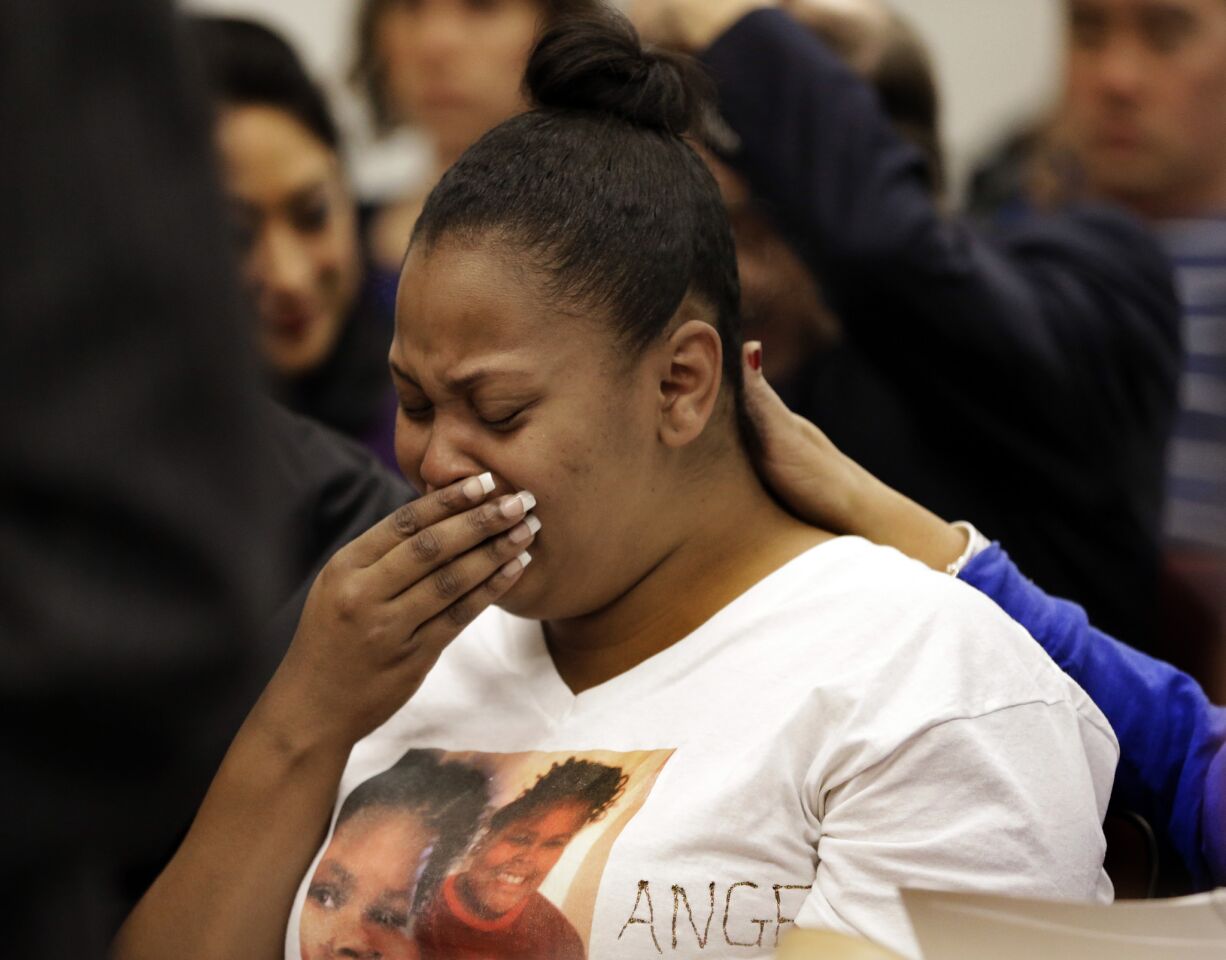 Nailah Winkfield, mother of 13-year-old Jahi McMath, cries before a courtroom hearing regarding McMath, on Dec. 20, 2013, in Oakland.
(Ben Margot / Associated Press)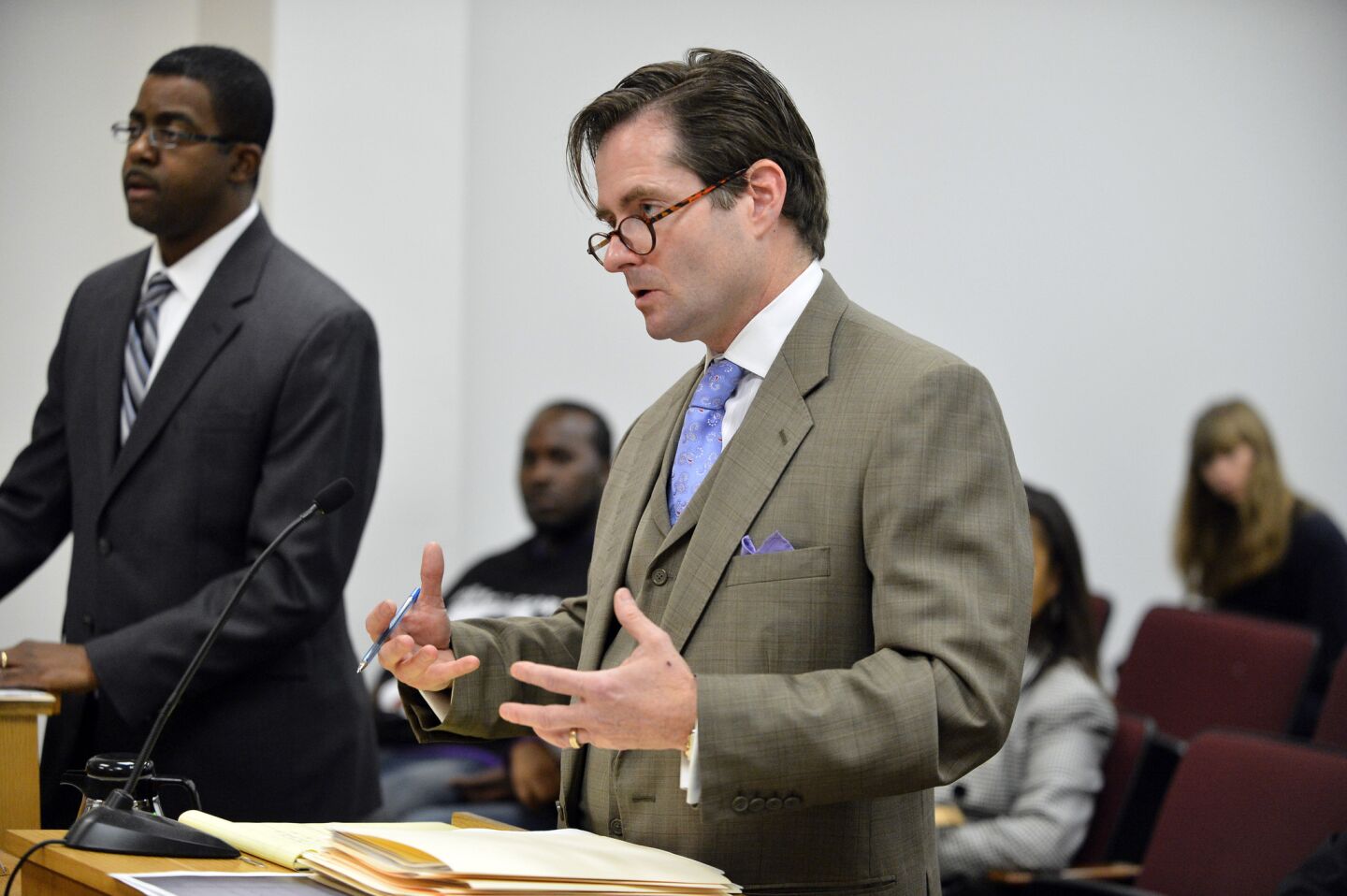 Christopher Dolan, attorney for Nailah Winkfield, mother of Jahi McMath, speaks during a court hearing in Oakland on Dec. 23, 2013.
(Kristopher Skinner / Associated Press)
Marvin Winkfield places his arm around his wife, Nailah Winkfield, mother of 13-year-old Jahi McMath, as they wait outside a courtroom Friday.
(Ben Margot / Associated Press)
Omari Sealey makes a statement to the media on the condition of his niece Jahi McMath on Monday.
(Marcio Jose Sanchez / Associated Press )
OAKLAND — As the clock ticks toward a 5 p.m. deadline for Children's Hospital Oakland to remove a 13-year-old girl deemed brain-dead from a ventilator, experts in medical and legal ethics say there are no "gray areas" in the case and it should never have gotten this far.
Furthermore, they warn, if the family of Jahi McMath were to find a facility to accept her, the hospital would set a troubling precedent if physicians there were to surgically insert breathing and feeding tubes into the young girl as her distraught relatives have requested.
"I think they have to be adamant that they will not begin any new technology on a corpse," said Arthur Caplan, director of the Division of Medical Ethics at NYU Langone Medical Center. "If they don't, I think it's disrespectful to the dead in a fundamental way, and it opens the floodgates for other people to say, 'Oh, you don't really know when we're dead, do you? So please make more efforts for my loved ones.' "
There has been broad consensus for decades that "irreversible cessation of all functions of the entire brain, including the brainstem" constitutes one of two legal definitions of death. (The other is "irreversible cessation of circulatory and respiratory functions.") A Harvard Medical School committee first put forth the standard in 1968, and in 1981 a presidential council proposed a uniform statute to be adopted nationwide.
It was endorsed by the American Medical Assn., the American Bar Assn. and the National Conference of Commissioners on Uniform State Laws, which published it as the "Uniform Determination of Death Act." California has such a statute. Another presidential council that took up the issue in 2008 reaffirmed that "whole brain death" is legal death.
Although, in most cases, death comes when the heart and lungs stop working, in others — like Jahi's — death comes with the cessation of all brain activity, but a ventilator can provide apparent signs of life.
"A beating heart, warm skin, and minimal, if any, signs of bodily decay — are a sort of mask that hides from plain sight the fact that the biological organism has ceased to function as such," says the December 2008 white paper by the President's Council on Bioethics.
Rebecca S. Dresser, professor of law and ethics in medicine at Washington University in St. Louis, served on the council.
"As long as the medical consensus is that the patient meets the standards of whole brain death, then that patient is legally dead and there's no obligation to treat a dead body," Dresser said.
According to court records, Jahi underwent a complex tonsillectomy and was declared brain-dead three days later, on Dec. 12, after she went into cardiac arrest, lost oxygen to her brain and suffered extensive hemorrhaging. Two physicians at Children's Hospital Oakland and three independent physicians requested by the family declared Jahi brain-dead.
An Alameda County Superior Court judge last week, meanwhile, ordered yet another independent medical assessment by Dr. Paul Fisher, chief of pediatric neurology at Stanford University. He concurred. Jahi was unable to breathe on her own, and tests showed no blood flow to her brain and no sign of electrical activity.
Dresser called it "completely understandable that given the circumstances of her brain injury that there would be suspicion about the hospital attempting a coverup" and that "certainly delaying for some period in order to verify that the patient meets the standards of whole brain death or legal death" was warranted. But "whole brain death is death. It's not a different state from other kinds of death. That's the consensus view."
The advent of mechanical ventilators complicated the understanding of death, and Dresser said there have been cases where people who are legally dead have been kept alive for some time on a ventilator. None have experienced any resumption of brain function, but there have been cases where pregnant women deemed legally dead were kept on a ventilator until a live birth of the unborn child was possible.
"We wish to acknowledge that Jahi's case, and our stance regarding her right to life, and her mother's right to make decisions regarding her child, has stirred a vibrant, sometimes polarizing, national debate. This was never our intention," the family said in a recent statement. "We have our strong religious convictions and set of beliefs and we believe that, in this country, a parent has the right to make decisions concerning the existence of their child: not a doctor who looks only at lines on a paper, or reads the cold black and white words on a law that says 'brain dead' and definitely not a doctor who runs the facility that caused the brain death in the first place."
Caplan, however, said whatever debate has been spurred has stemmed from misunderstanding. Some coverage has referenced the high-profile case of Terri Schiavo in Florida. However, Schiavo was in a permanent vegetative state, and was showing brain activity. She had not experienced whole brain death. Furthermore, coverage of seemingly miraculous cases where people "wake up" from lengthy comas can also mislead.
"Those are all cases where someone has woken up from a coma, but all 'coma' means is 'unconscious with the capacity to wake up,' " he said. "They have brain activity."
Caplan said he is sympathetic to the family and has seen many families struggle to accept brain death. The terminology can also spur hope, he said, opening the doors for the belief that brain death "means kind of dead or sort of dead or almost dead."
"The terminology and the desire of the hospital to be kind and supportive created a kind of delusion on the part of the family," he said. "It's out of that swamp that they got into the courtroom. Heading to court was where this really began to go off the rails."
Children's Hospital Oakland has brought in crisis public-relations expert Sam Singer to handle the issue. He declined to tell reporters what the hospital would do at 5 p.m.
"The court has said at 5 p.m. today that the hospital will be allowed to unplug the ventilator, which is the only thing that is keeping Jahi McMath's heart beating," he said. "There are no winners in this very tragic case."
ALSO:
Man killed at Marina del Rey complex was a 'courtesy' patroller
Man accused of prank-calling NBA, NFL coaches pleads not guilty
Man fatally struck by two vehicles in Huntington Beach is identified
Twitter: @leeromney
---
The stories shaping California
Get up to speed with our Essential California newsletter, sent six days a week.
You may occasionally receive promotional content from the Los Angeles Times.