Civil rights activist Jesse Jackson talks family separations, Trump and November elections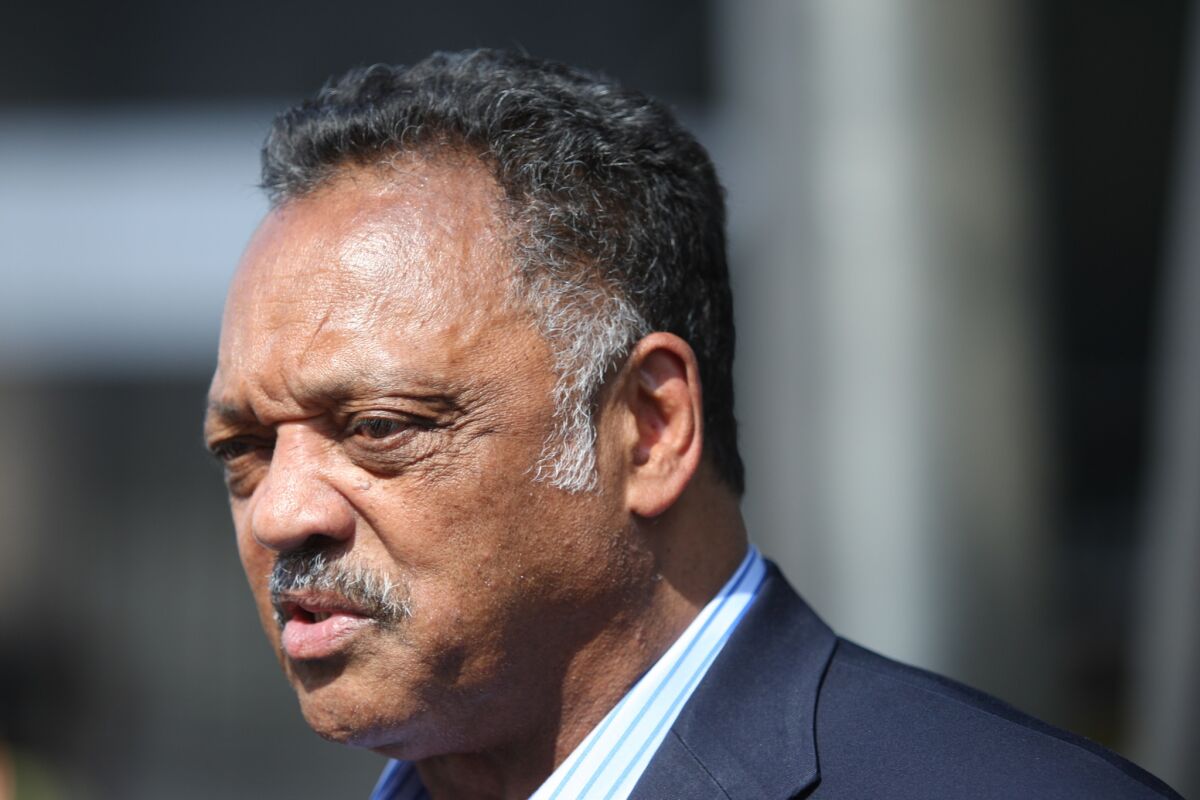 In a wide-ranging interview with The Times, civil rights activist Jesse Jackson criticized the Trump administration's separation of immigrant children from their parents or guardians under its "zero tolerance" border policy.
"The whole world is watching us," Jackson said. "The children have lost, the parents have lost, but we've lost moral authority in the world. We're less able to tell Europe or anyone else now about human rights and immigration."
As for the November elections, Jackson said he believes "Democrats will take the House."
"If we win the House and the Senate, it will alter some of the unilateral executive orders that Trump is unraveling," he said. "We wait for November the 6th with bated breath."
Jackson was in San Bernardino County this week calling for the disbarment of the district attorney's office's lead gang prosecutor, Michael Selyem, who was placed on administrative leave after vitriolic rants targeting Rep. Maxine Waters (D-Los Angeles), former First Lady Michelle Obama, Mexican immigrants and the victim of a police shooting.
The San Bernardino Sun reported that Selyem, who joined the office 12 years ago, wrote of Waters: "Being a loud-mouthed c#nt in the ghetto you would think someone would have shot this bitch by now…."
The Sun also reported that Selyem got into an online argument over the police shooting of a civilian, writing: "That s—bag got exactly what he deserved.… You reap what you sow. And by the way go f— yourself you liberal s—bag."
Jackson said he was disturbed by the verbal attacks made against Waters.
"I've been very much involved in the struggles led by Maxine and the attacks on her, which have been growing," Jackson said. "We think that Maxine Waters deserves to be protected, and her voice is essential in this time."
In a news conference Thursday, Jackson characterized the attacks as an "acid raid" and stated that there is an "ugly climate of racism and violence toward black people and brown people and women."
"What makes America great, in part, is we're a multiracial, multicultural … society," Jackson said. "We're now threatened by racial polarization, ignorance, fear, hatred and violence."
Twitter: @Brittny_Mejia
The stories shaping California
Get up to speed with our Essential California newsletter, sent six days a week.
You may occasionally receive promotional content from the Los Angeles Times.