Judge rejects panel's bid to recover documents from L.A. Times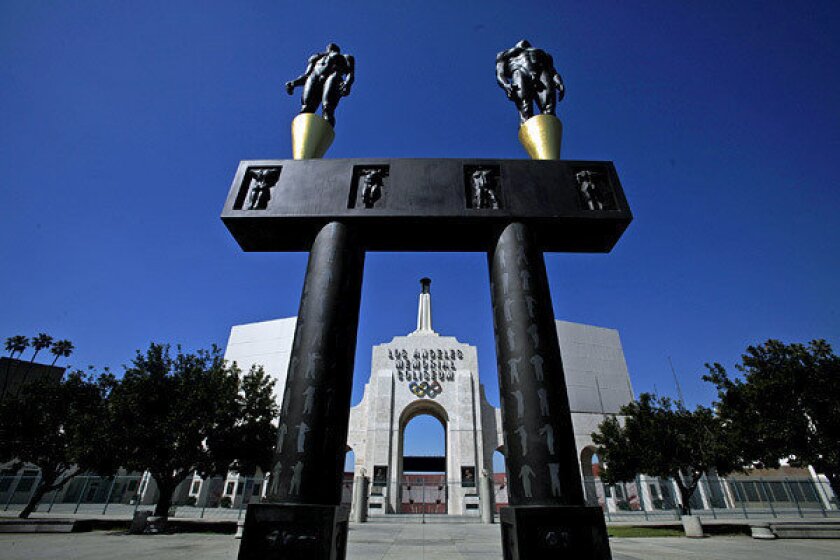 A Superior Court judge on Friday denied an emergency motion brought by lawyers for the Los Angeles Memorial Coliseum Commission seeking to recover documents sent anonymously to a Los Angeles Times reporter.
Attorney Deborah J. Fox, who represents the commission, said that the approximately 100 pages of emails sent to The Times contained privileged attorney-client communications. In addition to The Times, the documents were sent to Gov. Jerry Brown, Los Angeles Mayor Eric Garcetti and other public officials.
Judge Luis A. Lavin called the motion "grossly overbroad," and said Fox had given "no evidence whatsoever," that what was contained in the packet was protected under attorney-client privilege.
DOCUMENTS: Read the Coliseum e-mails
"The mere fact that you have attorneys and clients communicating does not mean there's attorney-client privilege," said Lavin, noting that he had not been given a complete set of the documents. "You could be sending an email about a birthday party or what you're doing the next day."
Lavin added that he had no way of knowing who sent out the packet, and that it could have been an official who waived attorney-client privilege by distributing the documents to third parties.
Fox said the potential publication of the documents' contents was not "the dominant issue." Rather, she told the judge, "the integrity of this system is really at issue here."
Lavin also rejected a request from the commission that attorneys from The Times and a nonprofit organization be barred from litigating a public records lawsuit. The Times and Californians Aware sued the commission, alleging that it had violated state transparency laws by negotiating a lease with USC for the landmark stadium behind closed doors, and that the commission failed to provide documents requested by The Times under California's public records act.
Commission attorneys had unsuccessfully argued that lawyers for The Times and Californians Aware had read the emails in question and were therefore "tainted" and shouldn't be involved in litigating the matter.
Attorney Kelli Sager, who represented The Times, wrote in an email after the hearing that the move was "another heavy-handed attempt by the Coliseum Commission to control The Times' news reporting."
She added, "We are pleased that the Court rejected this latest effort by the Commission to restrict the public's access to information about its conduct. "
Fox did not immediately return a call for comment.
ALSO:Marina del Rey adjusts to Russian billionaire's mega-yacht
Blood tests available for South L.A. residents near battery recycler
Move to recall Bob Filner was progressing swiftly when he resigned
Twitter: @jillcowan
---
The stories shaping California
Get up to speed with our Essential California newsletter, sent six days a week.
You may occasionally receive promotional content from the Los Angeles Times.