No new charges for man freed after 34 years on wrongful conviction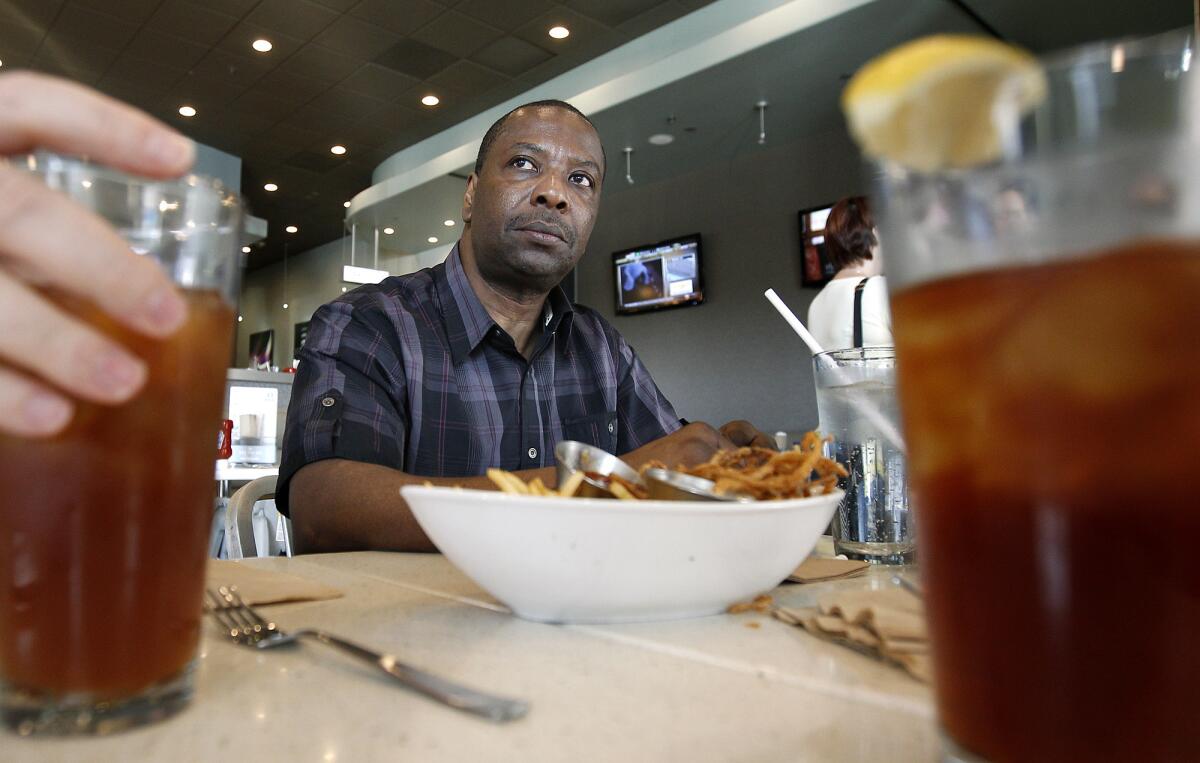 Prosecutors said Thursday that they won't refile charges against Kash Delano Register, a Los Angeles man who spent more than three decades in prison for a murder conviction that was overturned by a judge last month.
Register served 34 years behind bars in connection with the 1979 killing of an elderly man in West Los Angeles. He always maintained his innocence, and in November he was released from prison after attorneys from Loyola Law School's Project for the Innocent argued that a key witness in the case had lied. They also said police and prosecutors had suppressed evidence that would have helped Register's defense.
The Los Angeles County district attorney's office had the option to retry Register or appeal Superior Court Judge Kathleen Mader's decision to throw out the conviction. During a short court hearing Thursday morning, prosecutors said they were dropping the case.
In a short statement to the court, Register said: "Thank you for giving me back my freedom."
Afterward, he gathered outside the courthouse with a group of family and friends and a gaggle of attorneys and law students who worked on his case.
"It's over with," he said, squeezing his mother, Thelma. "Now I just want to move on."
"It's been a long road but there's no road that doesn't have an end somewhere," his mother said. "And it ended. Today is the end."
Register says he was at home with his girlfriend one afternoon in April 1979 when 78-year-old Jack Sasson was shot five times in his carport. Brenda Anderson, a neighbor of Sasson's and a high school classmate of Register's, told police she heard gunshots and saw an African American man she later identified as Register sprinting from the scene.
He was sentenced to 27 years to life in prison, despite little physical evidence linking him to the crime and the fact that a murder weapon was never recovered. Each time he appeared before the parole board, he refused to admit guilt.
In 2011, one of Anderson's sisters, Sheila Vanderkam, came forward with a new story. She said she and Anderson had heard gunshots the day Sasson was killed but hadn't been close enough to get a good look at the shooter. She said that she expressed her doubts to police at the time but that they threatened her and told her to stay quiet.
She took the stand in a hearing on the case last month, along with Anderson, who seemed to recant her testimony, saying the shooter "may or may not have been" Register.
Register's attorneys say he may seek compensation for the wrong conviction. In the month since he has been out of prison, he has gotten a job, told his story to the congregation of a local church and, friends say, started dating.
On Thursday, he was the recipient of hug after hug, including a big one from Brian Banks, a former standout football player from Long Beach Polytechnic who spent five years in prison before his rape conviction was overturned.
"I know what it is to be behind bars for something you didn't do," Banks told Register. "I don't know what it feels like to be away for 34 years. But you're free now. And you're home."
ALSO:
Nicaraguan man sought in connection with Laguna Hills homicide
Mega Millions jackpot surges to $425 million for tonight's drawing
Deputies posed as students for Riverside County school drug busts
Twitter: @katelinthicum
Sign up for Essential California for news, features and recommendations from the L.A. Times and beyond in your inbox six days a week.
You may occasionally receive promotional content from the Los Angeles Times.