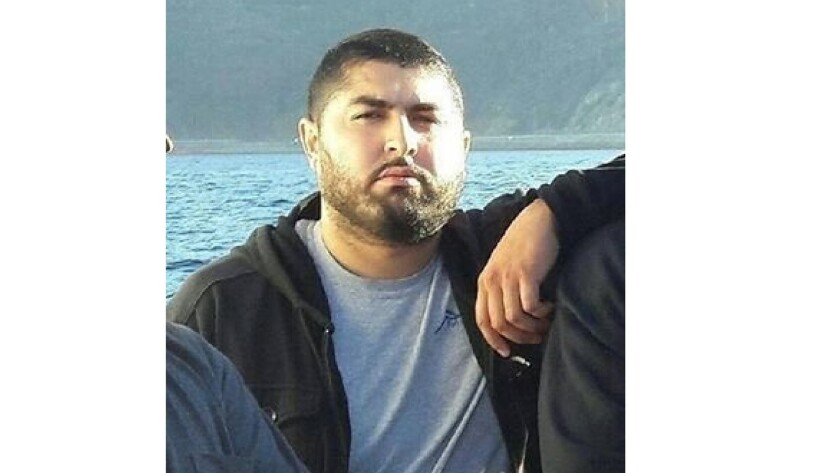 A body pulled from the Kern River over the weekend has been identified as that of an Orange County rapper swept away more than a week ago by dangerous currents, adding to the waterway's grim toll during a treacherous few months.
The death of Michael Ramirez is the eighth since March along a river whose reputation has led some to call it "Killer Kern." One of those dead suffered a heart attack. Two more people remain missing in Kern County alone.
A fatal mix of swift currents and frigid water temperatures has prompted law enforcement agencies to warn visitors to stay out of the water unless they are with a certified rafting company.
Yanira Zelaya of Palmdale said her son Jeison Aviles, 20, found the body Saturday while he was fishing near the Keyesville south campground in Lake Isabella, where his family had gathered for the holiday weekend. He returned to camp, and Zelaya called 911 around 6:30 p.m.
Zelaya glanced over at her son, who sat bent over, holding his head.
"He is in shock," she said.
Her son was adventurous and at times impulsive — he jumped off rocks into the river, she said. Now, she thinks, he may stay on the banks.
Not far from the site, a 22-year-old Los Angeles man had been swimming with his cousins Saturday morning when he was swept away and drowned. His body was recovered 16 minutes later, said Kern County sheriff's Sgt. Steve Williams.
He said officials from the Bureau of Land Management had passed by earlier that morning and warned the victim against swimming. The man has yet to be publicly identified.
Ramirez's girlfriend, Erica Zambada, said she learned from the Kern County coroner's office that the latest body retrieved belonged to Ramirez, whom she had last seen June 22 after they spent the day at the Keyesville campground.
"I want everyone to know he was a beautiful person. He put everyone else first," she said. "I'm devastated. I feel like my whole life has been shattered."
She said she would keep him alive by sharing his music.
The Kern County coroner's office has yet to publicly identify the body as Ramirez's.
Ramirez, who went by Dossicc, was a member of the underground hip-hop group Rebellion Warfare. The group has performed with Immortal Technique, Raekwon, Aesop Rock and Method Man.
On the day he went missing, Ramirez and Zambada had been camping with friends and celebrating Ramirez's 27th birthday, which was June 19.
After they set up their tents and began preparing a meal, Ramirez took a swim to cool down. As Zambada dipped her feet in the water, Ramirez threw a rock into the river to check its depth, and then dove in.
Ramirez struggled to stay afloat, and was pulled under, she said in a previous interview.
The couple's friend and bandmate tied a rope around his waist and jumped into the water to reach Ramirez. But an undercurrent swept Ramirez away, Zambada said.
I'm devastated. I feel like my whole life had been shattered.
Erica Zambada, whose boyfriend, Michael Ramirez, was killed in the Kern River
About 10 minutes later, rescue teams with the Kern County Sheriff's Office arrived and searched the river until sundown.
Ramirez, a Buena Park resident, was nowhere to be found.
Dozens of friends and relatives joined the search for him along a miles-long stretch of the 165-mile river. They taped bright green posters with Ramirez's photo to the entrances to various campsites across the Kern Valley, asking visitors if they had seen him.
"I truly believed he was alive, because I felt him with me in spirit," Zambada said.
On the day Ramirez's body was found, family and friends had been out searching with rope and machetes and a map of the valley, according to his father, Agustin Ramirez, 65. He had been hopeful before, but that afternoon he said he did not expect to find his son alive.
For the last several years, the drought severely depleted the Kern River, usually one of the fastest-flowing rivers in the West.
But the exceedingly wet winter returned the Kern, California's 10th-longest river and a favorite among whitewater rafting enthusiasts, to a power not seen in years. Runoff from its headwaters at the base of Mt. Whitney is fueling dramatic rapids and swift flows.
Over the Memorial Day weekend, three people died and 24 were rescued in multiple incidents along the river, about three hours north of Los Angeles.
In the run-up to the Fourth of July, authorities repeated their warnings to visitors about the dangers. Still, in the past two weeks, two more people have died and one remains missing.
Times staff writer Veronica Rocha contributed to this story.
Twitter: @meg_bernhard
---
UPDATES:
5:35 p.m.: This article was updated with more details about the river's dangerous conditions, the search for Ramirez and the discovery of his body.
2:15 p.m.: This article was updated with background about this year's deaths and the discovery of Ramirez's body.
This article was originally published at 1:35 p.m.
---