L.A. Hackathon winners create homeless services app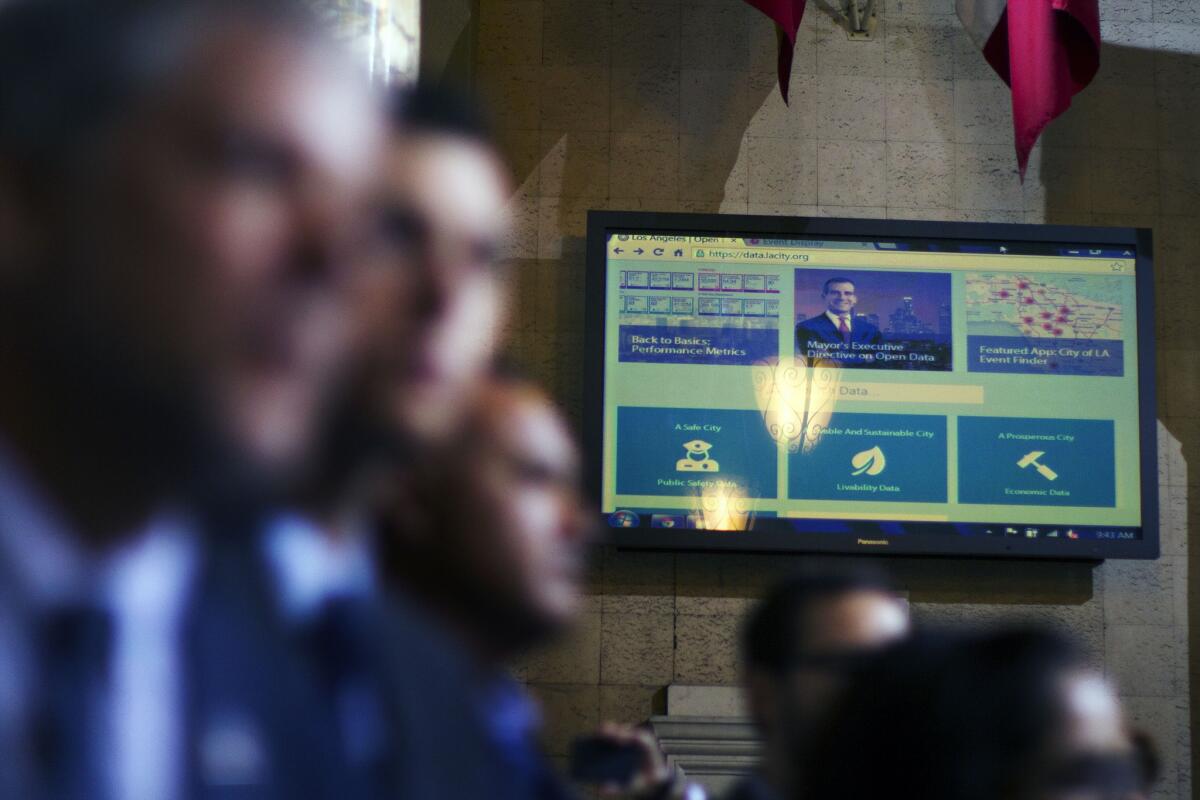 After 24 hours of coding, a team that created an application to efficiently deliver supplies to homeless shelters took home the top prize Sunday at a Los Angeles "hackathon."
"One more thing," said Zach Latta, after presenting his team's project called ShelterConnect, "We're all in high school."
Zach, 16, and his three teammates split the $3,000 prize for their app that lets homeless shelters report their needs so restaurants and volunteer groups can determine where to best devote their resources.
The "hackathon" this weekend at L.A. City Hall centered around civic engagement and brought participants of all ages. The event was tied to the launch of a new city website Saturday filled with data on numbers of stray animals, water usage, a calendar of city-sponsored events, graffiti clean-up, bicycle lanes and other services.
Projects that came out of the event included an app that brings together business owners and artists who want to paint murals on their walls, an app for finding a buddy to bike home with, maps that track city planning permits over time, crime data over time, linguistic trends through Twitter data and more.
Catherine Geanuracos, a cofounder of Hack for LA, praised the 30-odd teams as "part of an incredible, growing civic hacking culture in Los Angeles."
Many of the teams, including Zach's, didn't end up using any of the new city data. The website is intended to follow-up on L.A. Mayor Eric Garcetti's promise to make city government more transparent and accountable through technology.
Zach said there weren't enough data sets related to homelessness available, and the ones that were available weren't comprehensive enough for what his team needed. They instead built their app using crowd-sourcing.
Peter Marx, Garcetti's chief innovation technology officer, said the criticisms of the data sets are "exactly the sort of feedback" the city is looking for.
"If we didn't hear anything, we'd be worried," he said.
Marx said the city will be continuously adding new data sets and refine existing ones.
Other participants said they may have been able to use the data if they had more time to delve into it. Marx said that problem was the "inevitable collision between us as a city government grappling with this idea of open data and at the same time working with folks on the outside."
"In the government world, this is pretty extraordinarily fast-moving," Marx said.
Michael DeHart, 28, said he thinks the city's unveiling of the new data is exciting.
He won second place Sunday for his application that allows people to report water wastage, like a broken sprinkler, and also creates a way for people to mark that they've noticed the same issue and possibly help resolve it.
DeHart utilized newly accessible water usage data that was provided on the city website. He said he sees his application as something that could be layered into the city's existing 311 app, through which city residents can report things such as potholes and graffiti. With the addition of his app, people would be able to interact with the app more and therefore care more about water usage, he said.
"There are people out there who want to be engaged, and this gives them a reason to do it," he said.
Sign up for Essential California for news, features and recommendations from the L.A. Times and beyond in your inbox six days a week.
You may occasionally receive promotional content from the Los Angeles Times.