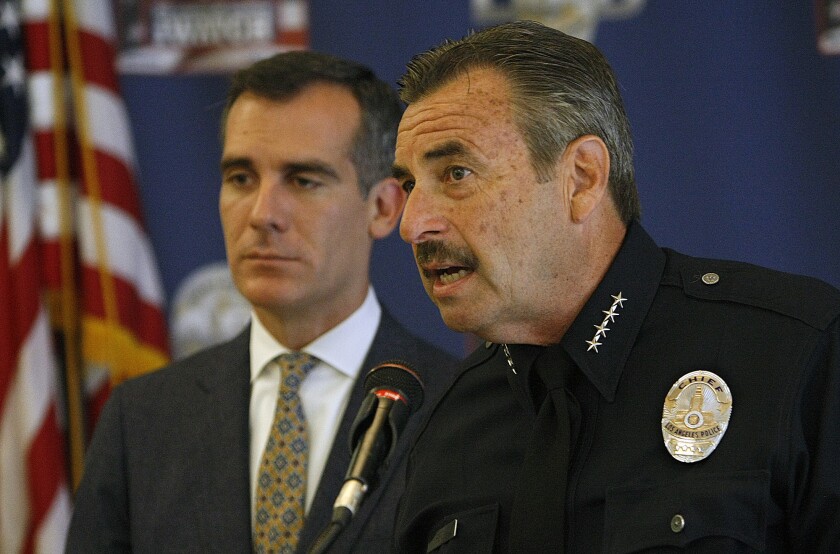 Saying he welcomed the ongoing investigations into whether he wielded inappropriate influence in two cases involving his daughter, LAPD Chief Charlie Beck lashed out Tuesday at a blogger and journalists for reporting on a family member.
"I feel I will be vindicated," Beck said in comments to the Police Commission, referring to investigations being carried out by the department's inspector general.
At issue is whether Beck played any role in a decision last year to settle a discipline case with a sergeant who had been accused of having inappropriate relationships with two female officers, one of whom is Beck's daughter.
The inspector general is also looking into the decision by LAPD officials to use funds raised by a private foundation to purchase a horse from Beck's daughter, who is a member of the department's equestrian unit.
Addressing reporters after the meeting, Beck called reports about his daughter "unacceptable" and "disgusting."
"I think the most troubling thing about this process has been the unsubstantiated allegations, the absolute untruths spoken about my family," he said.
Beck reiterated earlier statements that he had no say in the decision to settle the case with the sergeant or to purchase the horse.
The chief also seemed to contradict commission President Steve Soboroff, who told The Times that he had not been told the horse belonged to Beck's daughter.
"Commissioner Soboroff was intimately involved in procuring the funds – private funds – for this animal. So, to say that it was trying to be hidden from the Police Commission is just not true," Beck said.
In an interview Tuesday, Soboroff repeated that he was unaware that Beck's daughter had owned the horse. "I didn't know it. It doesn't mean it was wrong to buy it, but it needed to be disclosed, and that wasn't done," Soboroff said.
Much of Beck's anger seemed aimed at Jasmyne Cannick, a local political consultant. In recent weeks, Cannick has published on her personal website several reports about the sergeant's case, the horse purchase and other internal LAPD matters.
Beck angrily ticked off several allegations Cannick has made about his daughter that he said were "absolutely false."
"I'm a big guy, I've been doing this a long time," Beck said. "If you want to say something false about me, I'm fine with that.... But to say things that are absolutely false, with no basis in fact, about my children is absolutely unacceptable. I find it disgusting."
Cannick defended her reporting, which has been based on anonymous sources, saying, "When I have five or six people all telling me the same thing, all corroborating the same story, it can't be false."
"Chief Beck's anger," she continued, "should not be directed toward me. His anger, or his reflection, should be turned inward."
The upheaval comes as Beck is seeking to be reappointed to a second five-year term as chief. Beck said Tuesday that he believes the recent controversies have surfaced as part of an effort by detractors to undermine his effort to be reappointed.
Twitter: @joelrubin
---