Los Angeles Police Chief Charlie Beck says he wants a second term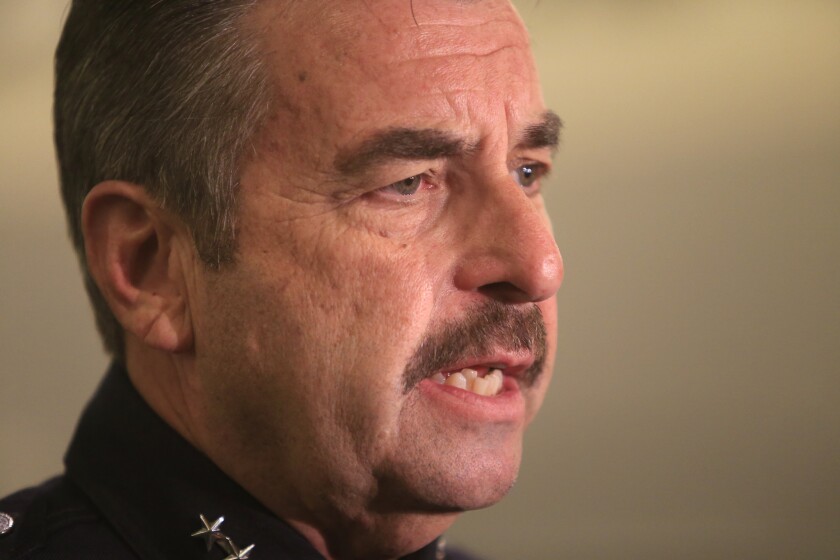 Los Angeles Police Chief Charlie Beck declared Thursday his interest in serving a second term as the city's top cop, saying he would be "more than proud" to serve should officials make the offer.
Speaking at the LAPD's downtown headquarters, Beck told reporters he had conveyed that desire to Mayor Eric Garcetti and the Los Angeles Police Commission, who are about to begin an extensive review of the chief's performance to decide whether to offer him a second five-year term.
Although Beck has generally received high marks for his performance as chief, he brushed off the idea that a second term would be a "slam dunk."
"Mayor Garcetti is a relatively new mayor with a very strong vision of where he wants to take Los Angeles. He deserves, and the city deserves, to have general managers – including police chiefs – that are on board with his vision," Beck said. "And I hope that he has found me that way, and I will continue to try to meet his standards."
"I'm proud of my performance as chief. I'm proud of what the Los Angeles Police Department has done. I'm proud of what it has become," he continued. "But to me, it's not a slam dunk. This is a mayor that wants to take this city in a very specific and new direction."
Beck has come under scrutiny in recent weeks, after he made a controversial decision not to fire a troubled officer.
Last month, The Times reported that Beck went against the recommendation of a discipline panel to fire Shaun Hillmann, a white officer who pulled his gun on a black man during an off-duty altercation at a bar. Hillmann was caught on an audio recording using a racial slur to describe the man, but later told LAPD investigators he had not uttered the slur.
Hillmann is the son of a retired LAPD officer and the nephew of a highly regarded retired LAPD deputy chief. The family's deep ties to the department has led to claims that Beck gave the younger Hillmann preferential treatment.
Beck denied he showed Hillmann any favoritism. Citing state privacy laws, Beck has declined to discuss the specifics of the case, but has stood by his decision not to fire Hillmann. In a rare move that underscored how much his decision has angered other officers, Beck put out a department-wide message defending himself.
"I want you to know that in my heart I made the decision based on what I know was right," Beck wrote. "Given the charges for which the employee was found guilty, I did what was right not only for that employee but more importantly for the organization. These decisions are very difficult … I make tough decisions while trying to do what is best for the organization and I stand by this one."
Beck made a similar comment Thursday in response to questions from reporters.
Although discipline matters are the purview of the police chief, how Beck metes out punishment is one of the areas Police Commission members will look at when deciding whether to offer him another term.
Steve Soboroff, the commission's president, publicly questioned the chief's decision to give Hillmann a lengthy suspension instead of firing him and said the Commission would consider the Hillmann case in its review of the chief.
---
The stories shaping California
Get up to speed with our Essential California newsletter, sent six days a week.
You may occasionally receive promotional content from the Los Angeles Times.