LAPD officers are found liable in skid row shooting death of Charly 'Africa' Keunang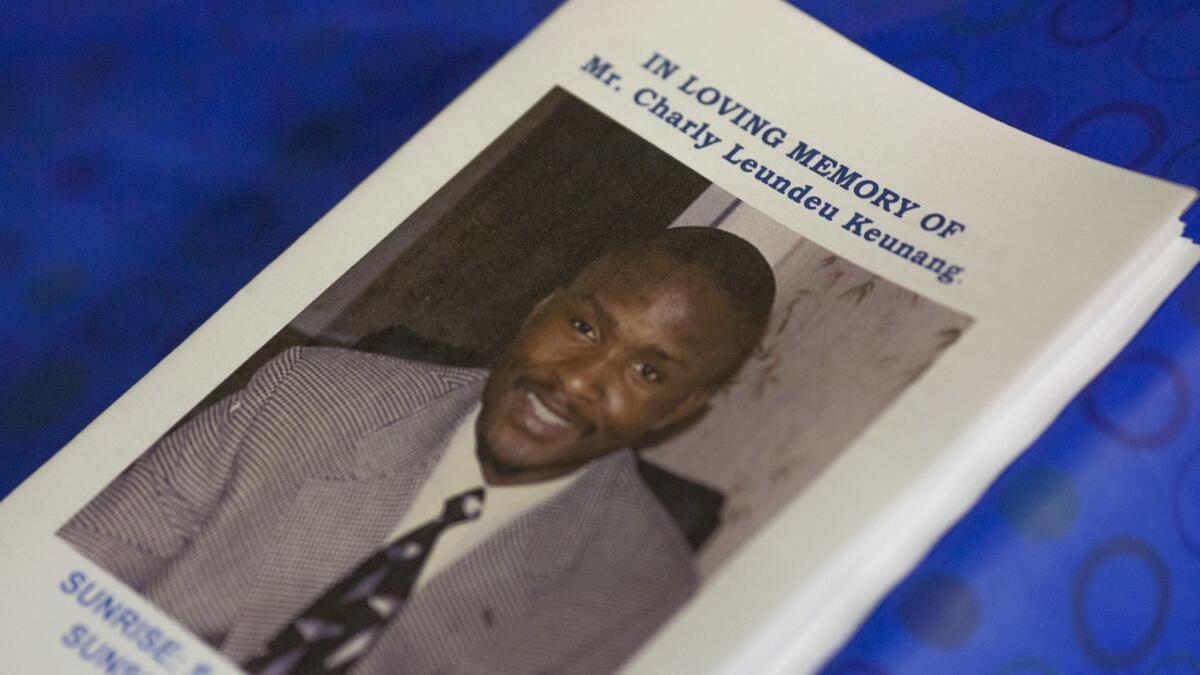 A jury found two Los Angeles police officers liable in the fatal shooting of a homeless man in 2015 that set off days of protests and prompted fierce criticism of how police deal with skid row's mentally unstable population.
After the verdict was announced, attorneys for both sides reached a settlement in which the city agreed to pay $1.95 million to Charly "Africa" Keunang's family, said Joshua Piovia-Scott, an attorney representing the family.
"This situation should never have gotten this far," Piovia-Scott said. "This was really a situation that the police officers escalated to a point where an unarmed mentally ill homeless man was shot and killed in broad daylight in the middle of a busy street."
A representative of the city attorney's office could not be reached for comment.
In a statement released late Thursday, the LAPD said it's disappointed by the verdict and stands by its conclusion that the use of force was appropriate.
"In this situation, force was necessary because of the violent behavior of the suspect who attempted to physically harm and evade the responding officers dedicated to protecting the safety of the public," the statement said.
Jurors in the federal civil trial found that Officer Francisco Martinez — one of the three who opened fire — used an unreasonable amount of force against Keunang, according to court records. They also found that Sgt. Chand Syed breached his duty to intervene. The third officer, Daniel Torres, was cleared of any liability.
"The jury verdict sends a strong message that this kind of conduct, this excessive force, this failure to resolve issues without using deadly force, is not something that should be tolerated in Los Angeles," Piovia-Scott said.
In 2016, the Los Angeles Police Commission, the civilian panel that oversees the department, ruled that the shooting was justified and the Los Angeles County district attorney's office declined to file charges against the officers involved. Prosecutors determined that Keunang wrapped his fingers around an officer's gun as the officer yelled, "He's going for my gun!"
While a cellphone recording that captured the shooting was viewed millions of times around the world, videos captured by the officers' body cameras were kept secret for years, until they were obtained and published by The Times earlier this year.
The officers approached Keunang after responding to a report of an attempted robbery on South San Pedro Street. When the officers arrived, police have said, they were told that Keunang had also threatened the caller with a baseball bat.
In the videos, Martinez questions Keunang outside his tent and then asks another officer for a Taser, warning Keunang he will be tased. Syed tells Keunang the Taser will hurt if he doesn't comply, and asks him to relax.
Martinez repeatedly orders Keunang to stand against a nearby wall, but Keunang instead climbs inside his tent. As Martinez orders him outside, Syed and another officer pull the tent open.
Keunang stands, and Martinez appears to fire the Taser. Keunang then spins his arms wildly as he circles toward police. The officers take Keunang to the ground, and a struggle occurs before the three officers open fire.
"The officers basically did every single thing that their training says they are not to do," Piovia-Scott said. "It was the officers' actions that escalated this situation and caused it to spiral out of control."
The shooting became a flash point in the debate over the use of deadly force in policing and sparked calls for better training on how police interact with people who are homeless and might be mentally ill.
It also raised questions about whether officers do enough to deescalate situations, and what to do with body camera recordings. In March, the Police Commission approved a policy that requires the release of recordings in the future.
Times staff writer Marisa Gerber contributed to this report.
alene.tchekmedyian@latimes.com | Twitter: @AleneTchek
---
UPDATES:
8:45 p.m.: This article was updated with a statement from the LAPD.
8:10 p.m.: This article was updated with background and statements from the family's attorney.
This article was originally published at 2:10 p.m.
Sign up for Essential California for news, features and recommendations from the L.A. Times and beyond in your inbox six days a week.
You may occasionally receive promotional content from the Los Angeles Times.