LAPD's two drones under lock-and-key by feds until rules in place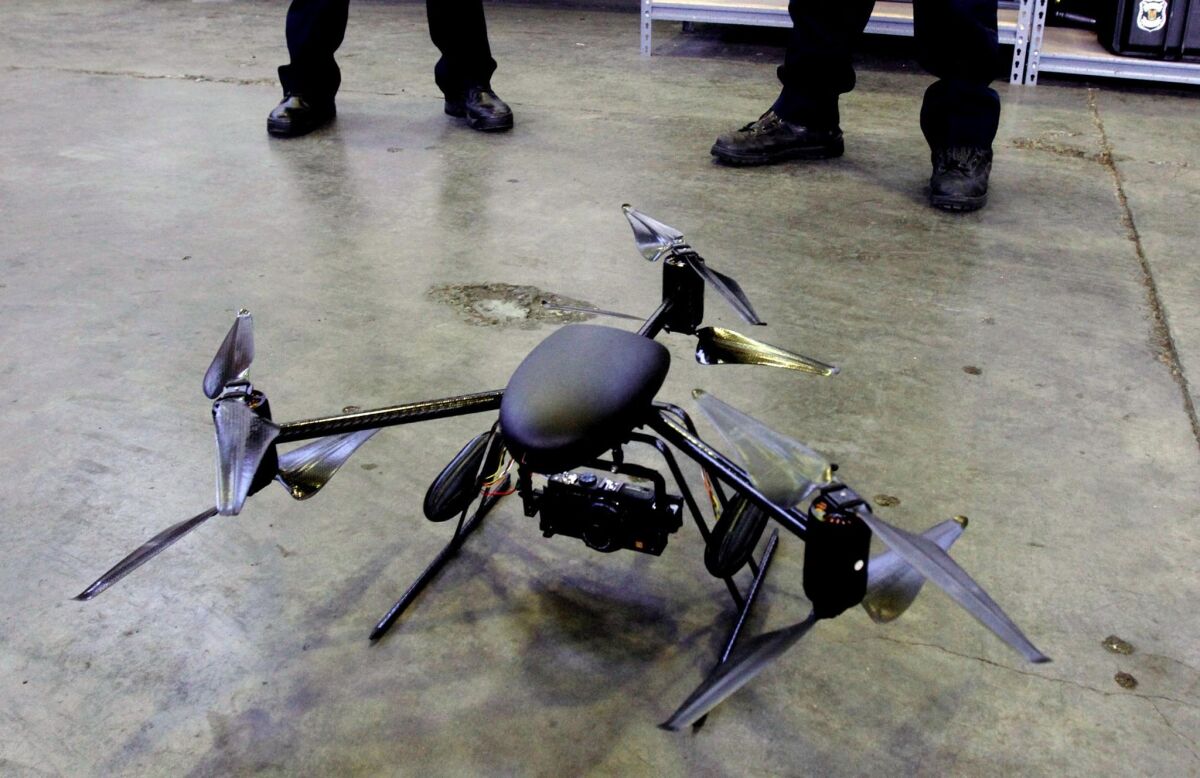 A pair of drones owned by Los Angeles police are currently under lock-and-key by federal authorities until a policy is in place for their use, an LAPD official said Tuesday.
The move to hand them over to the Department of Homeland Security was a response to public perception and strict federal laws on how law enforcement can fly the unmanned aircraft, said LAPD air support division Lt. Phil Smith.
The revelation comes just two weeks after the LAPD had to fend off inaccurate media reports that it had deployed a drone above the Staples Center when the Kings won the Stanley Cup championship. The aircraft spotted there — brought down and destroyed by fans — apparently belonged to a civilian.
"If we don't have them in our possession, then how can we take them out and deploy them?" Smith said.
The city received its two drones from Seattle police on May 29. By the next week, the LAPD had handed the boxes over to federal officials for safekeeping until they were ready to be used.
Until the city approves a drone policy with LAPD and public input, Chief Charlie Beck and his command staff thought it best to not have the drones in the department's possession, Smith said.
"I'd rather have them locked away in a dungeon than hear on the graveyard shift officers were taking them out of the box and playing with them," Smith said. "So they're in a Homeland Security building downtown in a basement. I haven't seen them since."
Seattle police received the two Draganflyer X6 drones through a federal grant and gave them to the LAPD last month when they decided they couldn't use them because of public criticism.
"They just got eaten alive," Smith said of Seattle police. "They said it's not worth the political pressure and the negative word that's going out on them."
The American Civil Liberties Union is among those carefully monitoring how law enforcement agencies use drones, particularly when it comes to monitoring people and places.
"If this is recognition that this is a new technology that does have some very significant privacy implications and that needs to win public approval before it's deployed — it's a good thing," said ACLU senior policy analyst Jay Stanley. "We're not against the use of drones in particular situations where police might have a warrant or emergencies."
Among the hurdles facing police wanting to fly drones, Smith said, are limitations on how close they can fly to airports and when they can be flown.
On the other side of the issue, federal officials recently announced they were tightening rules on civilian drone use, including a ban at national parks.
For breaking California news, follow @JosephSerna.
The stories shaping California
Get up to speed with our Essential California newsletter, sent six days a week.
You may occasionally receive promotional content from the Los Angeles Times.