LAPD defends rising arrests of homeless people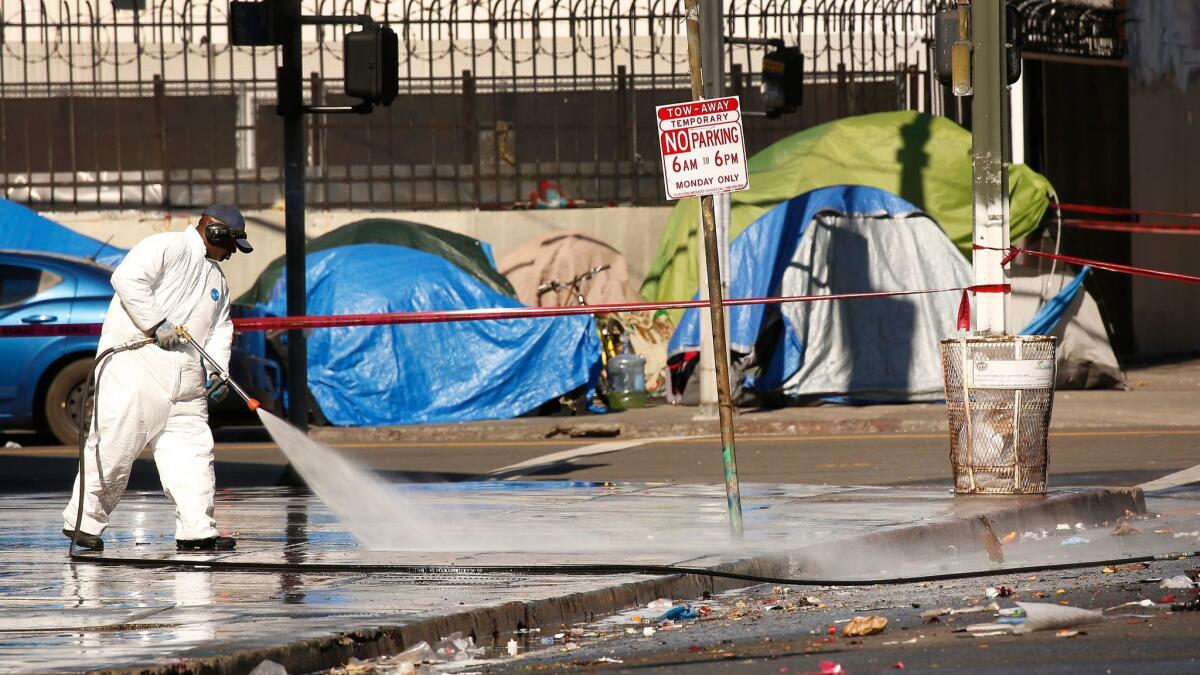 Los Angeles police on Tuesday defended stepped-up enforcement against the city's exploding homeless population, saying that despite officials' anti-criminalization stance and adoption of alternative strategies, arrests and citations are needed to meet the crisis.
"As a last resort, a tool, one tool of many tools, we turn to enforcement," Cmdr. Dominic H. Choi, the LAPD's homelessness coordinator, told the Police Commission during a discussion of the department's year-end homelessness report. "We have to have a balanced approach."
The report said LAPD officers made 14,500 misdemeanor arrests of homeless people in 2017, a 10% jump from the year before. It attributed the increase in part to crackdowns on "quality of life" violations barring sleeping and storing personal property on sidewalks. Trespassing and nonviolent drug possession arrests also rose, the report said.
About 6,400 homeless people were arrested on felony charges, including robbery, grand theft auto, aggravated assault and burglary, the report said. A Times analysis this year found that homeless arrests had climbed 31% in recent years, largely for minor offenses, including failing to go to court or pay a quality-of-life ticket — the top offense.
Choi told the Police Commission that homeless people too often are the victims of violent crime, and said misdemeanor arrests are made only after homeless people are offered shelter and other services by police-led outreach teams and refuse requests to clear sidewalks or obey other laws.
The Homeless Outreach and Proactive Engagement, or HOPE, teams pair police and outreach workers during city street and encampment cleanups, and respond to citizen complaints about drug use, trash and disorder in tent cities.
"By the very nature of addiction, some folks need an incentive to change behavior," Police Chief Charlie Beck said outside the commission meeting. "And sometimes — not all times, sometimes — a citation or an arrest can be that intervention."
Civil rights lawyers and skid row and Venice activists said enforcement was a failed approach to stop the escalating disaster. The latest count found 34,000 homeless people in Los Angeles, about 1% of the city's total population, and nearly three-quarters of them sleep in streets, alleys, canyons and riverbeds.
Peter Lynn, executive director of the Los Angeles Homeless Services Authority, testified during the commission meeting that only 12% of homeless people contacted by the HOPE teams were placed in housing, shelters or detox centers or reunited with family members.
"It is not a criminal problem and it's not what the LAPD was designed to do," said Greg Spiegel, public policy director of the Inner City Law Center. "Let the LAPD do what it does and let us build an emergency response that's designed for homelessness."
Other speakers said the HOPE teams throw out homeless people's identification documents, medication, artwork and even naloxone kits used to prevent opioid overdoses.
Lynn, as well as representatives from the mayor's office, the city attorney and the sanitation department, praised what they described as the police's multi-pronged approach to homelessness, including enhanced mental health and de-escalation training.
They also said the city and county are cooperating as never before to expand homeless outreach and shelter beds, staffing clinics to resolve homeless citations through community service and starting another diversion program.
Commissioner Shane Murphy Goldsmith asked the department to reduce arrests and citations. Choi said it would help to have somewhere to take people in need immediately, instead of having to wait hours for a shelter bed or other aid to open up.
Goldsmith praised the LAPD's efforts to go beyond enforcement, including the department's support for homeless storage and for the city's $1.2-billion homeless housing construction plans.
Choi said the department is discussing sending uniformed officers to community meetings to allay fears that in the past have doomed residential projects for formerly homeless people.
"The LAPD is actively supporting alternatives to arrest," Goldsmith said after the meeting. She pressed the department to continue reporting detailed arrest data "to better understand what we can all do to reduce arrests and citations."
"We cannot arrest our way out of homelessness," she said.
Times staff writer Kate Mather contributed to this report.
Twitter: @geholland
Sign up for Essential California for news, features and recommendations from the L.A. Times and beyond in your inbox six days a week.
You may occasionally receive promotional content from the Los Angeles Times.