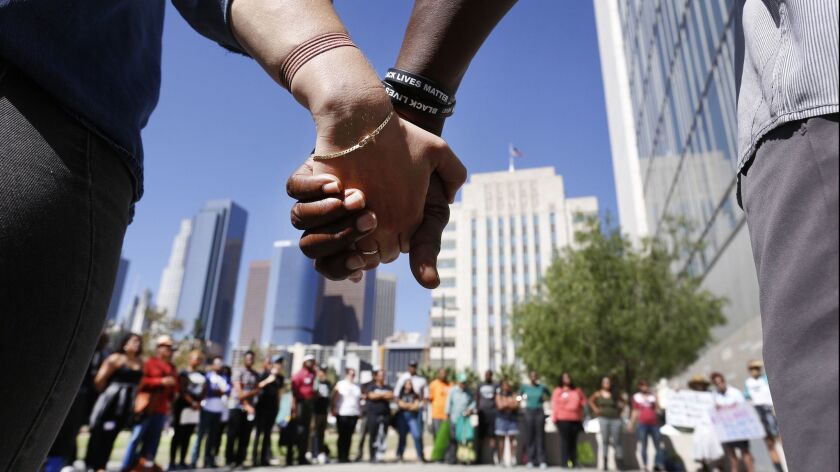 A man seen in a viral video wearing a T-shirt with LAPD logos and chanting "white power" during a Black Lives Matter protest has been arrested, police said.
Daniel Sohn, 36, was spotted by Los Angeles County sheriff's deputies sleeping in a car in the 1200 block of North La Brea Avenue shortly after midnight Friday, police said.
Deputies recognized him from a widely circulated video posted on social media Jan. 31 showing a man wearing a long-sleeved shirt with LAPD logos on it antagonizing demonstrators at a Black Lives Matter event, police said. Organizers were protesting the death of Albert Ramon Dorsey, who was fatally shot by an LAPD officer inside a Hollywood gym in October.
In the video, the man repeatedly says "white power" while gesturing toward the protesters. He appears to be making white power symbols with his hands.
Black Lives Matter members asked the man to verify his law enforcement status.
"Where's your badge number? Give us your badge number," they said.
After the video surfaced online, the Los Angeles Police Department quickly said the man was not among the department's ranks, while officials in the community denounced the behavior.
"The behavior in that video is deplorable, and it has absolutely no place in our city," said Alex Comisar, L.A. Mayor Eric Garcetti's press secretary.
The LAPD also tweeted that the T-shirt the man was wearing was not official attire.
"The apparel worn by the individual, specifically the T-shirt with LAPD insignia, is not department issued and is accessible to the public," the agency said. "We will be working with our Entertainment Trademark Unit to ensure violations of our trademark on apparel are addressed."
Sohn was wearing what appeared to be the same shirt from the video when deputies found him Friday, sheriff's officials said.
"We are working with LAPD to see if this is the same man," Sheriff's Deputy Joana Warren said.
Sohn was arrested on suspicion of impersonating a police officer. He is being held in lieu of $2,500 bail, authorities said.
alejandra.reyesvelarde@latimes.com
Twitter: @r_valejandra
---