LAPD detective accuses fellow officer of physical abuse and sharing explicit photos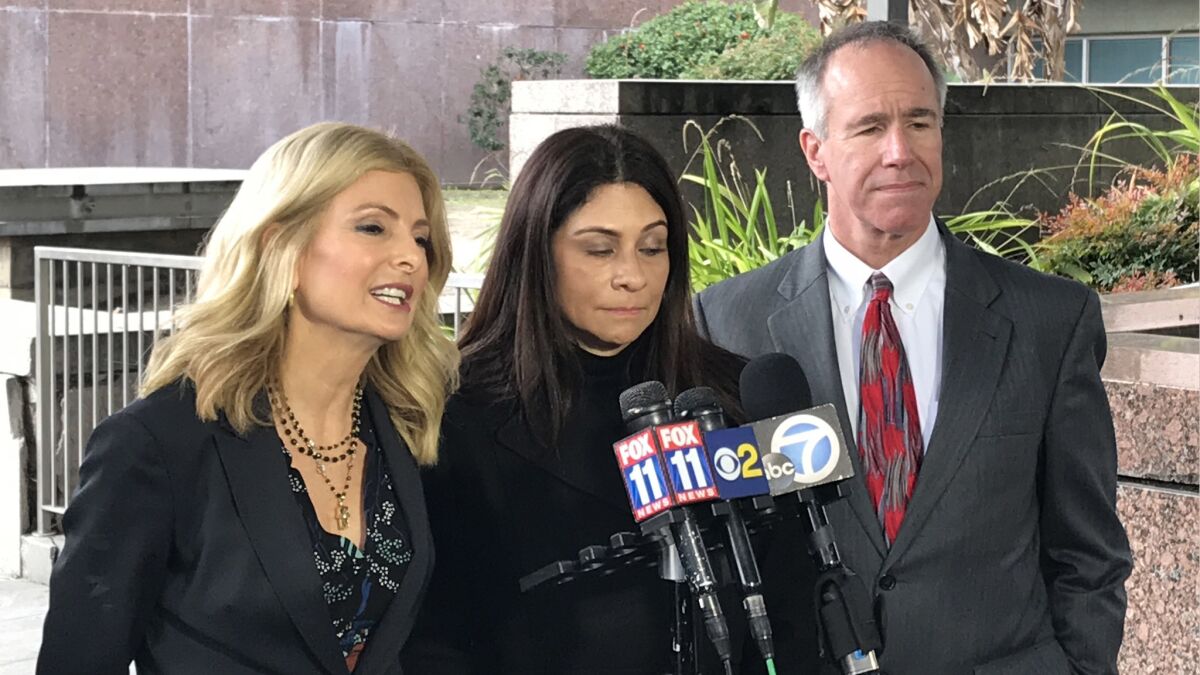 A Los Angeles police detective went public Tuesday with allegations that another officer distributed sexually explicit photos of her throughout the LAPD and physically abused her several times, marking the latest in a series of sex scandals to rock the department in recent years.
Det. Ysabel Villegas appeared in a downtown courtroom and was granted an extension of a restraining order against Officer Daniel Reedy, after Villegas filed a report last year detailing years of physical abuse and allegations that he leaked images of her that might violate California's "revenge porn" law.
In an application for a restraining order filed in November, Villegas acknowledged that she had been having an extramarital affair with Reedy, a veteran officer in the Los Angeles Police Department's Central Division, for roughly five years. The relationship turned bitter in 2016, Villegas alleged in the court filing, when Reedy became physically abusive.
Villegas alleged that in 2017 Reedy began threatening to release photos he had taken of the pair engaging in sexual activity if she did not continue the relationship, according to the filing.
Villegas also accused Reedy of assaulting her at a Glendora diner last summer and threatening to expose their relationship to her husband, former Assistant LAPD Chief Jorge Villegas, the filing said.
Attempts to contact Reedy were unsuccessful Tuesday.
Jorge Villegas retired from the L.A. Police Department in October amid allegations he was having an improper sexual relationship with a female subordinate officer, sources previously told The Times. An LAPD surveillance unit later caught Villegas and the subordinate apparently engaged in a sex act in a parking lot, the sources said at the time.
Jorge Villegas, who was present in the courthouse Tuesday morning, declined to comment.
In issuing the restraining order, Judge James Blancarte described Ysabel Villegas' claims as "some of the most serious allegations that I've ever had to read in this courtroom." The restraining order will remain in effect for five years, and Reedy must surrender all of his firearms, Blancarte ruled.
It was not immediately clear how many people the photos had been sent to. In her filing, Villegas said she was contacted about the photos by several other officers. Her attorney, Lisa Bloom, said some officers had begun taking pictures of the explicit photos, rather than sharing them through text message, to avoid creating a record of who had access to the images.
Reedy's attorney, Michael Williamson, declined to comment after the hearing. The officer is on administrative leave pending an investigation, said Josh Rubenstein, the LAPD's chief spokesman.
Bloom said a case has been presented to the Los Angeles County district attorney's office for possible criminal charges against Reedy. In addition to the assault claims, Reedy's alleged sharing of sexually explicit photos could violate California's revenge porn law. Under the 2013 law, it is a crime for someone to intentionally disseminate explicit photos without the other person's consent, while knowing that the images will cause emotional distress.
Sgt. Shawna Celello, a spokeswoman for the Glendora Police Department, confirmed her agency had presented a case to the district attorney's office, but declined to offer specifics. Shiara Davila-Morales, a spokeswoman for the district attorney's office, confirmed her agency was conducting an investigation involving Reedy but would not discuss the details.
Bloom also contended that several Los Angeles police officers were aware the explicit images were being shared, something they failed to report to the department.
"They failed to protect her, and that's a real problem," said Bloom, adding that a civil lawsuit could be filed at a later date.
Rubenstein said the matter is the subject of an internal investigation and declined to comment further.
During a brief news conference after the hearing, Ysabel Villegas said she could not believe her 30-year career with the LAPD had devolved into abuse allegations and humiliation.
"This is the last thing that I wanted to do. … I'm so sad that it has come to this," she said.
Bloom also alleged that the LAPD had unfairly transferred Villegas out of the elite Robbery-Homicide Division as a result of the allegations. Rubenstein declined to comment on the transfer because it is a personnel matter.
"Law enforcement is still too often a frat boy culture," Bloom said.
The allegations against Reedy are the latest in a series of sex-related scandals to either embarrass the department or provoke a criminal investigation in recent years. The city had to pay out $1.8 million last year to settle a lawsuit stemming from allegations that an internal affairs lieutenant ordered officers to conduct surveillance on a female subordinate who refused his sexual advances.
In other cases, LAPD Officer Kenneth Collard was charged with sexually assaulting a minor in Torrance in May, and former LAPD Officer Robert Cain pleaded no contest to statutory rape in August, after he was accused of having sex with a 15-year-old member of the department's cadet program. An investigation into those claims revealed a wider scandal involving stolen police cars and wild car chases.
Times staff writer Cindy Chang contributed to this report.
---
The stories shaping California
Get up to speed with our Essential California newsletter, sent six days a week.
You may occasionally receive promotional content from the Los Angeles Times.