Police Commission faults LAPD officer who shot and killed 70-year-old man holding metal pipe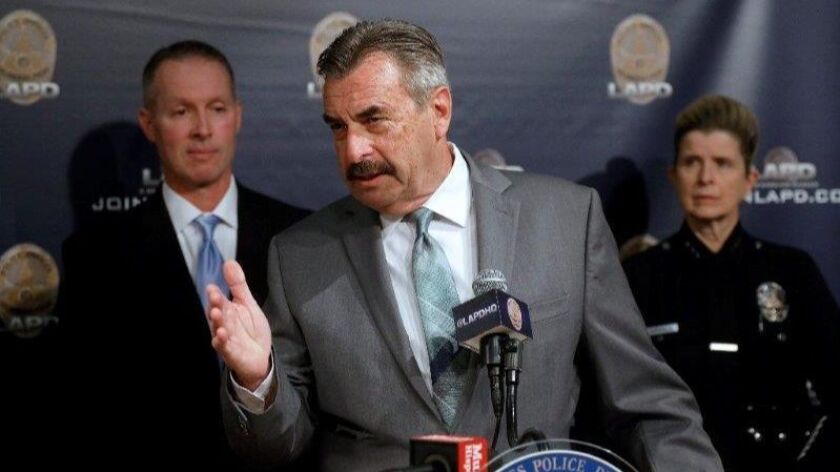 A veteran Los Angeles police officer violated department rules for using deadly force last year when he shot and killed a 70-year-old man holding a pipe in downtown L.A., an oversight panel determined.
Siding with Chief Charlie Beck, the Los Angeles Police Commission unanimously faulted Officer Charles Garcia for firing his gun and for some of the tactics he used before pulling the trigger.
Several bystanders filmed the March 4 shooting, which happened at a busy intersection — Olympic Boulevard and Broadway — in the middle of the afternoon. Those videos, which show Garcia fire twice at Alejandro Mendez as he stood several feet away, quickly raised questions both inside and outside the LAPD.
In his report to the commission, Beck said the decision by Garcia and his partner to "immediately deploy" on Mendez limited the time they had to "assess the situation or consider other tactical options."
They could have pulled out a bean-bag shotgun instead, Beck wrote, giving them more room to react to someone who didn't have a gun.
Read LAPD Chief Charlie Beck's report on the fatal police shooting of Alejandro Mendez »
Beck ultimately placed the responsibility on Garcia, noting his partner was a reserve officer working his first full day in the field. Garcia, who has been with the LAPD for more than 20 years, should have come up with a better plan for resolving the situation "with the least amount of force necessary," the chief wrote.
Garcia's name was redacted from a public copy of Beck's report, though the department previously identified him as the only officer who fired his gun during the deadly encounter. The name of the reserve officer, who was cleared of any wrongdoing, has not been released.
Larry Hanna, an attorney representing Garcia, said he believed the officers acted appropriately to safeguard bystanders in the area. They first used a Taser to try to subdue Mendez, he said. Mendez, he added, had swung a long metal pipe at others, and the officers believed he continued to pose a threat.
"There was no way they could stand by and let this person just swing at civilians," Hanna said. "One hit to the head and the civilian goes down, then the chief or other people would be saying, 'Why didn't they take action? Why didn't they do something?'"
The situation unfolded shortly before 12:30 p.m., when the Central Division officers responded to a report of a gray-haired man swinging a pipe outside a Carl's Jr. at Olympic and Main Street. They ultimately found their suspect, later identified as Mendez, about a block away.
At least one officer told investigators he saw Mendez swinging a "long stick or pipe" toward people as they approached him, according to Beck's report. Video from the officers' patrol car showed Mendez "jabbing" the pole as he stepped toward a security officer, who then stepped backward and moved a bike to keep Mendez away, the report said.
One officer told investigators that he feared someone could be hit by the pipe, so they "couldn't wait for a backup and had to move," Beck's report said.
The officers began issuing commands that Mendez ignored, the report said. At least one officer moved closer, telling him to "stop and drop the stick."
The reserve officer then fired a Taser, the report said, but it had no effect on Mendez.
Mendez, still holding the pipe, moved closer, Garcia later told investigators, according to Beck's report.
"He came at me, and I fired," Garcia told them. "He was coming at me, my partner. I was thinking about the other people that were all there, if he — it would take, literally, a couple seconds for him to advance and just start swinging."
Paramedics took Mendez to a hospital, where he died less than an hour later.
Beck disagreed with Garcia's actions, saying an officer with similar training and experience would not have reasonably believed Mendez posed an imminent, serious threat at the time the officer pulled the trigger.
Beck also faulted the officer for not turning on his body camera until after the shooting and not carrying a Taser, violations of department rules. (The reserve officer didn't have a body camera.)
Garcia also discussed the shooting with his partner and other officers after it happened, Beck wrote. Under LAPD policy, officers who fire their guns are supposed to be separated from others and ordered not to discuss the shooting with anyone other than their representatives or investigators assigned to the case.
Beck said the Taser and body camera violations, along with "any issues related to the discussion of the incident" were part of a personnel investigation.
It is now up to Beck to decide what punishment, if any, to hand down to Garcia.
---
The stories shaping California
Get up to speed with our Essential California newsletter, sent six days a week.
You may occasionally receive promotional content from the Los Angeles Times.