Police Commission concerned about number of black drivers stopped by elite LAPD unit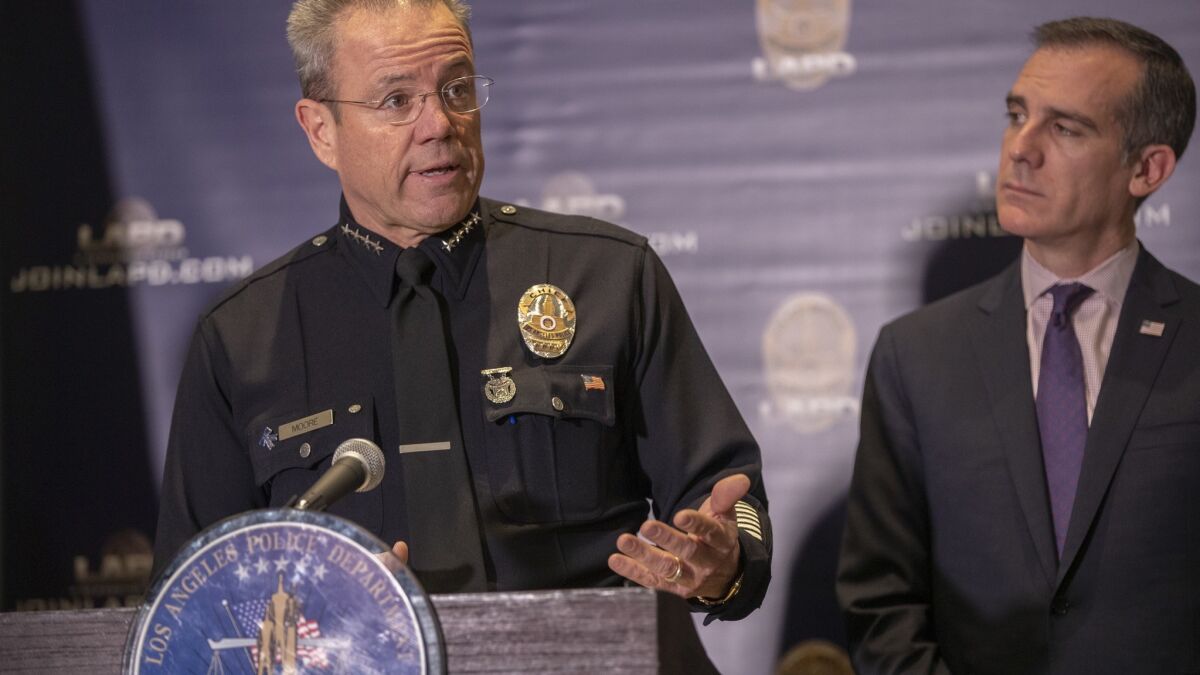 Members of the Los Angeles Police Commission expressed concern Tuesday that the disproportionate number of black drivers stopped by an elite unit is damaging the public's trust in the police department.
The remarks came in response to a Times investigation showing that the LAPD's Metropolitan Division stops black drivers at a rate more than five times their share of the population.
Since Metro doubled in size as part of an effort to combat rising crime, nearly half the drivers stopped by its officers have been black, in a city that is 9% black. That has helped drive up the percentage of African Americans stopped by the LAPD overall from 21% to 28%.
On Monday, Mayor Eric Garcetti, who announced the Metro expansion in his State of the City speech in April 2015, called for an audit of Metro stops.
The Times analysis "is concerning, particularly to communities of color, and tends to undermine their trust," said Eileen Decker, who recently joined the five-member civilian commission that oversees the LAPD.
Decker, a former United States Attorney and deputy mayor, asked Chief Michel Moore how he plans to address the issue.
Moore cited the department's implicit bias training, where officers are taught to recognize and counteract their own biases, as well as a community policing program that is expanding to neighborhoods in the downtown area and Pacoima this year.
One of his priorities, he said, is "building trust in each of our communities and understanding how trust is built or deepened and how trust is lost or weakened."
Unlike regular patrol officers, Metro officers often spend their entire shifts on vehicle stops and other "proactive" policing tactics intended to root out violent criminals.
They typically use a violation such as a broken tail light as a starting point to question the driver and potentially get inside the car — a type of stop known as a pretextual stop, which Moore has acknowledged is more invasive than an ordinary traffic stop.
LAPD command staff use crime data to pinpoint areas that the Metro officers should target on their shifts.
Most of Metro's vehicle stops occur in South Los Angeles, which is almost one-third African American. But even there, the percentage of black drivers stopped by Metro is twice their share of the population, the Times analysis found.
Another commissioner, Shane Murphy Goldsmith, praised the LAPD for its hard work and pointed to crime numbers that improved last year after several years of increases.
But she said of Metro's vehicle stops: "These strategies do have a negative impact on people. They impact their trust in police and government and their health and well-being."
The database analyzed by The Times, which is available on a city website, does not show why an officer pulled over a driver. Nor can it show whether officers were engaged in racial profiling.
As required by a new state law, the department recently began collecting information about what happens to drivers after they are stopped, including whether they were searched or arrested.
Such data can illuminate racial disparities and shed light on the effectiveness of the stops. The Times has requested the new data, which officers began collecting July 1.
Moore said he is worried that the Times report will lead residents to jump to conclusions about racial profiling when the issue is more complicated than comparing the demographics of the city with the people stopped.
"My concern is that trust is the most important aspect and that we don't lose it," Moore said. "I'm especially concerned that we don't lose it on an incomplete or imperfect analysis."
Moore told reporters after the meeting that a better analysis would include why people were stopped and whether they were treated fairly.
Inspector General Mark P. Smith said the Police Commission had previously asked his office to examine "proactive" policing tactics such as those employed by Metro and he already planned to release a report, along the lines of what Garcetti requested, by the end of the year.
At Tuesday's meeting, some speakers emphasized the human cost of pulling over a disproportionate number of black drivers.
Zachary Hughes, 25, a political-science student at Cal State Los Angeles, called the racial disparities in Metro stops "a disappointing display of the direction the city is heading."
People who have a criminal record and are trying to change their lives can experience a setback if they are stopped by police and arrested for a minor violation, he said.
"We need to get rid of the toxic stigma for African Americans," he added.
At a news conference before the meeting, community activists said Garcetti's request for an audit of Metro stops was hypocritical given that he endorsed the 2015 expansion of the division.
"He rushed to call for an audit, but the mayor is deeply complicit and very much responsible for programs that are leading to increased racial profiling," said Hamid Khan, a leader of the Stop LAPD Spying Coalition.
Alex Comisar, a spokesman for Garcetti, said in a statement that while the Metro expansion has helped reduce crime in the city, its impact on the city's residents needs to be scrutinized.
"There is no contradiction between assuring that every community has the necessary resources to keep our neighborhoods safe and making certain that every Angeleno has confidence that those resources are being deployed fairly, effectively, and without discrimination," Comisar said.
Times staff writer Ben Poston contributed to this report.
---
The stories shaping California
Get up to speed with our Essential California newsletter, sent six days a week.
You may occasionally receive promotional content from the Los Angeles Times.