The case of disappearing giant tortoises? Another is reported missing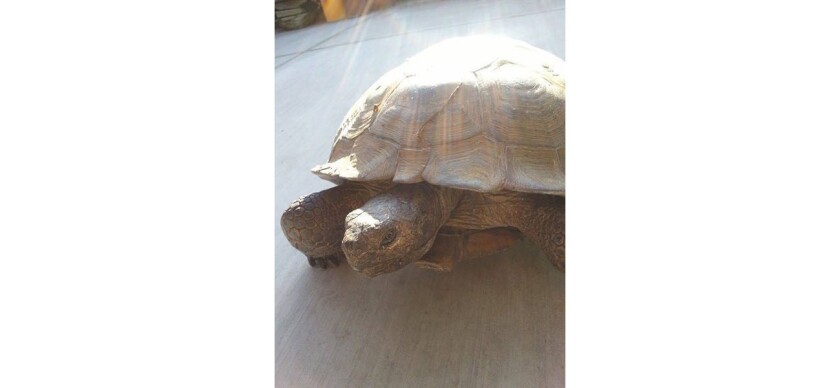 For the second time in less than a week, authorities are asking for help locating a large turtle that disappeared, this time from an Alhambra woman's home.
Unlike the 90-pound sulcata tortoise named Cruiser that was stolen from its Carson home and later found at a fair in Wilmington last week, it's unclear how this desert tortoise disappeared, according to the Alhambra Police Department.
The owner doesn't know if her 70-pound turtle was stolen or just escaped.
In any case, it's one of several large tortoises that have gone missing across California this month.
Two weeks ago, a San Jose woman reported that her tortoise, Napoleon, escaped from her home's backyard. However, surveillance footage revealed that someone had actually snatched the 50-pound tortoise.
In Fresno, the owner of a sulcata tortoise stolen on Sept. 15 has been waging a campaign on Craigslist in effort to track it down.
The owner is disabled and was unable to run after tortoise as it was being taken away.
"Not only have you stolen my tortoise, but you've broken my heart," he posted.
And in La Canada Flintridge, sheriff's deputies found a 70-pound snapping turtle Thursday wandering near a country club.
It's not uncommon for turtles to escape their enclosures because they are diggers and natural food seekers, said Susan Tellem, who founded the nonprofit American Tortoise Rescue in Malibu. Some have been known to break through glass doors in search of food.
Desert turtles often escape their homes in search for a place to hibernate, she added.
And for the ones that get stolen, the thefts are typically carried out by people who think large tortoises can be sold for a lot of money, Tellem said. Those same people, she added, also probbaly don't know that many tortoises can be adopted at no cost.
For breaking news in Los Angeles and throughout California, follow @VeronicaRochaLA. She can be reached at veronica.rocha@latimes.com.
---
The perils of parenting through a pandemic
What's going on with school? What do kids need? Get 8 to 3, a newsletter dedicated to the questions that keep California families up at night.
You may occasionally receive promotional content from the Los Angeles Times.