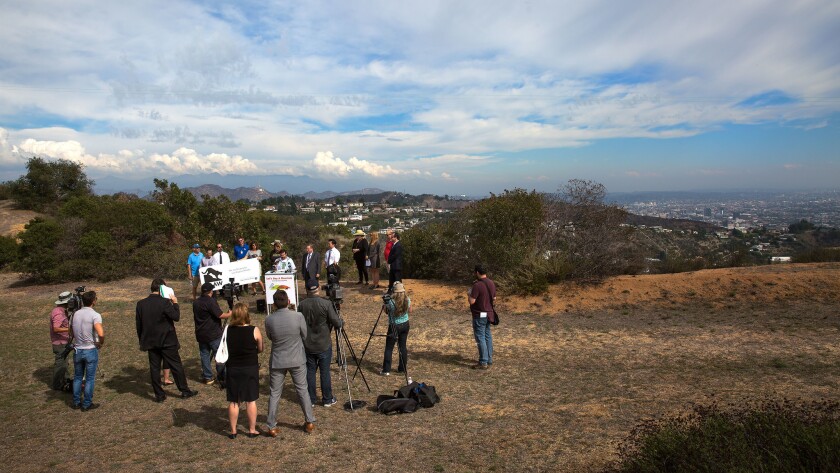 Preservation groups have purchased a 17-acre mountain ridge in Laurel Canyon for $1.6 million to set aside the land for permanent preservation.
The purchase is the culmination of a two-year fundraising campaign dubbed "Let's Buy a Mountain" launched by the Laurel Canyon Assn., a homeowners association, and Citizens for Los Angeles Wildlife, a preservation group.
The 17.3-acre parcel lies between Lookout Mountain Avenue and Stanley Hills Drive and was the largest private parcel on the market in the area, said Jamie Hall, president of the Laurel Canyon Assn.
More than 400 people donated to the effort, said Tony Tucci, chair of Citizens for Los Angeles Wildlife.
Eagles band member Don Henley, who was living in Laurel Canyon when he was working on the band's second album "Desperado," donated $100,000, as did L.A. County Supervisor Sheila Kuehl's office. The David Schwartz Foundation contributed the final $300,000.
"These resources are precious, both in terms of wildlife habitat, and in terms of the human history that resides there," Henley said in a statement.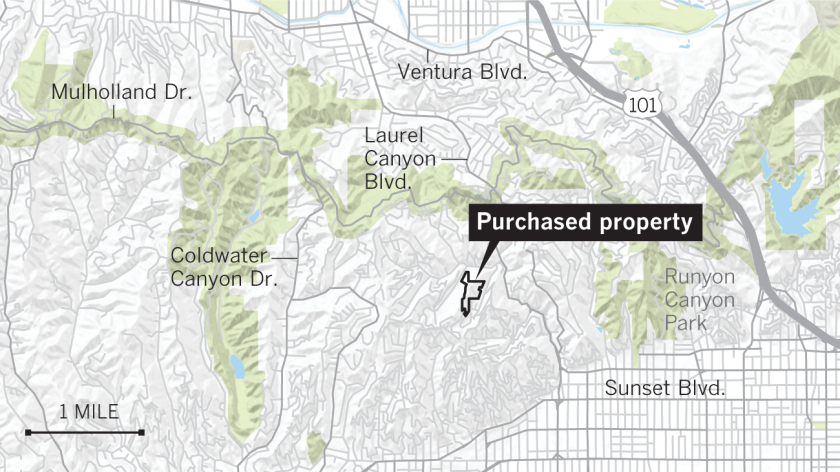 The former owners of the property wanted to sell it to someone local, Hall said. The former property owner's real estate agent was going door to door looking for buyers when Hall and others decided to launch the land preservation campaign. The owner agreed to the sale and the preservation groups got a large discount on the property and an extended, 26-month escrow, Hall said.
"We wanted to get ahead of the curve and take matters into our own hands to preserve this land for the residents and wildlife," Hall said.
The land will be managed by the Mountain Recreations and Conservation Authority, which oversees nearly 73,000 acres of public lands throughout the region. There are no parks or trails on the land, but the conservation authority could decide to develop some, Hall said.
Laurel Canyon has about 1,100 undeveloped, privately owned parcels, Tucci said.
The community dates back to the early 1900s,when developers marketed the area as a series of small, intimate mountain getaways for those already living in Los Angeles. In the '60s and '70s, rock musicians and movie stars began buying homes in the area, which became host to a large counterculture movement that included environmental preservation, Hall said.
Current residents are increasingly concerned that new projects on those private parcels will jeopardize natural habitats. Laurel Canyon is considered part of the habitat for deer, owls, red-tailed hawks and mountain lions.
Hall, Tucci and others hope to buy up more of the properties for natural preservation in the future.
"We are enjoying the natural lands and the wildlife is enjoying this habitat, but it can go away if people develop it," Tucci said.
Twitter: @frankshyong
---