Leonard Nimoy dies: 'Thank you for making us all feel we belong'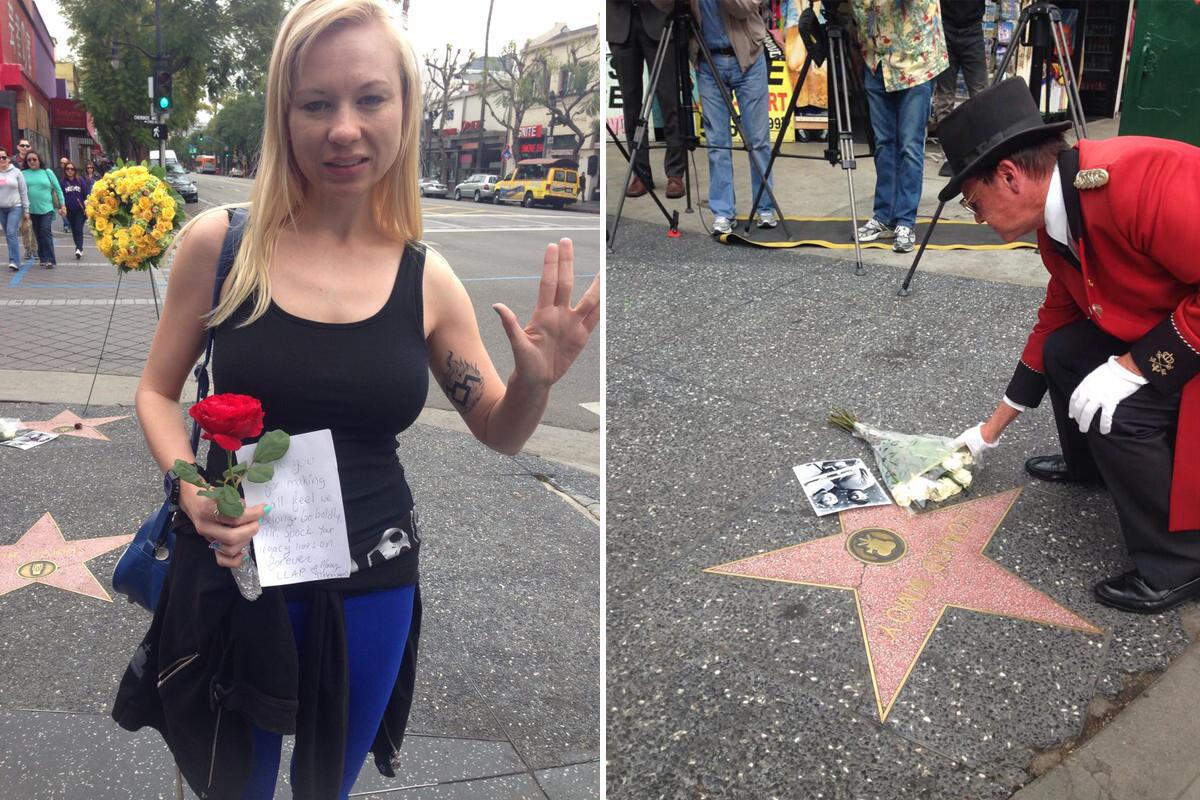 Fans of Leonard Nimoy, who died Friday, gathered at his star on the Hollywood Walk of Fame to mourn not only the actor but also the character he was best known for, Mr. Spock.
The late actor and his "Star Trek" character are firmly intertwined in many fans' minds.
Mary Czerwinkski said she was a big Nimoy fan because Spock helped her feel like "it was OK to be a weirdo" while she was growing up as a pink-haired punk rocker in Chicago.
"He has been a lifelong inspiration," Czerwinski, 33, said as she left a single rose and a handwritten note on the star at the corner of Hollywood Boulevard and Cherokee Avenue.
The note read: "Thank you for making us all feel we belong. Go boldly, Mr. Spock. Your legacy lives on forever. LLAP."
Since Spock was half alien, the Hollywood resident said, "he showed it was OK to be different and that you will still find family and friendship in the world."
As pedestrians stopped to take their photo with Nimoy's star Friday morning, Gregg Donovan praised the man he called an icon of science fiction and laid down a bouquet of white roses.
"He was a wise man before Obi-Wan and Yoda," the 55-year-old Santa Monica resident said of characters introduced in the "Star Wars" films.
Donovan, a self-described ambassador of Hollywood, resembled a circus ringmaster in white gloves, top hat and long coat.
Years ago, when he was traveling in Brazil, Donovan said he got homesick and went to a movie theater to see 1982's "Star Trek II: The Wrath of Khan." He remembers weeping when Spock died. He said he was greatly relieved when the character was revived two years later in "The Search for Spock."
As about a dozen media outlets, as well as tourists and locals, milled around Nimoy's star, Donovan ruminated on Nimoy's legacy.
Spock's catchphrase -- "Live long and prosper" -- was universal, Donovan said.
"It was around the world [and] so optimistic for every generation."
Czerwinski said she saw Nimoy at "Star Trek" conventions she attended and that he was always warm and approachable with fans, who likewise embraced him.
She said she saw him give a final speech at a "Star Trek" convention in 2011: "The whole room was in tears."
David Luong, Nimoy fan and organizer of the Santa Monica/Los Angeles Star Trek Club said, "It's one of those situations where you have an idol who you see on TV every day, who seems immortal because of that, and who's changed your way of thinking -- and suddenly he passes away.
"He had a real impact on my life," Luong said.
Luong said the club was set to meet Saturday to discuss Nimoy's death.
For fans wishing to donate, Nimoy's family asks that donations be made in his memory to the Everychild Foundation, P.O. Box 1808, Pacific Palisades, CA 90272; the COPD Foundation, 20 F Street NW, Suite 200-A, Washington DC 20001; Beit T'Shuvah treatment center, 8831 Venice Blvd. Los Angeles, 90034; or the Bay-Nimoy Early Childhood Center at Temple Israel of Hollywood, 7300 Hollywood Blvd., Los Angeles 90046.
Los Angeles Times staff writer Veronica Rocha contributed to this report.
Twitter: @AngelJennings
Sign up for Essential California for news, features and recommendations from the L.A. Times and beyond in your inbox six days a week.
You may occasionally receive promotional content from the Los Angeles Times.