Lightning strikes in coastal Southern California are rare, expert says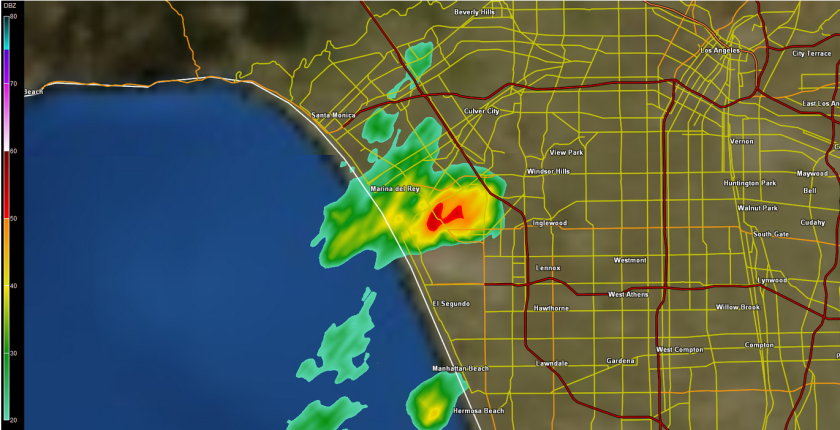 Lightning strikes that critically injured two people and hit several more Sunday in coastal Southern California are extremely rare, with the West Coast experiencing the lowest incidence of them in the nation, a weather expert said.
Bill Patzert, a climatologist with the NASA Jet Propulsion Laboratory, said an intense high-pressure system pulled an unusual mass of hot and moist air from Mexico and the Gulf of California to coastal areas, creating the unstable atmospheric conditions that produced the lightning strikes. Normally, he said, those air masses travel no farther west than the high desert and mountains.
"This was a sneak attack that took everybody by surprise," he said. "Coastal Southern California is virtually lightning proof. Because it's so unusual, people are not sensitized to the dangers."
Patzert said the odds of lightning striking a person in California is 1 in 7.5 million. Montana has among the highest odds at 1 in about 250,000 but Florida is the "nation's lightning champion" with 31 recorded incidents in 2011, he said.
He added that the unusual weather conditions were expected to persist through Wednesday, potentially bringing more lightning and thunder. He advised people to follow the National Weather Service's warning: "When thunder roars, go indoors."
teresa.watanabe@latimes.com
Twitter: @TeresaWatanabe
---
The perils of parenting through a pandemic
What's going on with school? What do kids need? Get 8 to 3, a newsletter dedicated to the questions that keep California families up at night.
You may occasionally receive promotional content from the Los Angeles Times.