Amid housing crisis, Garcetti's 'linkage fee' proposal remains in limbo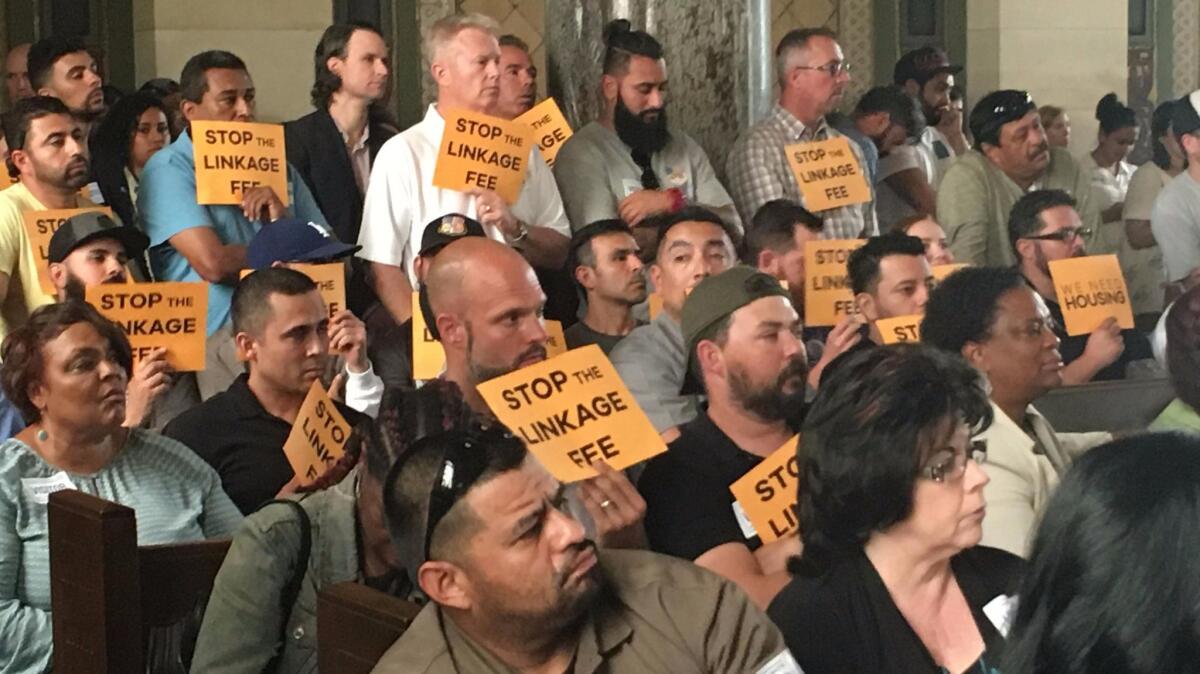 Following the lead of other California cities, Mayor Eric Garcetti two years ago proposed charging a fee on construction and using those funds to build affordable housing in Los Angeles.
The so-called linkage fee — a financing tool already in use in San Francisco, San Diego and Oakland — would raise $100 million a year, city officials say.
But amid mounting questions, a City Council committee last week put off a vote on Garcetti's plan until late July or beyond.
The delay follows criticism from business groups and some academics who say the fee would slow construction in a city grappling with a housing crisis.
Tension over the proposal comes amid a 20% surge in homelessness in Los Angeles over 2016 levels. Lawmakers are under pressure to craft housing policies to curb homelessness, and the battle over the fee reflects the disagreement over the best approach.
"Everyone wants more affordable housing," said Michael Manville, a professor of urban planning at UCLA who objects to the fee. "On this policy issue, there just isn't a clear consensus on whether this is the way to get there."
In his State of the City speech in April, Garcetti called on the City Council to pass the linkage fee. He again urged members to support it at a media event last month to present the city's homeless numbers.
"Every month we wait, more people are falling out onto the streets," Garcetti said.
The mayor had counted on $20 million from the fee in the current fiscal year, which ends June 30. But because the measure hasn't been approved, that revenue has not flowed into city coffers.
Officials say the fee proposal is an attempt to help ease the strain on the rental market for lower-income people brought about by the construction of market-rate housing and other development.
The proposed fee would apply to new homes, office buildings, apartment towers and other construction — charging $5 per square foot for commercial development and $12 for residential. Residential projects with five or fewer units would be charged $1 per square foot.
Several types of development, including some grocery stores, smaller homes and certain affordable housing projects, are exempted.
In cases in which a home or building is torn down and replaced with a larger one, the proposed fee applies to the amount of increased square footage.
Supporters reject arguments that the linkage fee would slow construction. They point to an analysis of building permits by the real estate consulting firm Keyser Marston Associates, which found that similar fees caused no decline in the pace of construction in Pasadena, Santa Monica, West Hollywood or San Diego.
The non-profit California Community Foundation paid for the study and provides financial support to some of the affordable housing groups backing L.A.'s proposed linkage fee.
Manville argues that the vast majority of low‐income families in L.A. live in unsubsidized, market‐rate units.
A fee that makes construction of those units more costly will hurt production, while only a few "lucky residents" will benefit from the additional affordable housing made possible by the fee, Manville said.
Mark Louchheim and Douglas Morton, executives with Bobrick Washroom Equipment in North Hollywood, wrote a letter to Garcetti this year warning that the linkage fee could discourage businesses from opening in Los Angeles or drive away existing ones.
If the fee had been in place, Bobrick would have had to spend at least an additional $200,000 on a manufacturing plant it built recently, said Morton, senior vice president of corporate development.
Bobrick is committed to staying in Los Angeles, but for others, "it could make more sense to open in a place like Valencia" because it's cheaper to do business there, Morton said.
City leaders commissioned a study released in 2011 that concluded a linkage fee wouldn't deter new development.
But lawmakers did not take up the fee because the real estate market was still recovering from the Great Recession, principal city planner Ken Bernstein said.
Federal budget cuts threaten the city's affordable housing funds, making the linkage fee more necessary, supporters argue.
President Trump proposed eliminating a program that provides about $20 million of roughly $28 million collected annually by L.A.'s Affordable Housing Trust Fund, officials said.
Highlighting the split among academics, Manuel Pastor, who directs the Program for Environmental and Regional Equity at USC, supports the fee, calling it a sign of L.A.'s commitment to creating affordable housing.
"It's one part of the solution," he said.
At a hearing Tuesday, Councilmen Marqueece Harris-Dawson and Curren Price, who represent some of the poorest districts in the city, questioned how the fee would be received in South L.A., an area struggling to get investment.
"I'm not convinced that a one size fits all is the best approach," Price said, noting that the fee structure is the same in rich and poor areas alike.
Skeptics also question whether the fee will truly make a dent in the housing shortage. Los Angeles needs about 382,000 units for extremely low-income renters, according to a 2016 study by the Harvard Joint Center for Housing Studies.
Housing officials say it's difficult to predict the total affordable housing units that would be created each year with the fee but estimate that it could be up to 1,000, depending on what other funds are also used.
City Councilman Gil Cedillo called the debate over the linkage fee "a huge moment and huge political battle" for a potentially modest benefit.
"If the prize is 400 units, it's inadequate," Cedillo said. "We need to go beyond that."
Representatives from the mayor's office gave a presentation on the linkage fee Thursday night to the 34-member Valley Alliance of Neighborhood Councils.
Cindy Cleghorn, who serves on the group's executive board, said many in the 50-person crowd were unhappy that residential construction costs would rise.
"It wasn't received that well," Cleghorn said.
Garcetti spokesman Alex Comisar said Friday that Garcetti "respects the council's deliberative" process on the linkage fee, noting the mayor wants the fee passed "as quickly as possible."
The delay in a vote last week marked a setback for supporters. The fee wouldn't go into effect until six months after its passage, so funds wouldn't come into the city until at least next year.
Eric Ares, a deputy director for the anti-poverty advocacy group Los Angeles Community Action Network, said the proposal should have been passed by now.
"We need the mayor and the council to buck up and follow through on the commitment they made," Ares said.
Twitter: @dakotacdsmith
Sign up for Essential California for news, features and recommendations from the L.A. Times and beyond in your inbox six days a week.
You may occasionally receive promotional content from the Los Angeles Times.