In Little Saigon, the Trump-Kim summit spurs a call for human rights in Vietnam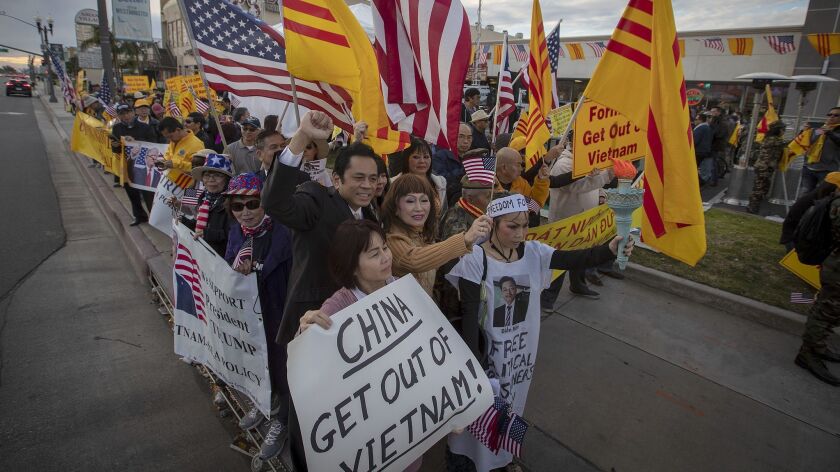 On the other side of the world, family and friends in their homeland whispered about the huge bodyguard entourage shielding the North Korean leader, Kim Jong Un, as he arrived for his summit this week with President Trump in Hanoi.
But in Orange County's Little Saigon, the largest Vietnamese business and cultural district outside Vietnam, the locals did not speak in hushed voices. Instead, hundreds took to the streets on a cold Tuesday evening to loudly denounce the communist government as "oppressors" and demand human rights for their countrymen.
Fifteen time zones across the Pacific, in the Vietnamese capital, the second Trump-Kim meeting is underway amid maximum fanfare and mixed expectations about whether the talks will produce concrete results.
In Little Saigon, residents hope to use the president's visit as long-distance leverage, pressuring him to dig into the "necessary issues" facing one of the "most beautiful yet difficult places to live," according to organizers. Protest leaders want to steer the eyes of the world toward "the urgent need for democracy and reform and for a regime change," said Chi Charlie Nguyen, a Westminster councilman. "We could not lose this moment to speak up and speak out."
A groundswell of support came from nearly 30 Vietnamese American groups, including the Youth Coalition Demanding Human Rights and Democracy for Vietnam who joined forces to launch the gathering, graced by a candlelight vigil. And, as has occurred with demonstrations before in the immigrant community, emails flew back and forth before the protest, with advice on using the cloth and paper flags of South Vietnam provided by the organizing committee. Moreover, organizers sent a letter to Trump on Feb. 18, highlighting their grave concerns "about the harassment, intimidation, assaults and imprisonment of rights defenders" in their homeland.
Protesters came from as far away as the Netherlands and Canada, easily mixing with fellow Vietnamese from Georgia, Indiana, Kansas, New York and Texas. Sacramento resident Vuong Nguyen, seeing their determined faces, quickly set up his camera for a Facebook livestream. Then he jumped into the frame and, like a conductor, led the marchers in singing patriotic tunes.
"This is to lift the spirits of our people," said Nguyen, 65, a former South Vietnamese army lieutenant. "I hope all the Vietnamese overseas will continue to put Vietnam first so that our democratic dreams, one day, will be realized."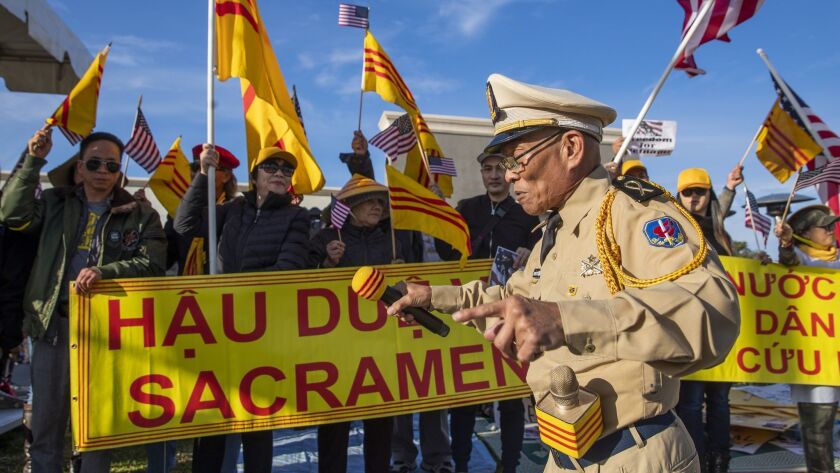 As the Vietnamese in Hanoi prepared to roll out the red carpet for Kim and Trump, Rep. Katie Porter (D-Irvine) took advantage of the timing to lead a bipartisan group to appeal for the president's help in freeing a Vietnamese American man from Orange who has been jailed for almost eight months in Ho Chi Minh City.
Porter sent a letter to the Trump administration, signed by the Orange County congressional delegation and other colleagues, pushing for the release of Michael Phuong Minh Nguyen, locked up by Vietnamese authorities without being charged on July 7.
Demonstrators — totaling more than 400 by dinnertime — cited Nguyen's case and pleaded for the release of hundreds of political prisoners suffering behind bars in their country.
"Innocent people should not be jailed. We call on Vietnam to release all the prisoners of conscience who are punished just because they express their beliefs," said Diep Bui, a nanny from San Jose, wearing a tunic bearing the face of Tran Huynh Duy Thuc, a blogger and democracy activist who has spent more than 10 birthdays behind bars.
Bui, 55, skipped work for two days in order to participate. "I want the younger generation to see us and to learn from us that they deserve to be able to share their demands," she added, as crowd members lined up to drink fresh cups of soybean milk to ease their thirst before resuming their shouting.
"My wish is that this effort will push the U.S. government to pay more attention to political and religious abuses in Vietnam," said Westminster Mayor Tri Ta, an organizer. "All of us here — this is our passion, to fight for rights and we will never stop."
Others warned that abuses in Kim's own country shouldn't be ignored.
"North Korea is arguably the worst human-rights-abusing government in the world today, so any dialogue with Kim Jong Un should not leave rights off the table," said Phil Robertson, deputy Asia director for Human Rights Watch. Pyongyang wants to be brought in from the cold by the international community, but there can be no glossing over its "widespread use of forced and child labor, systemic suppression of free expression and civil society, and gulags holding tens of thousands in the mountains," he said.
Overall, around the globe "where humans are suffering, especially in Vietnam, my hope is that the world would come to our rescue," said Sang Vo, 43, a produce seller from Sacramento. "Freedom is not free. We must work toward it."
Twitter: @newsterrier
---
The stories shaping California
Get up to speed with our Essential California newsletter, sent six days a week.
You may occasionally receive promotional content from the Los Angeles Times.