Long Beach man among the victims of Boeing 737 Max 8 crash in Ethiopia
After the 2010 earthquake in Haiti, Matt Vecere dropped what he was doing, flew to the island and spent months helping the recovery efforts.
When the Camp fire broke out in Northern California, Vecere immediately flew from his home in Long Beach to Chico to help people in shelters.
And when the migrant caravan crisis erupted at the Mexican border, Vecere picked up his surfboard and went there, too, hoping to help the migrants.
Vecere, a writer, humanitarian and surfer, followed tragedies as often as he could to give as much as he could to victims, his family said. His desire to help was unmatched and profoundly genuine, they said.
On March 8, Vecere began a long trip for work — traveling to Washington, D.C., with a layover in Ethiopia, before a planned arrival in Nairobi, Kenya.
The Boeing 737 Max 8 jet Vecere was on crashed early Sunday in Ethiopia, killing all 157 passengers on board, including 21 United Nations employees. He was 43.
"Surf circle or business circle, within 30 minutes of knowing the guy, you knew he would give everything he had for somebody who didn't have anything," said Mike Reola, the owner of Catalyst surf shop in San Clemente, where Vecere formerly worked as a manager.
Vecere was traveling to a UN environmental conference for IQ Air, the air filtering and monitoring company he worked for.
It was a trip that would bring him closer to marrying his passion of helping others with his career, said Tiffany Allegretti, a spokeswoman for IQ Air and friend of Vecere's.
"We will miss his laugh, his wit, his sense of humor, but most of all, the kinship and friendship that he brought to everything he did," the company said in a statement. "Our heart is with Matt's family and friends, as well as the loved ones of all who lost their lives in this horrible tragedy."
Vecere had started working at IQ Air two years ago as a writer and communications specialist, likely drawn by its mission to providing better air quality to those in need. On one of his regular trips to Haiti, he brought along IQ air filters and purchased water filters to distribute to orphanages and other local people, Allegretti said.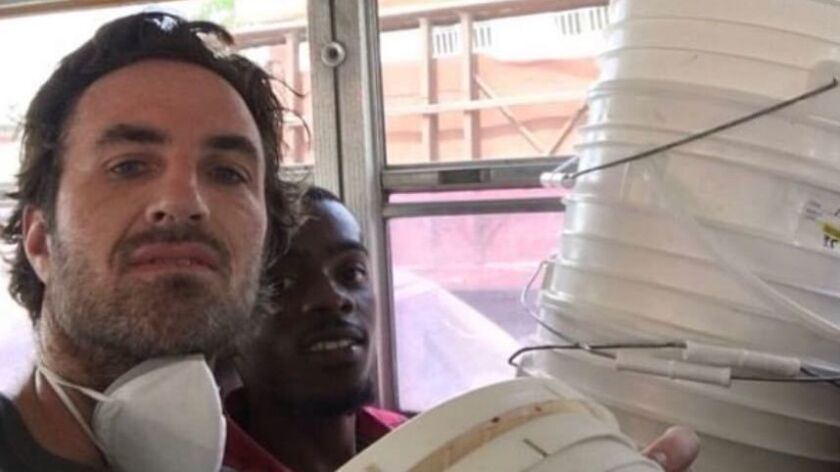 He did the same after the 2010 earthquake. "Pretty soon, I was on a plane to Haiti with a suitcase full of water filters and not much of a clue as to what I was going to do with them," he told The Times then.
When he returned to work, IQ Air's chief executive suggested that Vecere attend the UN conference on behalf of the company, Allegretti said. "For his professional career to merge with his passion, it was the pinnacle of success, Allegretti said.
He had a day to prepare for the flight and on the way to the airport went shopping for professional clothing: a single button-down shirt and a blazer. Allegretti asked him if he was ready.
"Yeah, I got my button-down and blazer," he texted.
"No pants?" she asked.
He was wearing them, Vecere replied. Then, he hopped on the plane.
"He just made every one of us better people, just by his presence," she said. "I pushed for him to do this and I really was excited for him to do it. I have felt and continue to feel a lot of guilt."
Vecere, a New Jersey native, had lived along California's coast for about 12 years. He made the jump after meeting Reola at a surf competition he was participating in and covering for a surf magazine. Reola was opening a store in San Clemente, and he needed a manager.
Reola was drawn to Vecere's charisma and his ability to talk about politics and social issues so eloquently. Plus, he wasn't afraid to cut loose, Reola said.
Vecere helped launch the store and its website in 2005. "He would have been a great, game-changing politician," Reola said, struggling to describe Vecere. "He would connect with people. He was good. He was striving to make things happen."
Vecere left behind nonprofit organizations, including Emprofit, which provides economic opportunities to Haitian people, and a GoFundMe fundraising campaign to finish building an orphanage in Haiti.
"Matt was passionate about the environment, civil rights, social and environmental justice, and advocating for those less fortunate," his mother, Donna Vecere, said in a statement. "His passion turned to direct action, rolling up his sleeves to serve causes where he could make a tangible difference."
On Friday evening, Catalyst surf shop is hosting a memorial service for Vecere in San Clemente. In New Jersey, the surfing community is organizing a "memorial paddle," to be held in the summer.
Vecere is survived by his mother and sister, Allegretti said.
alejandra.reyesvelarde@latimes.com
Twitter: @r_valejandra
---
The stories shaping California
Get up to speed with our Essential California newsletter, sent six days a week.
You may occasionally receive promotional content from the Los Angeles Times.