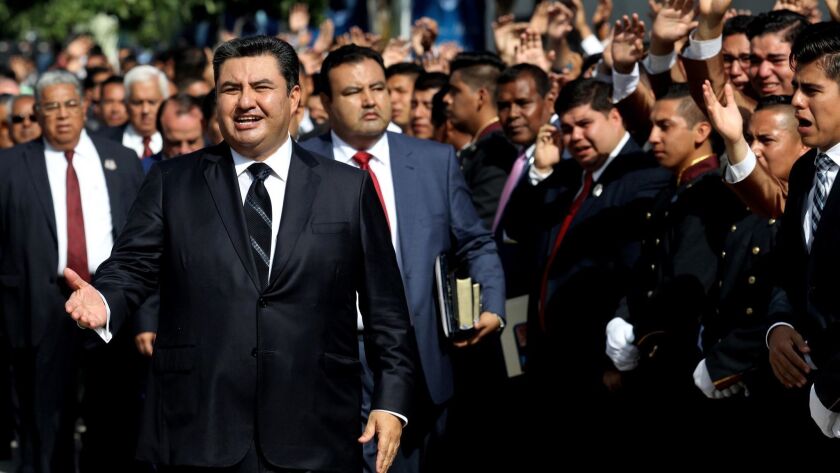 The leader of La Luz del Mundo church will remain in jail until at least Monday unless someone can pay the portion of his $50-million bail needed to release him.
Naasón Joaquín Garcia, 50, and co-defendants Alondra Ocampo, Azalea Rangel Melendez and Susana Medina Oaxaca — all of whom are affiliated with the religious organization headquartered in the Mexican city of Guadalajara — are alleged to have committed 26 felonies, including human trafficking, production of child pornography and forcible rape of a minor, in Los Angeles County between 2015 and 2018.
In court Wednesday, Garcia's attorney, Dmitry Gorin, argued that the bail was unreasonably high because there were only four alleged victims and Garcia wasn't accused of "stranger-on-stranger rape."
"These aren't kids that are under 14," Gorin said to the judge. "We're talking about 14 to 17, statutory rape charges, sir. No binding, no weapons."
Prosecutors said that the increased bail was because of additional information learned from search warrants but didn't provide further details. The arraignment of Garcia and his co-defendants was continued to Monday.
The arrest and allegations that Garcia sexually abused children and solicited sexually explicit photos of minors has sent shock waves through Mexico and the United States.
A day after the charges were announced, Mexican President Andres Manuel Lopez Obrador faced scrutiny about a concert last month at the Palacio de Bellas Artes, a famous and historic cultural center in Mexico City, that appeared to be a tribute to Garcia. The government had given permission for the space to be rented for the event, a move that angered critics who said public venues should not be used for religious purposes.
Lopez Obrador responded that authorities in Mexico did not have the information that came to light Tuesday when Garcia was taken into custody at Los Angeles International Airport.
"What I can say is my conscience is at peace, because I am a supporter of respect and tolerance," he said. "That is what I defend."
Garcia, Ocampo, 36, and Oaxaca, 24, appeared in a downtown Los Angeles courtroom Wednesday morning to be arraigned on the charges against them. Garcia wore a wrinkled, short-sleeved white shirt and black pants as he sat quietly in the corner of the courtroom's custody box, speaking occasionally to consult with attorneys. Oaxaca, who wore a long-sleeved white blouse, and Ocampo — in an orange jail jumpsuit — sat nearby.
Garcia's family, including his wife of 25 years and children, sat silently among a packed crowd in the courtroom, staring straight ahead.
Oaxaca's attorney, Pat Carey, argued that, of the 26 felony counts, his client was alleged to have committed only two of them, and that would make it hard for her down the road to go back to church without members associating her with the other alleged crimes.
A bench warrant was issued for Melendez, who did not show up to court. She also has an outstanding warrant for her arrest.
Prosecutors allege Garcia and his co-defendants committed sex crimes locally for years while leading La Luz del Mundo, which translates to the Light of the World. The organization, which claims more than 1 million followers worldwide, has churches in East and West L.A., Orange County and Palm Springs.
With tall columns and sculptures of lions, the Light of the World church in East L.A. looms large over what neighbors have described as a relatively quiet area. A stained-glass window at the front entrance carries the names of Garcia's late father and grandfather, previous leaders of the organization.
A large banner wishing Garcia a happy 50th birthday in Spanish hangs on one side of the building, which is also inscribed with the phrase "House of God and Gate to Heaven."
The church had been open through the night for congregants to pray following the announcement of the charges against Garcia. By Wednesday morning, a dozen congregants filled the first of about 50 pews inside the sprawling church. Women wearing long dresses covered their hair with colorful head scarves.
Some congregants who gathered at churches across the region Wednesday refused to talk about the allegations, instead requesting that guests respect their sacred space. Others expressed strong devotion for Garcia, saying they believe he'll be cleared of the charges against him.
In Santa Ana, church leadership added two additional services Wednesday so congregants could pray for Garcia. David Salazar, a 50-year-old who grew up in the church, stood outside the doorway flanked with golden pillars shortly after the 9 a.m. service began. He defended Garcia in between sips from a foam coffee cup.
"He is a man of God," Salazar said. "It's not true…. It's just meant to discredit him."
Salazar, who lives in Tustin, said he personally knows Garcia and believes him to be a great leader and a good example for his congregants.
"My children have grown up here," he said of his six children. "They don't use drugs. They are well-mannered and are good people because of the church … because of him."
Inside the church, men in poly-blend suits clutched their Bibles. Women wearing long skirts and heads covered in red, black and white lace shawls chanted hymns. Some cried out. Francisco Lucas, who stood by Salazar, chimed in.
"This is a living church," he said. "We are a spiritual church. We believe in justice. We are praying for God to do justice."
Lucas called the situation nothing new, stating that "apostles have long been persecuted." Both said Satan was behind what they called "false accusations."
La Luz del Mundo has been the subject of controversy for decades, as it has spread from Mexico into California and other areas. In the past, critics have compared the church — formed in 1926 — to a cult that preys on the poor. Samuel Joaquin Flores, Garcia's father and predecessor who died in 2014, was previously the subject of child sex abuse allegations that he adamantly denied. He never faced charges.
Angelica Ramirez, a congregant at the East L.A. church, said she planned to pray for the religious leader.
Garcia, she said, has taught her many things, including "to love and respect my family, to be a good Christian and a good citizen." The allegations didn't surprise her since similar ones had been previously lodged against Garcia's father, she said.
"It's a lie," said Ramirez, who has been part of La Luz del Mundo for 15 years. "Tomorrow they will establish what is true and what is false…. These are simply things that have been made up."
Jack Freeman, a minister who has been with the organization for 27 years, said he knows Garcia personally. Garcia, he said, was recognized by the United Nations earlier this year for the church's human rights work. The church leader has also helped develop foundations to empower women, Freeman said.
"I think one of his biggest loves and his biggest cares is the children – the protection of them and the teaching of them and respect for children," he said. "That's why these allegations came so far out of left field."
He views the allegations – and the similar ones against Garcia's father – as part of a smear campaign.
"Unfortunately there are people who don't understand this church, who don't comprehend why we would say he's an apostle," he said. "This is not the first time that this has happened and it's not going to be the last time it has happened. It's a common tactic to bring somebody down that's doing good."
But a neighbor who grew up in East L.A. near the church said he had heard rumblings about inappropriate behavior— namely women raising concerns over what they said were advances by Garcia.
Garcia is described on the church's website as having "dedicated his life to serving God from a young age." He served as a role model for other youths, "bringing a message of love and salvation to people's souls" and was sent as a missionary to Spain and Portugal, according to the site.
In a statement posted to the organization's Facebook page, religious officials defended Garcia, saying he "has always behaved in accordance with the law and with full respect for the institutions and the dignity of the people."
The attorney general began investigating Garcia and others last year, prompted in part by a tip to the state Department of Justice through an online clergy abuse complaint form. Three girls and an adult mentioned in the complaint were sexually assaulted by Garcia in L.A. County, prosecutors said.
The criminal complaint filed in Los Angeles Superior Court on Tuesday against Garcia and his co-defendants outlines graphic and disturbing details about the crimes prosecutors allege they committed.
In August 2017, according to the complaint, Ocampo told a group of girls in Los Angeles County that if they went against the desires or wishes of "the Apostle," a term used to refer to Garcia, that they were going against God.
A month later, in September, Ocampo directed minors to perform "flirty" dances for Garcia "wearing as little clothing as possible," the complaint reads. After that dance, Garcia purportedly gave a speech to the children about a king having a mistress and stated that an apostle of God can never be judged for his actions.
In one incident outlined in the criminal complaint, Ocampo called a girl, who is younger than 16 and identified in only as Jane Doe 1, to Garcia's home and directed her to serve him coffee in his office without clothing.
When she entered his office, Garcia allegedly put his arms around her, kissed her on the lips and touched her in intimate locations, according to the complaint.
Prosecutors further allege that Ocampo repeatedly took photos of three naked girls, sometimes as they performed intimate acts, telling them that they were for "the servant of God," referencing Garcia.
On one occasion, Ocampo took the girls to an office building, provided them with schoolgirl outfits and photographed them in sexually explicit poses, according to the complaint. On at least one occasion, according to the complaint, Garcia thanked three girls for the photos.
At a news conference Wednesday morning, a spokesman for the church said that the allegations against Garcia were false and that the church trusts that the legal system will find him innocent.
"The apostle of Jesus Christ has always adhered to the law," said Ashley Valdez, the spokesman. "He is the mouthpiece for God."
Times staff writers Patrick McDonnell and Cecilia Sanchez in Mexico City and Jaclyn Cosgrove in Los Angeles contributed to this report.
Twitter: @Hannahnfry
---