L.A. set to settle with man wrongly convicted of killing mother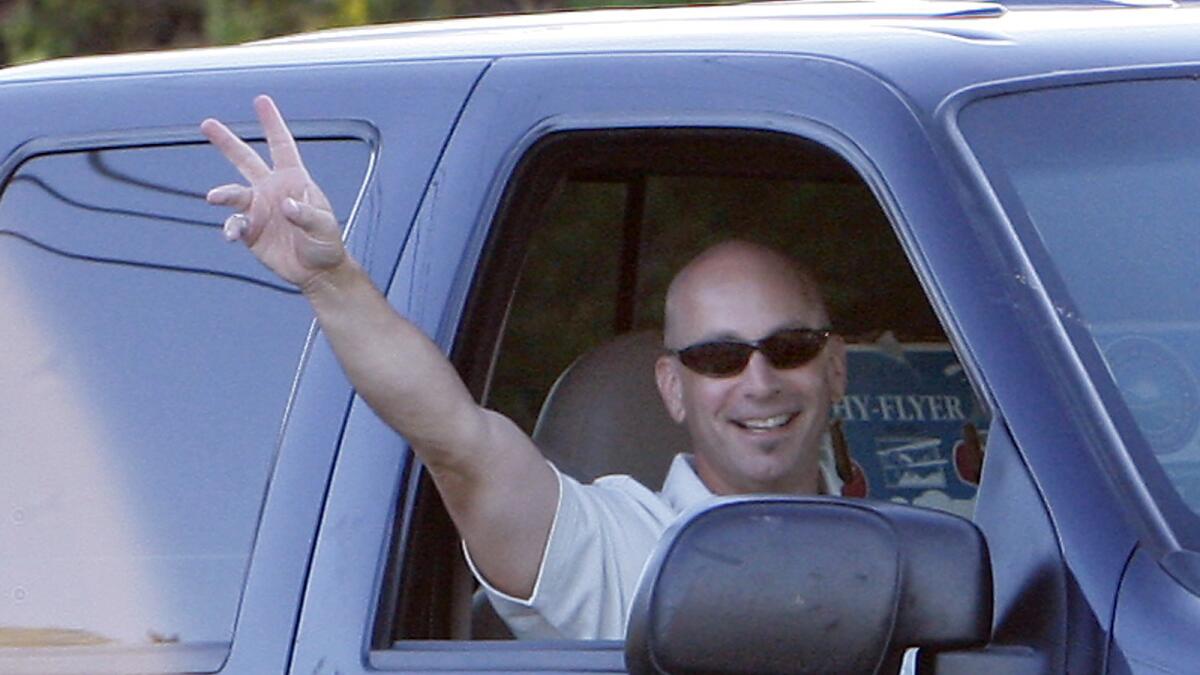 A man who was wrongfully convicted of killing his mother has reached a tentative settlement in his lawsuit against the city of Los Angeles in which he accused police detectives of fabricating evidence to put him behind bars for 26 years.
A spokesman for the city attorney's office did not disclose the terms of the settlement on Monday, saying such information typically remains secret until the Los Angeles City Council votes to approve the agreement.
Bruce Lisker, who was released from prison in 2009 after a Times investigation, also declined to reveal the settlement amount until the council's approval, but he called the potential resolution of the case "a relief."
"It's been a never-ending series of delays and denials and has been extremely painful," said Lisker, now 50. "It's been a very emotional ordeal."
The Homicide Report: A story for every victim >>
The potential resolution of the case, he said, "will allow me to go on with the rest of my life," he said.
In his federal lawsuit, Lisker contended that his civil rights were violated by the city, the LAPD and the former detectives who investigated his mother's March 10, 1983, slaying.
A Times investigation into the case raised questions about key elements of the prosecution's case against Lisker and exposed the LAPD's murder investigation as sloppy and incomplete. A federal judge subsequently overturned the conviction, ruling that Lisker had been prosecuted with "false evidence" and that his original defense attorney did not adequately represent him.
At the time of the killing, detectives were immediately suspicious of Lisker, a frizzy-haired 17-year-old who had a history of drug abuse and fighting with his 66-year-old mother, Dorka.
Lisker's relationship with his parents had deteriorated to the point that they paid for him to live in a studio apartment near their home in Sherman Oaks.
Lisker told police he had come to the family home on the day of the killing to work on his car. When his mother didn't answer the front door, he said, he went around to the backyard and looked through the living room window and patio sliding glass door. He said he saw his mother lying in the foyer and broke into the house through the kitchen window to come to her aid and call paramedics.
The detectives didn't believe Lisker and placed him under arrest that day.
The prosecution's case against Lisker at the time hinged largely on four elements: Blood spatter on his clothes allegedly implicated him; police believed it impossible for him to have seen his mother lying on the floor from outside the house; he allegedly confessed to a jailhouse informant; and police said bloody shoe prints placed only him at the scene.
At an evidentiary hearing in federal court challenging Lisker's conviction, each of those elements was undermined or disproved.
For example, an LAPD analyst and an FBI expert testified that a bloody print found in the bathroom of the Lisker family's house and attributed to Lisker at trial was not made by his shoes.
As for Lisker being able to see his mother from a window at the back of the home, experiments first performed by Times reporters and then corroborated by expert testimony proved he could have seen his mother as he had asserted.
Since his release from prison, Lisker has married and now resides in Woodland Hills. He said he has struggled to find work.
The council is expected to vote on the settlement within the next couple of months.
"Finally, there's an acknowledgment of what me and my family have gone through," Lisker said.
Twitter: @MatthewLait
ALSO
High school sweethearts killed in Hacienda Heights crash
Growing homeless problem prompts HUD leader, local officials to meet
Baby accidentally run over and killed after slipping out of mother's hands
Sign up for Essential California for news, features and recommendations from the L.A. Times and beyond in your inbox six days a week.
You may occasionally receive promotional content from the Los Angeles Times.