5,800-acre wildfire burning near Beaumont is 20% contained
A fast-moving wildfire that has scorched 5,800 acres of rugged terrain just south Beaumont in Riverside County was 20% contained late Tuesday morning as firefighters battled the flames with air drops and ground crews.
The Manzanita fire, which was sparked Monday by a car crash along Highway 79 in the San Jacinto Mountains, has been fueled by high temperatures, low humidity and wind gusts of up to 35 mph.
"Those are very favorable conditions for spreading a fire," said National Weather Service lead forecaster Greg Martin. "The only way to make it worse were if winds were a little stronger, but that's about it."
Riverside County authorities have issued evacuation warnings for communities between Highland Home Road and Highway 243 — an area that includes Poppet Flats and Silent Valley.
Voluntary evacuations have been issued for Highland Home Road, Longhorn Road, Death Valley Road and Shirleon Drive.
As a DC-10 air tanker dumped bright pink flame retardant over the region Tuesday morning, Cal Fire Capt. Lucas Spelman told a reporter that the fire was "skunking," meaning it was moving around slowly from bush to bush and generating dark smoke as opposed to a clean burn.
The flames, Spelman said, were moving "consistently away" from the Church of Scientology campus on Gilman Springs Road, roughly nine miles south of Beaumont.
The blaze was reported about 3 p.m. Monday after a Lexus RX 300 drove off Highway 79 and into a tree. Two people were taken to the hospital with unknown injuries, officials said.
By 3:30 p.m., flames had burned 80 acres on both sides of Highway 79, which cuts through the hills and connects Beaumont and Gilman Hot Springs.
By 9:30 p.m., the fire was reported to have spread over 1,200 acres. Three hours later, it had more than quadrupled in size to 5,000 acres.
Fire officials shut down Highway 79 for several hours before reopening the southbound lanes and one northbound lane late Monday night. The burned chassis of the vehicle that triggered the fire could be seen alongside the road, amid charred trees and brush.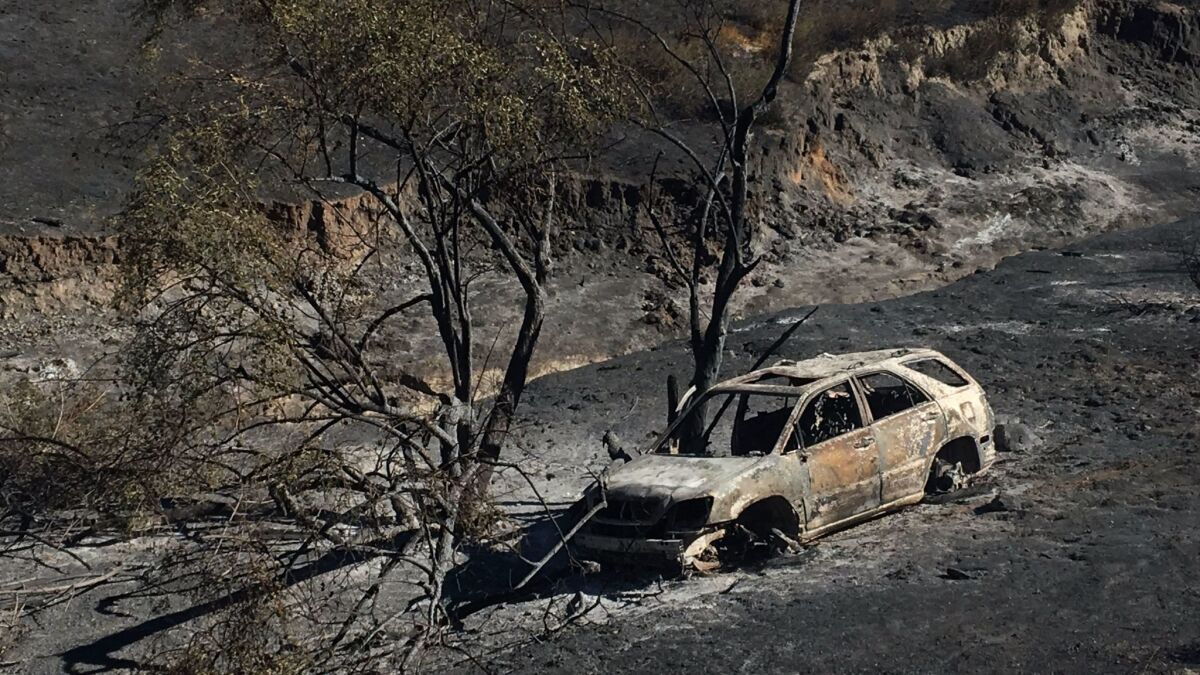 On Tuesday afternoon, those in voluntary evacuation areas said things appeared much less dire than they did Monday evening, when ash rained down and smoke and flames rose on the horizon.
"Last night it was iffy," said Jeanie Crist, a 64-year-old resident of Silent Valley Club, a private recreational vehicle campsite just off Highway 243.
The mood had returned to normal the next day, however, as campers went about their normal summer routines and lounged among oak trees — even as fire officials roamed the grounds and kept a watchful eye on matters.
Patrick Buhrer, the park's director, said about a dozen recreational vehicles and maybe two dozen cars left the camp Monday, but at least 400 recreational vehicles remained Tuesday ahead of the Fourth of July holiday weekend.
Harvey Joe, a 75-year-old retired roofing contractor from Bakersfield, said he was packed up and ready to flee Monday night if the fire had come close.
"We could have rolled out in about 15 minutes," he said. "Faster maybe."
Just four years ago, Joe said he had to abandon his RV and flee down the mountain in his Dodge truck when the Silver fire reached the camp's property line and burned down a maintenance building used for fire prevention.
Before that, in 2006, the camp was spared by the deadly Esperanza.
A plaque at the camp's entrance honors the five firefighters from engine 57 who died fighting that blaze.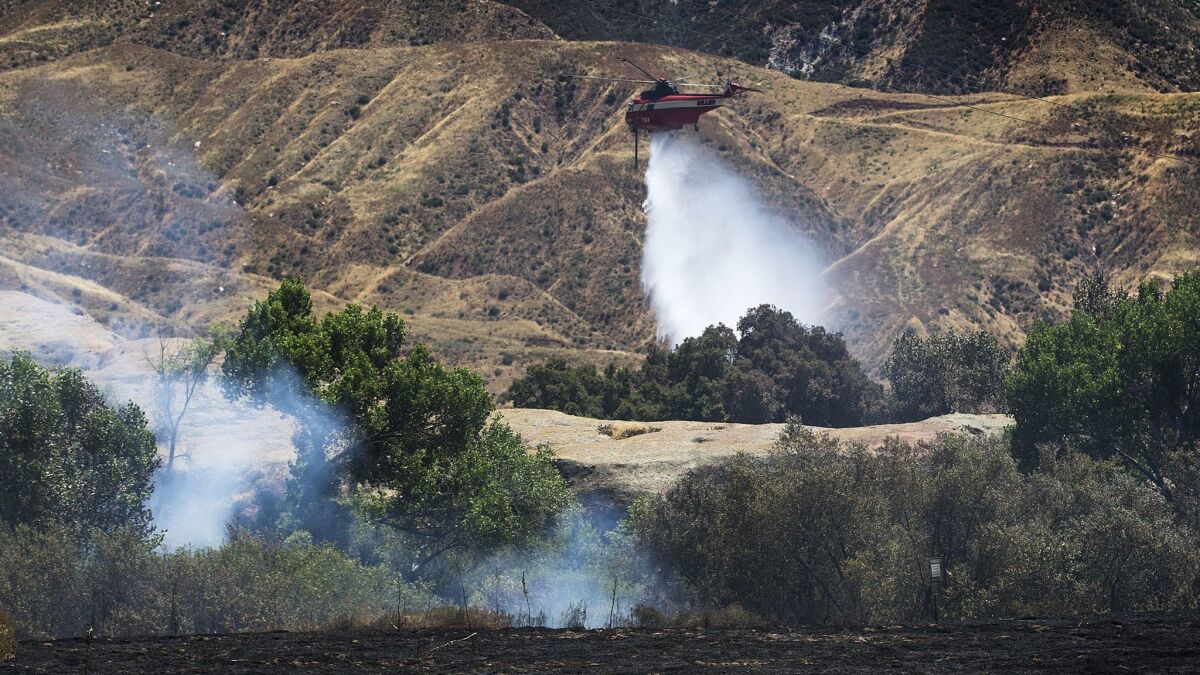 For breaking California news, follow @JosephSerna on Twitter.
ALSO
As heat persists, California wildfire threat grows
Mandatory evacuations lifted near Big Bear Lake as wildfire grows to 1,200 acres amid California heat wave
Crews battling 870-acre fire in Santa Clarita will face 30-mph winds and triple-digit heat, forecast says
---
UPDATES:
3:10 p.m.: This article was updated with comments from campers at Silent Valley Club.
12:05 p.m.: This article was updated with new acreage and containment figures.
10:50 a.m.: This article was updated with comments from Cal Fire Capt. Lucas Spelman.
This article was originally published at 7:10 a.m.
---
Life is stressful. Our weekly mental wellness newsletter can help.
You may occasionally receive promotional content from the Los Angeles Times.