Suspects in Upland marijuana dispensary robbery surrender peacefully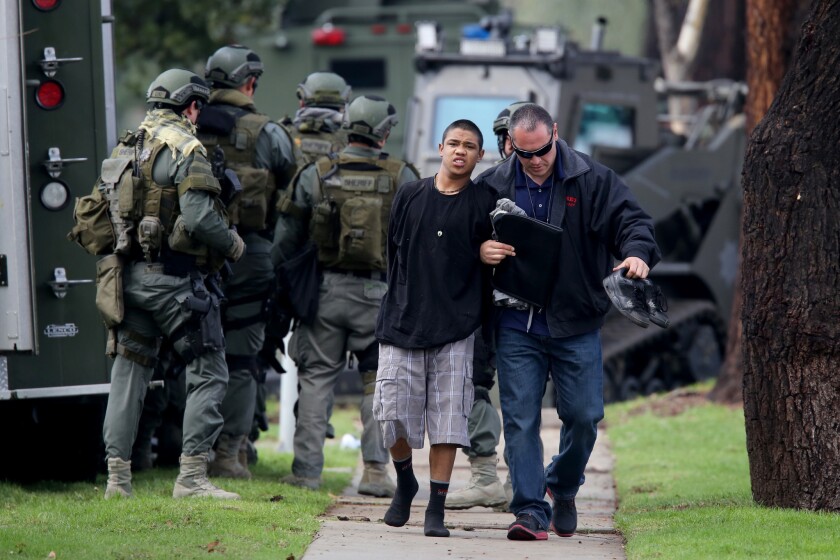 Three suspects in the armed robbery of an Upland marijuana dispensary are in custody after barricading themselves in an apartment, the Upland Police Department said Saturday.
A fourth suspect who was hiding in a nearby building was also taken into custody.
The standoff ended at 11 a.m. Saturday, after about six hours, with the suspects surrendering peacefully to a SWAT team from the San Bernardino County Sheriff's Department. Between 50 and 75 residents who were evacuated have been allowed to return home.
Authorities initially believed there were five suspects, but there were only four, said Lt. John Moore of the Upland Police Department.
Two were 15-year-old males. The others have been identified as Diego Sanchez, 19, of Upland, and Christopher Baca, 30, of Covina.
All four will be booked on suspicion of robbery, assault with a deadly weapon and kidnapping, the Upland Police Department said in a news release.
At about 11 p.m. Friday, three employees were in the parking lot of the marijuana dispensary in the 700 block of North Mountain Avenue when they were approached by four armed men.
One employee was shot in the leg. All three were tied up and left inside the dispensary while the suspects escaped with money, marijuana and a stolen car, the news release said.
One of the bound employees freed himself and notified police, who closed in on an apartment in the 1300 block of W. Randy Street at about 4:40 am. After the suspects refused to come out, the SWAT team arrived, and nearby residents were evacuated.
The employee who was shot is expected to survive. The stolen car was recovered a few blocks away from the dispensary.
Anyone with information about this crime is asked to call Det. Duran at (909) 946-7624.
Twitter: @cindychangLA
---
Get breaking news, investigations, analysis and more signature journalism from the Los Angeles Times in your inbox.
You may occasionally receive promotional content from the Los Angeles Times.