Judge rejects discrimination claim in Highland Park evictions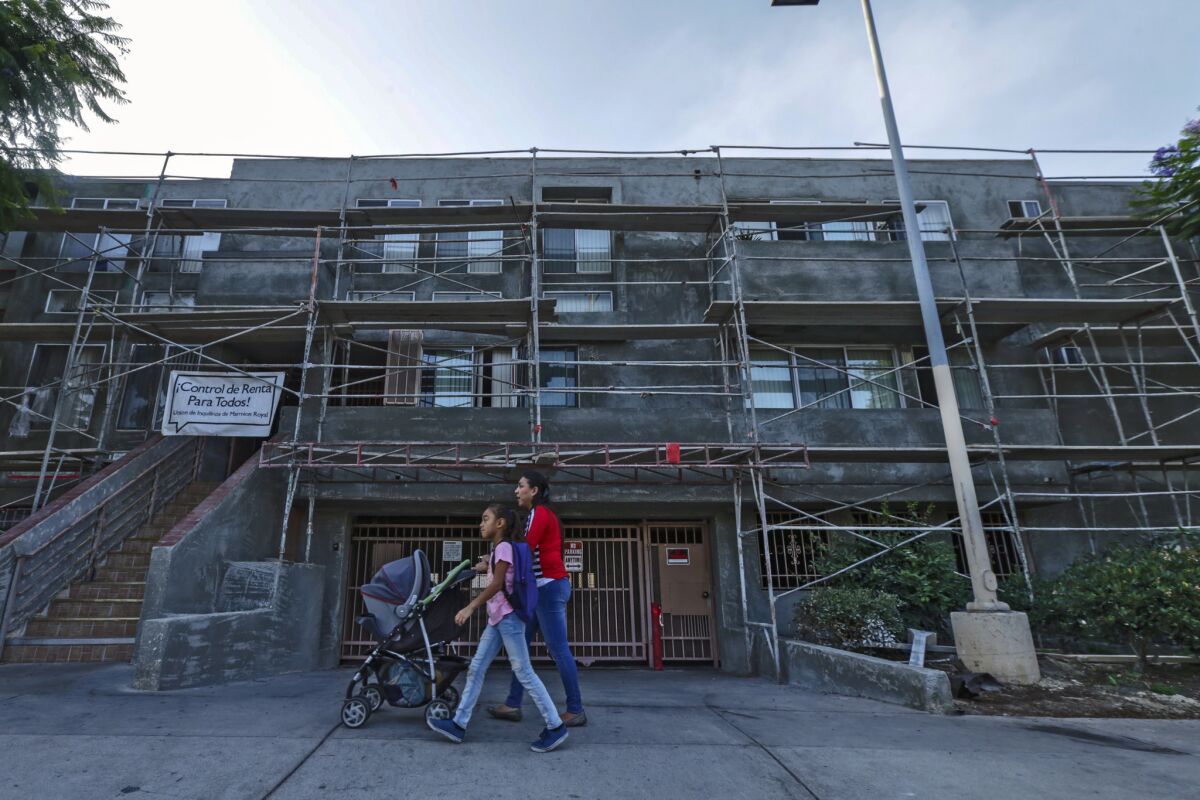 A judge on Wednesday rebuffed a claim of discrimination by tenants of a Highland Park apartment building who are being evicted by an investment company that is renovating the complex and raising rents by 50% or more.
After hearing two days of testimony, Superior Court Judge Rupert A. Byrdsong ruled that the tenants, who organized into a union and stopped paying rent this summer, provided no evidence that the management treated any tenants differently because of their race or ethnicity.
Byrdsong said the tenants' testimony showed that the management company and its on-site manager treated all tenants with respect.
"There is no evidence of disparate treatment," Byrdsong said.
The ruling means that five tenants must leave the 60-unit Marmion Royal Apartments. A sixth defendant had agreed to leave in an earlier settlement. Eviction cases are pending against close to 20 other tenants who are withholding rent. But after the defeat, their attorney offered a settlement that would allow them to leave early in 2017 and forgive past rent.
The case marks a setback for neighborhood activists who organized the tenants to counter gentrification in Highland Park, where dozens of low-income apartment buildings have been purchased in recent years as speculative investments geared toward attracting young professionals who are displacing low-income Latinos.
The five tenants had received eviction notices in May, shortly after Skya Ventures purchased the building for $14.3 million. Dozens more tenants received eviction notices after forming a union to fight the rent increases.
Guided by the anti-gentrification group North East Los Angeles Alliance, the tenants had organized in the hope of extending the standards of the Los Angeles Rent Stabilization Ordinance to the building. That law limits rent increases to 3% per year and requires owners to pay thousands of dollars in relocation fees for anyone required to move for remodeling.
But the Marmion Royal was built in 1987, after the ordinance went into effect, making it exempt.
John Urquiza, an organizer for North East Los Angeles Alliance, described the tenants' union as an attempt to exert economic pressure on Skya Ventures by putting the firm through a drawn-out battle that would squeeze its bottom line.
The striking tenants received the eviction notices this summer shortly after they tried to delay the renovation by refusing to leave a courtyard so that a sandblasting crew could not work there.
Tenants who joined the union have been setting aside money orders for the rent but not forwarding them to the owner, said their attorney Elena Popp, co-founder of the Eviction Defense Network.
When Skya Ventures principal Gelena Skya-Wasserman declined to negotiate with tenants who weren't paying rent, Popp mounted a defense based on discrimination.
Ted Falk, the fiance of one of the building's few non-Latino tenants, Hannah Weinstein, testified that he was told by the on-site manager that Weinstein could move to a freshly renovated unit for an increase of about 50%.
Falk said he was initially told it would be $2,700 for a two-bedroom but that the manager later agreed to drop it to $2,100.
Other tenants, who were Latino or black, testified that they were made no offer and instead were told they had to move.
But under questioning by Skya Ventures' attorney, Jeffrey B. Endler, and also the judge, the tenants had difficulty remembering dates and articulating why they were withholding rent.
The tenants had gone to court Monday expecting to present their stories to a jury. Instead, Byrdsong ordered a hearing to determine if the evidence merited a jury trial.
At the close of the hearing Monday, Endler asked the judge to end the hearing, arguing that all the defendants had shown was that "white people were allowed to negotiate, maybe because they were more aggressive."
Even though Byrdsong said he agreed, he allowed the defense to bring more witnesses Wednesday before ordering the evictions.
Popp, who had hoped to testify, said a representative of Skya Ventures told her the Tarzana-based company sought to bring in "higher-caliber tenants."
Byrdsong ruled her testimony inadmissible because it amounted to a negotiation between the parties.
After Monday's hearing, Popp said she planned to appeal.
"He's just wrong," Popp said.
But when the hearing resumed Wednesday, she offered a settlement in which all the tenants would leave by Jan. 30.
Skya Ventures has countered for an earlier date.
The firm is not asking for unpaid rent.
"All we want is possession," Endler said.
Twitter: @LATDoug
---
Life is stressful. Our weekly mental wellness newsletter can help.
You may occasionally receive promotional content from the Los Angeles Times.