Man sentenced to life without parole in 2015 slaying of UCLA student found in burned apartment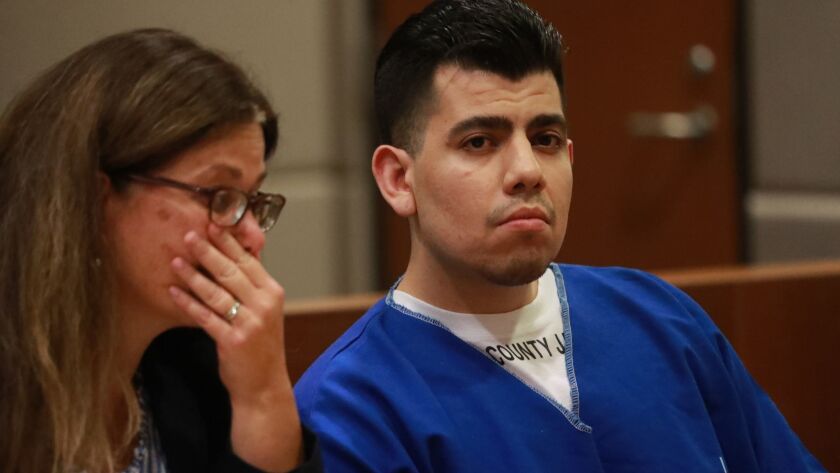 The damage inflicted by Andrea DelVesco's killer was wider and deeper than imaginable.
That much was evident as, one by one, about a dozen friends of the 21 year-old UCLA student addressed the judge — and the murderer — in a Los Angeles courtroom Friday.
Friends, including members of DelVesco's sorority, shared through tears the deep impact the fourth-year psychology student had on their lives. They described her "magic" and ability to empathize and connect with others.
"Today is my chance to fight back," friend Heather Hourdequin said through sobs. "To my kooky friend, Andy: Thank you for wearing color as you danced in this world."
Superior Court Judge Mark Windham listened, at times asking speakers to take their time because he wanted to hear each word, then pronounced judgment.
Alberto Medina was sentenced to life in prison without the possibility of parole — three years to the day after he violently attacked DelVesco in the Westwood apartment she shared with about a dozen of her Pi Beta Phi sorority sisters. Medina, 25, was found guilty in May of murder, arson, burglary and animal cruelty in connection with DelVesco's 2015 death.
Prosecutors say Medina, who was a student at Fresno State University, burglarized another unit in the Westwood complex before breaking into DelVesco's apartment, stabbing her and setting her home ablaze to destroy any evidence.
Co-defendant Eric Marquez, 25, a UCLA student, was charged with one count of murder, two counts of burglary and a count of being an accessory after the fact. He pleaded guilty to one burglary count and the accessory count. He was sentenced in June to two years and eight months in prison. His attorney, Steven Cron, said Marquez was credited for time served and released.
Some of DelVesco's friends took the hearing as an opportunity to recount their own trauma and frustration that despite three years' worth of opportunities, Medina provided no answer to their persistent question — why such a gruesome murder?
DelVesco was stabbed 19 times, and her body was burned beyond recognition. Her dog, Shay Panda, who was by her side, also suffered burns and had to be euthanized.
Her friends and family pleaded with the judge to imprison Medina for life, because they feared for their safety and that of others.
"I woke up early to the sound of helicopters," Elizabeth Matusov said of the morning of the killing. "In that moment, the world I knew melted away."
DelVesco's friends recalled desperately trying to extinguish flames in their apartment. They remembered waiting outside to hear the news she was alive, the ambulance stretcher still waiting for her on Roebling Avenue. And when police couldn't confirm, they recalled reading in disbelief news articles telling them what they didn't want to hear.
The anguish did not stop there. Throughout the years — in yoga, in student government meetings and at sorority events — they would feel visceral pain when learning more about the details of the murder, Hourdequin said.
They wore hoodies and jumped in a van to avoid the reporters following them to class.
And for many of them, Sept. 21, 2015, marks the day they lost their innocence of the evils in the world.
"What if I was next?" Matusov recalled thinking. "To this day I wake up fearing for my life."
Another friend, Nicole Berggreen, said the date instilled in her a plethora of new fears, such as "the fear of strange men" and a "discomfort in the world we live in."
Many speakers expressed a sense of guilt for not doing more to prevent their friend's death. One speaker said she regretted that when she heard that police had come to inspect the area, she shrugged it off.
The Los Angeles Police Department was criticized for not inspecting the apartment more thoroughly after being called to DelVesco's unit for suspicious activity in the early morning before the murder. Two officers who responded to the scene were fired.
Despite the maximum sentence, friends and family said justice would not be served unless Medina felt the same permanent and visceral pain they felt.
Leslie DelVesco, Andy's mother, said Medina should at the very least tell the truth about what happened that morning and explain why he did it.
"Where is his moral compass?" Berggreen asked. "He is a closed book. I thought I'd see some emotion on his face…or at least a flinch."
Debra Werbel, Medina's attorney, asked the judge to remove the additional 12 years that the prosecutor asked be added to the life sentence, if only symbolically, because the murder was out of character for Medina.
He entered DelVesco's apartment without a weapon, so the crime wasn't premeditated, she argued. And the murder was far from sophisticated, she said.
"It was the opposite of sophisticated," she said, describing how Medina left a trail of evidence from the apartment to his home. "Not a smart move on his part."
The judge did not grant her request. He added 10 years to Medina's life sentence.
"He can't atone for taking Andrea's life," Leslie Delvesco said after the sentencing. "But he did receive the maximum sentence, so I feel relieved that he can never hurt another person.
"It's what Andy would have wanted."
Times staff writer Marisa Gerber contributed to this report.
alejandra.reyesvelarde@latimes.com
Twitter: @r_valejandra
---
UPDATES:
6:35 p.m.: This article was updated with additional details from the court hearing.
This article was originally published at 12:50 p.m.
---
The stories shaping California
Get up to speed with our Essential California newsletter, sent six days a week.
You may occasionally receive promotional content from the Los Angeles Times.