Metro creates Twitter account for 'Pokemon Go'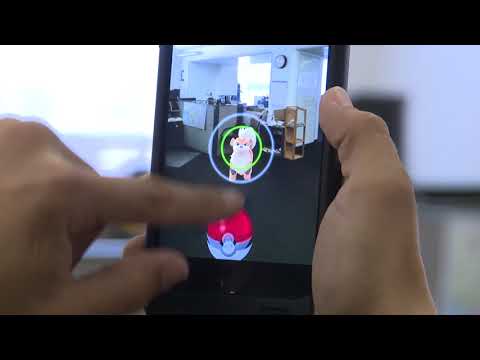 With the success of "Pokemon Go," we set out to discover if any of the little monsters were hiding within the walls of our own L.A. Times newsroom.
The Metropolitan Transportation Authority has joined the "Pokemon Go" craze, dedicating a separate Twitter account for players of the popular reality-based mobile game.
The Twitter account, @PokemonGOMetro, gives players tips on where to capture Pokemon at metro stops or inside trains. The account also helps players map out "Pokestops," where players can collect virtual equipment used in the game.
Anna Chen, public information officer for Metro, said it took a weekend for Metro's social media team to create the twitter account and join the fray of "Pokemon Go" players using the app.
The good, the bad and the weird: Mayhem and meet-ups after 'Pokemon Go' release >>
"Pokemon was an interest of my own childhood," Chen said. "We want to crowd source as many photos as possible. We want to see what weird and wacky things people are seeing and to share them with us."
Metro's "Pokemon Go" Twitter account has posted and retweeted several images of Pokemon at metro stops, such as the "super rare" "Mariachichu" pokemon at the Gold Line Mariachi Station.
"I need to take a trip to the Mariachi Station to confirm that," Chen said. "It is a very rare type of Pokemon. People are having a lot of fun with it. With the Twitter account, our goal is to provide people with a form of entertainment."
Chen said Metro will focus on creating a fusion map, similar to Google Maps, where players who ride Metro can see where the nearest Pokestops or gyms are in relation to Metro bus and rail.
"We're already seeing people do walking parties," she said. "This is a great way to hop onto this conversation and try to see what's next."
Twitter: @alexiafedz
ALSO
Amid crime worries, police explain how to play 'Pokemon Go' safely
'Pokemon Go' leads players to California facility housing sex offenders
2 former Marines playing 'Pokemon Go' help nab attempted murder suspect
Sign up for Essential California for news, features and recommendations from the L.A. Times and beyond in your inbox six days a week.
You may occasionally receive promotional content from the Los Angeles Times.