Metro officials hope to pass half-cent sales tax that would not expire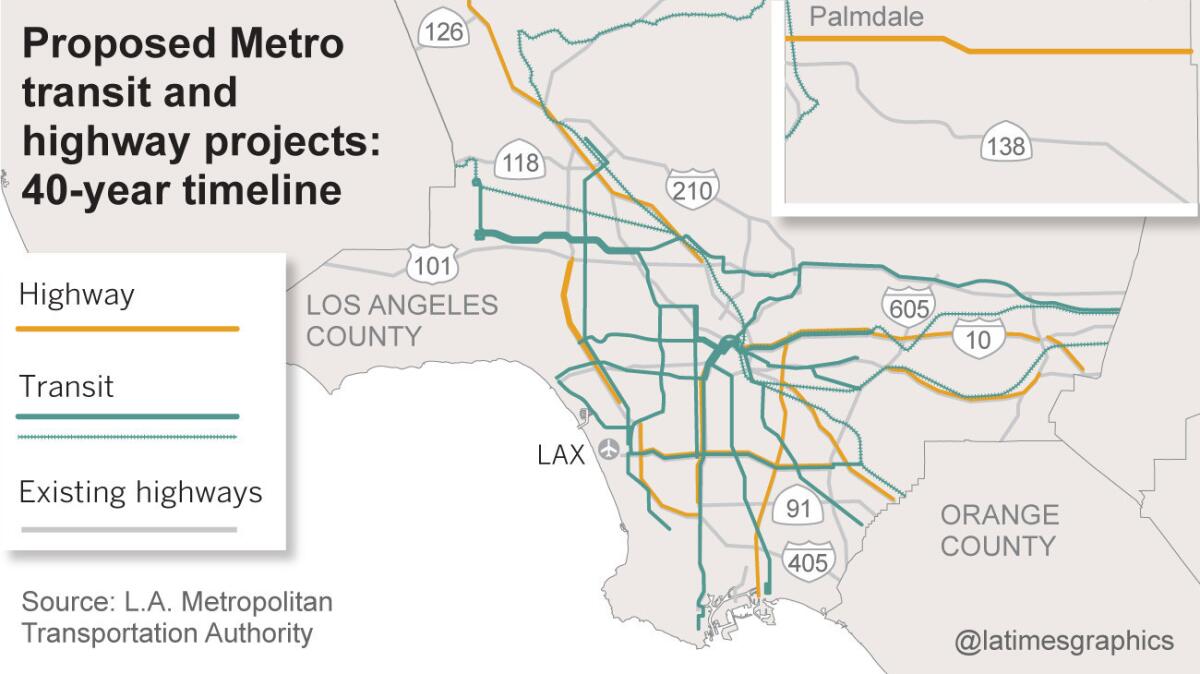 Transportation officials said Friday that a long-discussed proposal to raise Los Angeles County's base sales tax by a half-cent to fund transportation investments has undergone a small but significant change: The tax increase would continue indefinitely, rather than expiring after four decades.
Previously, Metropolitan Transportation Authority officials had hoped to raise about $120 billion over 40 years to fund nearly two dozen mass transit lines and extensions and 14 highway projects.
A sales tax with no end date would aggressively alter that schedule, allowing Metro to build nine major projects faster and add two more projects to the list, including a second extension of the Gold Line through East Los Angeles and a possible highway through the North County, chief executive officer Phil Washington said Friday.
"We are making a prudent recommendation," Washington said. He added that a tax that does not expire would create "sustainable funding for the future."
The announcement was met with mixed reactions from elected officials and interest groups. Some cheered Metro's proposals to build some projects sooner but said a sales tax with no sunset, even with oversight measures included, could open Metro to deeper skepticism from the electorate. Others fumed that the modified list of projects to be built still did not include their suggestions.
If we're going to do something real about traffic, we need to act now, and we need to be bold.
— Los Angeles Mayor Eric Garcetti
Metro's board of directors will decide later this month whether to place the measure on the November ballot. If approved, the tax increase would be the county's third transportation-related levy with no end date. Another half-cent tax hike approved by voters in 2008 will expire in 2039.
To meet the two-thirds voter threshold required for approval, often a high hurdle, Metro's measure will need strong voter support in virtually every area of the county. The proposal's geographic balance reflects that, with rail and highway projects stretching from the South Bay to the North County and from Westwood to Claremont.
The modified proposal also reflects some criticism that Metro received after releasing the plan to the public in March. After an outcry from a coalition of cities in the southeast county, Metro has proposed to accelerate construction on two phases of a light-rail line from Union Station to Artesia. But the plan keeps in place a four-year gap between construction on the two phases.
For the Record
June 10, 8:57 p.m.: An earlier version of this article incorrectly stated that the Metro plan keeps in place a nine-year gap between construction phases of the light-rail line from Union Station to Artesia. The gap is four years.
Metro would also speed up construction on a proposed extension of the Crenshaw Line through the Mid-City area of Los Angeles, including a possible station in or near West Hollywood. Previously slated to open in 2055, it would open eight years earlier, in 2047.
The plan would also speed construction on a train station to connect rail to Los Angeles International Airport. Originally slated to open in 2024, the new plan calls for a ribbon-cutting in 2021.
The competing demands are always road repairs and major projects.
— Metro managing executive officer David Yale
"If we're going to do something real about traffic, we need to act now, and we need to be bold," Los Angeles Mayor Eric Garcetti said in a statement. "This will not only help ease congestion — it will bring good-paying jobs to our communities."
Metro had proposed sharing about 16% of total revenue, or $19.2 billion, with the county's 88 cities over 40 years. The proposal was met with criticism from some coalitions of local government, who said those funds are not enough to cover repairs for the roads that carry Metro buses.
"The competing demands are always road repairs and major projects," said David Yale, a Metro managing executive officer. The proposal released Friday called for a one-percentage point increase in those funds until 2040, and then another increase to 20%.
Still, some representatives said the plan doesn't reflect their needs. Sen. Bob Hertzberg (D-Van Nuys), whose district could see a light-rail line down Van Nuys Boulevard and a series of upgrades to the Orange Line busway, including a conversion to light rail, said a plan without transit upgrades near Cal State Northridge "is malpractice."
"Last time around, the Valley got short-changed," Hertzberg said, echoing concerns of Valley residents. When asked whether he would ask his constituents to vote against the tax, he said he would "cross that bridge when we come to it."
For more transportation news, follow @laura_nelson on Twitter.
ALSO
Runoff for Antonovich county seat remains up in the air
Deadly but little-known: Why scientists are so afraid of the San Jacinto fault
L.A. looks to amend city ordinance to allow transgender bathroom access at parks
Sign up for Essential California for news, features and recommendations from the L.A. Times and beyond in your inbox six days a week.
You may occasionally receive promotional content from the Los Angeles Times.