'Shield' actor Michael Jace accused of domestic violence in divorce
A March 2004 photo of actor Michael Jace and his wife, April. Jace has been arrested in the shooting death of his wife at their home in Hyde Park.
(Frederick M. Brown / Getty Images)
An investigation was underway at the Hyde Park home where actor Michael Jace was arrested in the shooting death of his wife, April.
(Al Seib / Los Angeles Times)
Reporters interview a next-door neighbor of actor Michael Jace.
(Al Seib / Los Angeles Times)
A camera operator takes exterior footage of the home of actor Michael Jace in the Hyde Park area of Los Angeles.
(Al Seib / Los Angeles Times)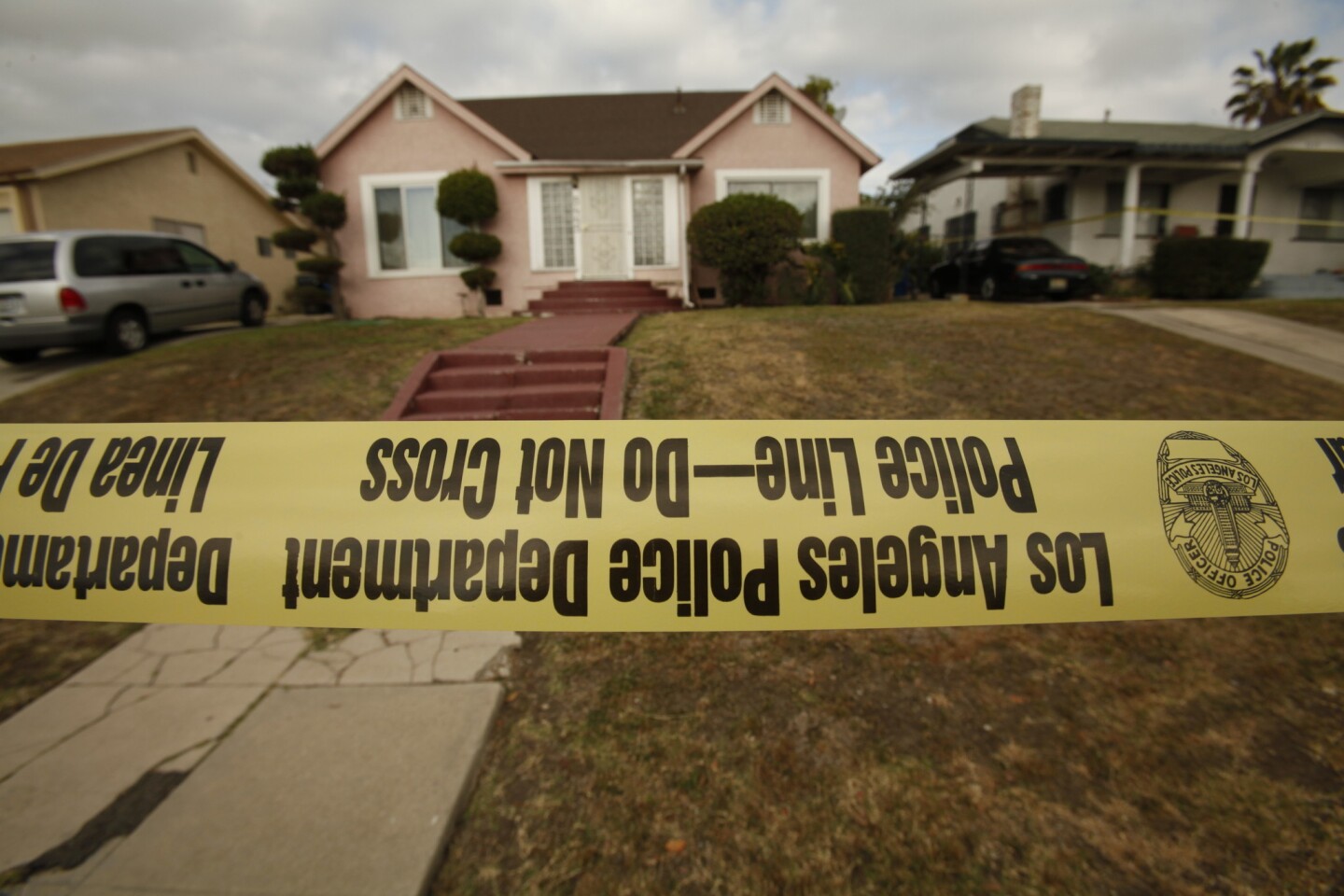 Police tape blocks access to the scene in the Hyde Park area of Los Angeles where actor Michael Jace was arrested in the shooting death of his wife.
(Al Seib / Los Angeles Times)
Actors Michael Jace, left, and Michael Chiklis at an after-party for the fourth season screening premiere of FX's "The Shield" in March 2005.
(Kevin Winter / Getty Images)
"The Shield" actor Michael Jace -- accused of shooting his wife to death Monday night during what police described as a possible domestic dispute -- has been under financial stress for years, court records show.
The actor, 51, filed for Chapter 13 bankruptcy in March 2011, when he listed his liabilities at more than $500,000 against assets of just $325,000, according to federal court records.
At the time, he was also in debt to the government more than $22,000, more than $16,000 to credit card companies and still owed on two mortgages.
Jace appeared to have been keeping up with payments until late last year, when one of his creditors filed a motion stating the actor had fallen behind by about $2,800, according to the federal court records.
Law enforcement sources told the Los Angeles Times Tuesday that Jace confessed to fatally shooting his wife, April, a well-liked financial aid employee at Biola University. She was shot multiple times around 8:30 p.m. Monday at their home in the 5400 block of Brynhurst Avenue in Hyde Park, about 10 to 15 minutes after she arrived from picking up the couple's sons from baseball practice.
Los Angeles police said in a statement that the motive for the shooting "is believed to be domestic violence." Neighbors reported hearing the couple arguing just before the shots rang out, KNBC-TV reported.
The shooting shocked April Jace's colleagues, and the family's neighbors, many of whom said they had never heard the couple fight.
"The Biola family will stand with this precious family and the employees who are grieving today, and my prayer is that the God of all comfort will be our refuge and peace," Biola President Barry H. Corey said in a statement issued Tuesday.
He added that the La Mirada campus was "obviously shocked and saddened by this terrible news, to lose a wonderful colleague, mother and friend."
Los Angeles police say the couple's two sons, both under 10, were home at the time of the shooting.
Det. Sal LaBarbera told KTLA-TV the children were not physically hurt, "but obviously their emotions are running high."
"At the very least, they heard the shooting," he told The Times.
Michael Jace was standing in the doorway when police arrived and was ultimately arrested about 2:15 a.m. Tuesday, police said. His wife's body was found in a hallway inside the home.
The actor did not have a gun when police arrived, LaBarbera said. He was being held Tuesday in lieu of $1 million bail.
In addition to the two sons she had with Michael Jace, April had an older son from a previous relationship. She attended Hawthorne High School and went on to graduate from Cal State Fullerton.
Over the years, she remained active in the track community and competed in masters races as a highly ranked sprinter. She was described by colleagues as a "radiant personality."
"Her love for helping students and families and her great work ethic earned the respect and love of her co-workers," Geoff Marsh, senior director of financial aid at Biola, said in a statement. "Her smiling face and helpful spirit will be missed by all."
A bankruptcy document shows she worked at L.A. Unified as a teacher prior to her job at the Christian college.
From 2002 to 2008, Jace played Los Angeles police Officer Julien Lowe, who rose in the ranks to become a detective on the crime drama "The Shield." He has also had roles in the films "Planet of the Apes," "Forrest Gump" and "Boogie Nights," according to the website IMDb.
---
Life is stressful. Our weekly mental wellness newsletter can help.
You may occasionally receive promotional content from the Los Angeles Times.