Union ads seek to publicize L.A. workers making less than $15 an hour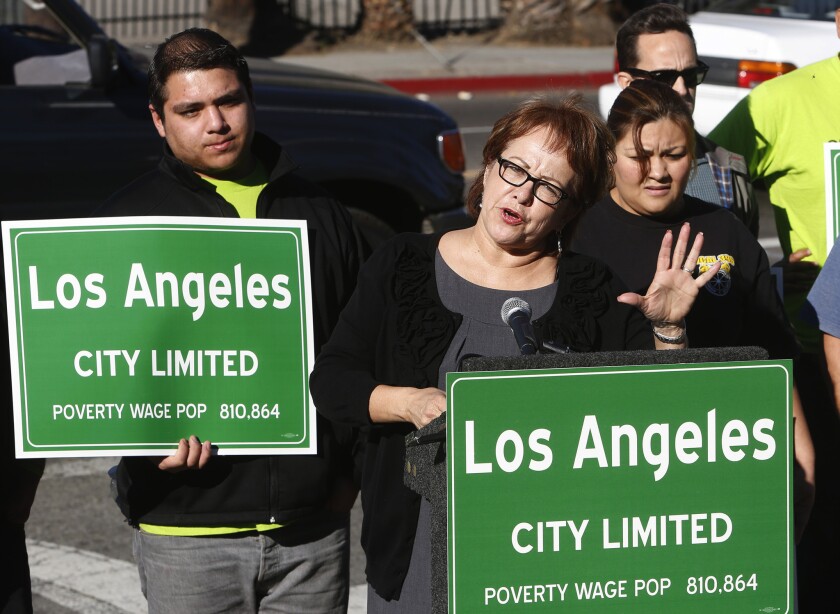 Promoting its campaign to bring higher wages to Los Angeles workers, a labor group released a study Tuesday that says 810,864 Angelenos live with "poverty" wages of less than $15 an hour.
Maria Elena Durazo, chief of the county Los Angeles County Federation of Labor, said that a raise to $15 would not only help low-wage workers but also provide a massive economic stimulus for the entire regional economy.
As it released the report from the Economic Roundatable at a news conference near MacArthur Park, the labor group also unveiled billboards, styled after green "city limits" signs, that say: "Los Angeles, City Limited, Poverty Wage Pop. 810,864." The signs appear at seven locations near downtown, on the Westside and near Los Angeles International Airport.
The Economic Roundable study estimates that 46% of the city's wage and salary workers make less than $15 an hour.
The study from the liberal-leaning organization suggests that a $15 minimum wage would increase payrolls in the city of Los Angeles by about 10%, or $7.6 billion annually. Increased spending by those workers would stimulate the economy enough to add 64,700 new jobs in Los Angeles County, the report says.
The report comes as the county labor organization and the hotel and restaurant workers union, Unite Here Local 11, have launched a campaign to require a $15.37 hourly wage for hotel workers in Los Angeles. Los Angeles City Council members are expected to introduce a minimum wage ordinance early this year.
Durazo rejected the notion that the billboard campaign would bring down the reputation of Los Angeles.
"A billboard is not going to bring us down," she said. "What's bringing us down is workers who have to work two or three jobs, who can't be with their kids, give them the attention that they need."
"What's bringing the city down is we don't have enough revenue for the services that all of us depend on," Durazoo said. "What's bringing us down is more and more people are being left out there homeless. ... Let's be aware of the problem and do something about it."
Hotel owners and business interests have suggested that a higher minimum wage would inevitably lead to workers being laid off or consumers being charged higher prices.
The Economic Roundtable paper said the wage increase could be accomplished by reducing the wages of higher earners, cutting worker turnover and increasing prices slightly.
It says many economists who did not find harm in minimum wage increases called for the hikes to be done incrementally "so as not to cause economic dislocation."
Details of the proposal that will be brought to the City Council for hotel workers have not been spelled out. But the measure's labor patrons have talked about an immediate increase to $15.37 (matched to the wage previously mandated for workers at Los Angeles International Airport), not a gradual phase-in.
Twitter: @latimesrainey
---
Get breaking news, investigations, analysis and more signature journalism from the Los Angeles Times in your inbox.
You may occasionally receive promotional content from the Los Angeles Times.