Moccasin Dam will be inspected after leak sparks fears about a possible failure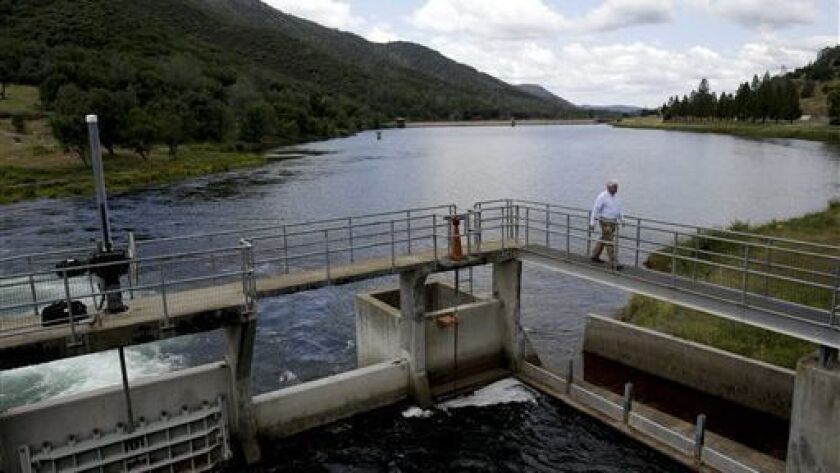 Experts will inspect a small earthen dam in Tuolumne County in Northern California after a leak detected on the dam face Thursday triggered a rapid evacuation downstream, officials said.
A small leak was detected on the downstream face of the 60-foot Moccasin Dam before 3 p.m. Thursday, forcing Caltrans to quickly close two nearby highways while authorities scrambled to evacuate a nearby campground and fish hatchery.
Students at a local school were ordered to shelter in place when authorities feared the dam would break and unleash a torrent of water into Moccasin Creek and flood highways 120 and 49.
"For a few moments there, it was very stressful because we thought we were going to lose the dam," Tuolumne County Sheriff Jim Mele told reporters Thursday afternoon.
The dam, completed in 1930 and considered in "satisfactory" condition in a September 2017 document, generates power for the San Francisco Public Utilities Commission and supports a small fish hatchery at its base.
The commission said Thursday night that the dam was considered "stable" but would be inspected for damage to its spillways, which took on water when a massive storm this week sent water and debris flowing into the dam's reservoir.
"The water level in the Moccasin reservoir has significantly decreased since the initial incident, and the SFPUC has started draining the Moccasin reservoir into the much larger Don Pedro Reservoir," the commission said in a statement Thursday evening. "At the same time, crews are actively inspecting the current state of the dam and the extent of any damage to it and its spillways."
If the dam failed, the water would eventually have flowed into the Don Pedro Reservoir about a mile downstream. The reservoir had more than enough capacity Thursday to take on the additional water, officials said.
Mele said he was concerned how the dam would respond next week when temperatures are expected to pick up and the Sierra Nevada snowpack begins to melt and flow into the reservoir.
The Moccasin Point Marina and nearby homes remained evacuated Friday. The reservoir is one of the San Francisco utility's smallest reservoirs and helps regulate the Hetch Hetchy water system.
For breaking California news, follow @JosephSerna on Twitter.
---
For reporting and exclusive analysis from bureau chief John Myers, get our California Politics newsletter.
You may occasionally receive promotional content from the Los Angeles Times.