More than 600 L.A. school buildings need quake evaluations, retrofits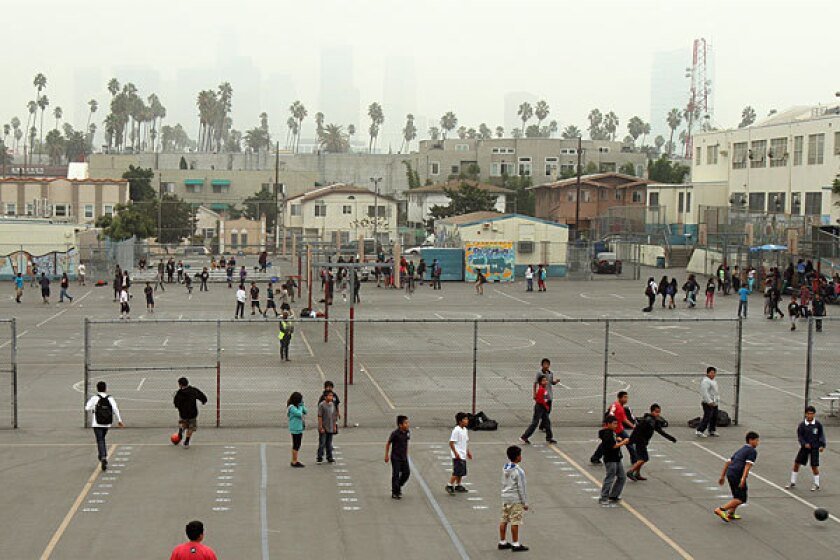 The Los Angeles Unified School District still has hundreds of school buildings in need of detailed seismic evaluations and strengthening to withstand a major earthquake, according to district data.
The Times requested an update of the school district's inventory of its buildings in need of seismic review.
The inventory shows that 667 LAUSD buildings required detailed seismic evaluations and retrofits. Nineteen school buildings have been retrofitted through a combination of local, state and federal funding; five buildings have been demolished; 21 have been evaluated or are in the process of being strengthened.
Total retrofitting will cost almost $1 billion, according to the data.
The school district is working on getting more buildings retrofitted and on securing more funding, said Shannon Haber, a spokeswoman for LAUSD. "It's an ongoing effort."
FULL COVERAGE: California earthquakes
The buildings, constructed before July 1, 1978, are sorted into four categories: 26 concrete buildings are considered first priority, followed by 165 buildings within two kilometers of an active fault, 223 buildings within two to five kilometers of an active fault and 253 buildings more than five kilometers away from a fault.
All the first priority buildings are retrofitted or in design, according to the data, and those 17 retrofitted buildings cost more than $20 million to complete.
The LAUSD buildings were originally identified as part of a 1999 state law requiring a survey of seismically vulnerable K-12 school buildings across California.
Twitter: @LATDoug, @rosannaxia, @ronlin
---
The perils of parenting through a pandemic
What's going on with school? What do kids need? Get 8 to 3, a newsletter dedicated to the questions that keep California families up at night.
You may occasionally receive promotional content from the Los Angeles Times.