Women sue Orange County nail salon, claiming wage fraud amid long work days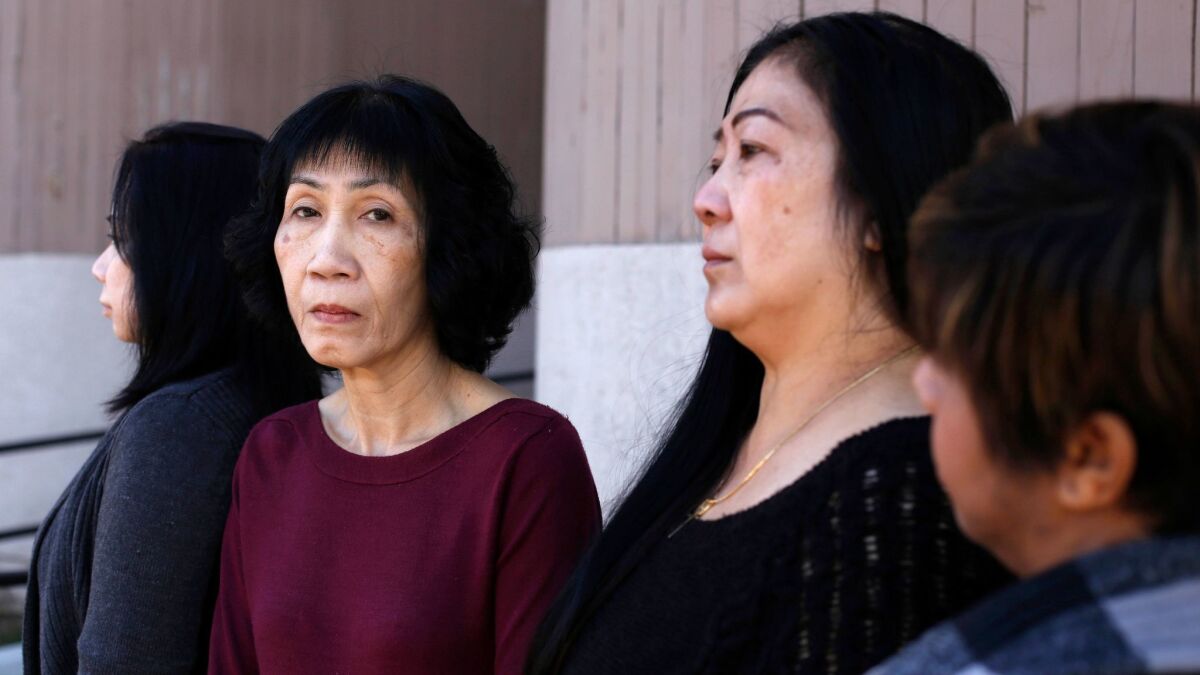 The four women said they toiled long hours, without a break to eat or rest, over cracked hands and feet, repairing nails and massaging rough ankles.
Thu Hang Pham said she didn't get the day off when she had to go to a hospital for a biopsy.
Pham, Jenny Hoang, Tuyet Mai Nguyen and Trinh Truong told their stories, at times dabbing their eyes with tissues, as they sat on a couch at the Asian Americans Advancing Justice office in Santa Ana.
The women worked at Tustin Nailspa in the city of Orange, and were deprived of minimum wages and overtime pay despite their labor, said John Trang, an attorney for the civil rights group who is representing the plaintiffs in a lawsuit filed in December against three successive owners.
The women said the gleaming salon that started with fewer than 10 spa chairs added a dozen more in 2005, before the owners at the time hired more manicurists. After the remodeling and expansion, the shop became "swamped" with customers, they recalled.
The owners, My Le Tran and Le Nguyen, appeared to "feel pressured" to gain back the money they invested, triggering "endless workdays" and shifts that could not be missed, said Hoang, 48.
"They couldn't wait to make money and wanted to recover what they spent right away. So they took it out on us," she said.
Nationally, nail salons comprise an $8.5-billion industry and are largely operated by first-generation Asian American entrepreneurs, many who are limited in English and struggle to blend into the mainstream economy.
Of the estimated 17,000 nail salons in the U.S., about 8,000 are in California, with more than 60% owned by Vietnamese Americans, according to industry experts.
"Owning a nail salon has been a vital means for upward mobility for many Asian American immigrants, especially in the Vietnamese American community," Trang said. "While many owners strive to follow the law and include workers in their success, others have sought to enrich themselves by undercutting wages and passing business expenses onto their workers."
The case has been complicated by a revolving door of attorneys — three sets for the plaintiffs and three sets for the different defendants.
Trang said his clients' first lawyer was removed from the case due to a conflict, and the second lawyer bowed out, unable to communicate with the women in Vietnamese.
"It's always a problem when parties change lawyers constantly," said David Ezra, attorney for defendants Tran and Nguyen, the salon's original owners. "Because of that change, they're trying to make a lot of noise now. I don't believe in trying the case in the media."
Karlfeldt Su, an attorney representing Hien Trinh and Tai Loc, the second set of owners, said in an email that "our position is that we deny all alleged wrongdoings. I can't speak on behalf of the other owners, but my clients did nothing unlawful during their operation of the nail salon, and should not have been dragged into this lawsuit in the first place."
An attorney for the third owners of the nail salon could not be reached for comment.
The salon, near an Albertsons and squeezed between Bauhaus Hair Studio and Dollar $mart on North Tustin Street, is under new ownership again.
Last year, the New York Times published a series on challenges faced by manicurists, detailing hostile work environments that included physical abuse, exposure to toxic chemicals and having their tips docked as punishment.
The stories elicited pushback from the industry, leading to legislative actions, including rules to require ventilation at all New York state nail salons.
In 2013, an investigation of Tustin Nailspa resulted in $28,000 in fines against Tran and Nguyen, said state Labor Commissioner Julie A. Su.
"The climate of fear among immigrant workers makes these situations very hard to discover," Su said. She plans to launch a task force early this year to examine workplace issues in the nail salon and other industries where immigrants make up the bulk of the workforce.
"It doesn't matter if you're paid by piece rate or by client. Workers need to feel safe in coming forward if there's a problem," she said. "And under California law they are protected, regardless of immigration status."
In the lawsuit against Tustin Nailspa, the women allege they were routinely underpaid. The owners made deductions on their pay checks for the use of spa chairs and supplies, Trang said. Their compensation was based on an unlawful "commission" system in which they earned about 60% of the total their customers paid for nail services, he added.
To hide such practices, Trang said, the owners devised a "fake universe of paperwork," including bogus time records and pay checks to create an illusion that manicurists were paid lawfully by the hour.
"It was outrageous. They did everything they could to cover their trail in the event they would be audited — and they played corporate shell games — 'selling' the salon three times in the span of one year," Trang said.
The plaintiffs claim they were consistently required to clock out — then return to work. When they spoke up to say "we weren't comfortable with this, we didn't want to get in any trouble, they tried to change our status from full-time employee to contractors" to reduce their wage obligations, Nguyen said. Hoang, a mother of three who worked at the salon for nearly a decade, organized 30 workers to sign a petition opposing the new classification.
By the time the third set of owners took control, intending to convert the staff to contractors again and facing protest, three of the four plaintiffs were fired, according to the lawsuit. The salon changed hands a fourth time after the women filed their lawsuit in 2015 and the new people in charge fired the fourth plaintiff.
Only two of the four plaintiffs have found other salon jobs as far as in Baldwin Hills. Pham, 56, said she and Hoang have been "blacklisted" and "whenever we go to apply somewhere, they already know our names and turn us away."
Hoang said she has suffered severe depression.
"We used to smile in front of the customers and try to carry on so we can support our families even with our limited English," she said. "But I couldn't let them continue the way they treated us, as less than humans. In the end, we had to defend ourselves so workers who experience what we experience can find courage to fight back."
MORE LOCAL NEWS
2016 in review: Development disputes at center stage in Newport Beach in 2016
Quake swarm near the California-Mexico border gets scientists' attention
The new California laws you need to know for 2017
Violent crime is up for the third straight year in Los Angeles
The stories shaping California
Get up to speed with our Essential California newsletter, sent six days a week.
You may occasionally receive promotional content from the Los Angeles Times.