Man charged with killing his nephews in Arcadia is extradited from Hong Kong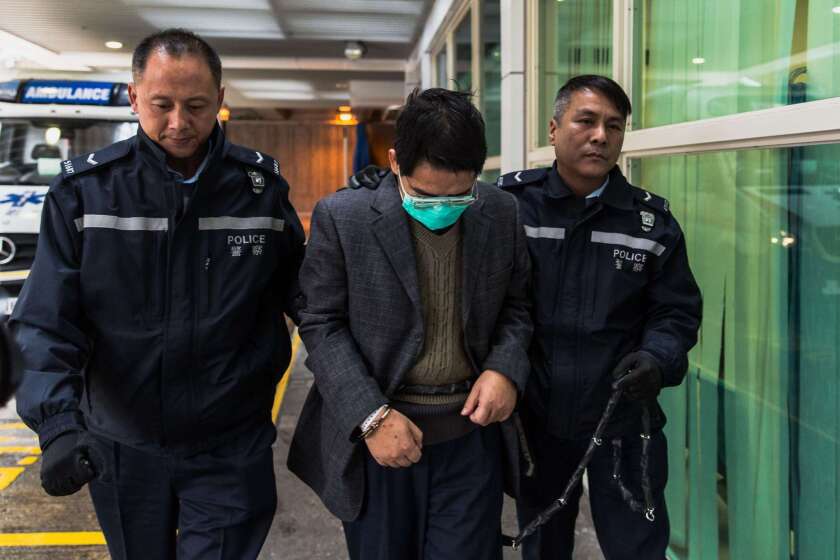 A man charged with killing his two teenage nephews in their Arcadia home returned to Los Angeles on Friday after being extradited from Hong Kong.
Deyun Shi, 44, boarded a plane to Hong Kong hours after the boys were killed in their beds with a bolt cutter early on the morning of Jan. 22.
Shi has also been charged with attacking his estranged wife with a maul before he allegedly broke into the boys' home while they slept.
He arrived at Los Angeles International Airport on Friday afternoon, escorted by sheriff's deputies and FBI agents, and will be arraigned Monday, officials said.
Shi did not fight the extradition, but the proceedings took almost three months.
To ensure Shi's return, prosecutors assured Hong Kong authorities that they would not seek the death penalty, a spokesman for the Los Angeles County district attorney's office said Friday.
Hong Kong does not have capital punishment and might have stopped Shi's extradition if execution had been a possibility, officials said.
Shi is a wealthy Chinese businessman who moved to the San Gabriel Valley with his wife and two sons about a year ago.
His attorney, Barry Greenhalgh, said Shi has family and business interests in Asia, so he had reasons to travel there and was probably not attempting to flee.
According to Chinese media accounts, Shi was a central figure in at least four bribery cases in the southern Chinese city of Shenzhen.
Two Shenzhen officials were sentenced to 10-year prison terms for accepting bribes from Shi, who has not been charged with any bribery-related crimes, the Chinese media reports said.
In the Arcadia case, Shi's wife, Yujing Lin, had filed a temporary restraining order against Shi and was seeking to divorce him, according to court records.
Shi had moved out of the family's La Canada Flintridge home but allegedly returned on the night of Jan. 21, breaking in and attacking his wife with a maul, which is similar to an ax and used to split wood, according to Los Angeles County sheriff's detectives.
The boys' parents went to the hospital to pick up Shi's wife, leaving the brothers asleep in their beds. Sometime between midnight and 5 a.m., investigators allege that Shi broke in and killed his nephews, who died of blunt-force trauma to their upper torsos.
Lt. Eddie Hernandez said there is "a lot of forensic evidence … including blood and blood smears," linking Shi to the deaths. The victims, William and Anthony Lin, were both students at Arcadia High School.
After returning from the hospital, the boys' parents went to bed, thinking their sons were also asleep. Several hours later, the father, David Lin, left to run an errand. The mother was alone in the house when she discovered the bodies.
Detectives found evidence that Shi had left the country and rushed to obtain an arrest warrant before the plane landed. Hong Kong police took Shi into custody.
Hundreds attended a memorial for William Lin, 16, and Anthony Lin, 15 at Arcadia High School. The two were allegedly killed by their uncle.
(Barbara Davidson / Los Angeles Times)
Candles spell out a heart at the memorial.
(Barbara Davidson / Los Angeles Times)
Hundreds of students and staffers attended the memorial for the slain brothers.
(Barbara Davidson / Los Angeles Times)
Holding flowers, mourners pay their respectst to William and Anthony Lin.
(Barbara Davidson / Los Angeles Times)
Mourners hold their candles at the vigil for the teenage brothers, who allegedly were beaten to death by their own uncle.
(Barbara Davidson / Los Angeles Times)
Arcadia High School students and staff mourned the deaths of teenage brothers William and Anthony Lin.
(Barbara Davidson / Los Angeles Times)
Arcadia High School students read messages to William and Anthony from mourners.
(Barbara Davidson / Los Angeles Times)
Flowers are piled on a table in memory of the slain brothers and Arcadia High School students.
(Barbara Davidson / Los Angeles Times)
Rose Tsai, an attorney for the Lin family, said the boys' parents had helped the Shis settle in when they first came to the United States. The father continued to help his sister — Shi's wife — as she dealt with marital problems.
"Mr. Lin acted out of pure love and care for his sister to try to help in a difficult situation with the domestic dispute with her husband," Tsai said. "And the ending was never expected."
William Lin, 16, was a student of music and tae kwon do who volunteered at Arcadia Methodist Hospital. He competed in Science Olympiads and hoped to become a doctor.
His younger brother, Anthony, who was 15, was known for cracking jokes and volunteered at the local food bank.
Relatives said that both boys liked to cook, making Thanksgiving and Christmas dinners for their family.
At a news conference at Sheriff's Department headquarters on Friday, their father thanked law enforcement officials for "bringing evil back here to face justice."
"Day and night, every moment is pain for us," David Lin said. "We spent our effort and used our love to raise these two boys. In just one night, they are gone, they are gone forever."
ALSO
Victorville teen accidentally shoots, kills friend, officials say
Manson follower's chilling murder description: 'We started stabbing and cutting up the lady'
Santa Clarita couple accused of sexually abusing children charged with additional felony counts
---
The stories shaping California
Get up to speed with our Essential California newsletter, sent six days a week.
You may occasionally receive promotional content from the Los Angeles Times.