Roy Choi's new restaurant in Watts draws fans, foodies and hungry locals
Chef Roy Choi calls out an order number at LocoL, the new fast-food project that he and chef Daniel Patterson have opened in Watts.
(Katie Falkenberg / Los Angeles Times)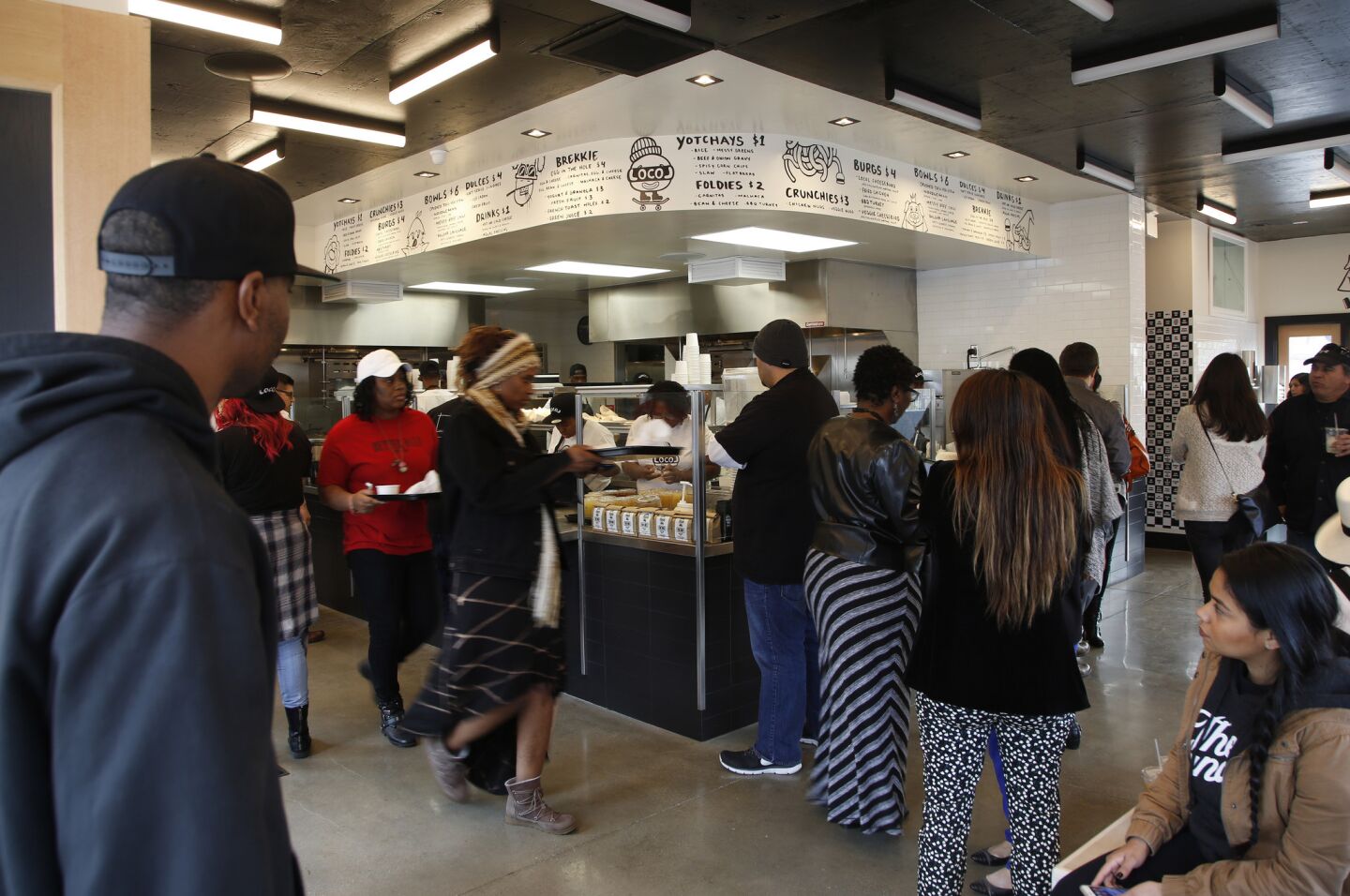 The scene inside LocoL, which aims to bring affordable and healthful food to underserved neighborhoods.
(Katie Falkenberg / Los Angeles Times)
A line of patrons of LocoL wraps around the fast-food project in Watts.
(Katie Falkenberg / Los Angeles Times)
A tray of food at LocoL, including the "Crushed Tofu-Veg Stew", left.
(Katie Falkenberg / Los Angeles Times)
Chef Roy Choi, right, goes over an order with a diner at LocoL.
(Katie Falkenberg / Los Angeles Times)
Diners sit at an outdoor at LocoL.
(Katie Falkenberg / Los Angeles Times)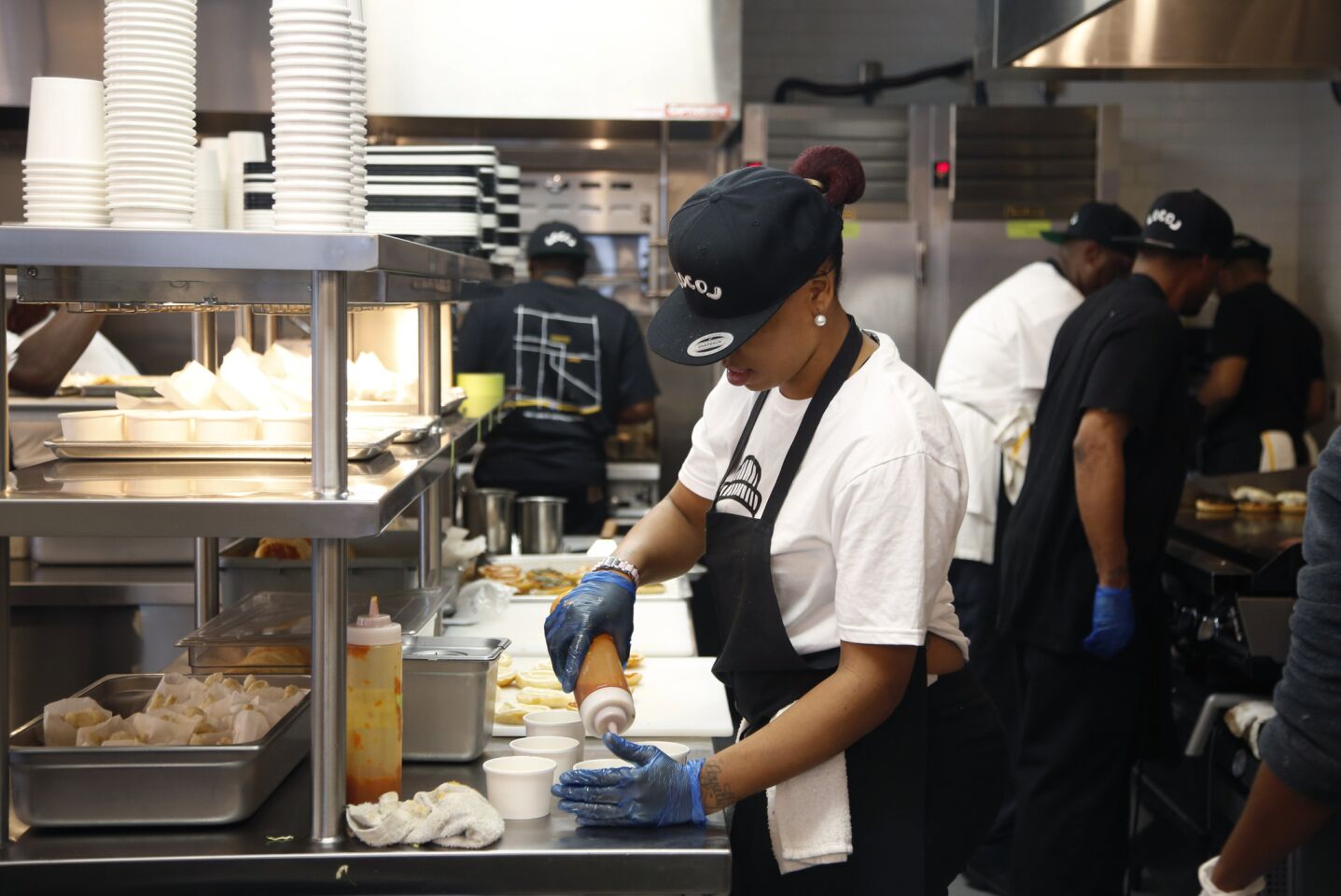 Food is prepared behind the counter at LocoL, whose mission is to transform what the U.S. defines as "fast food."
(Katie Falkenberg / Los Angeles Times)
Polaroid snapshots decorate a wall at LocoL.
(Katie Falkenberg / Los Angeles Times)
Chef Roy Choi, right, talks with diners at LocoL, where menu options include $4 "burgs" and "foldies."
(Katie Falkenberg / Los Angeles Times)
A woman, who didn't give her name, receives a hug from chef Roy Choi at LocoL.
(Katie Falkenberg / Los Angeles Times)
Residents of Watts have long asked for more sit-down restaurants with higher quality fare than the fast food joints that dot the local landscape.
But with the opening this week of LocoL by chefs Roy Choi and Daniel Patterson, the neighborhood now has a foodie hot spot in its midst.
In the line that snaked around the building Tuesday stood residents looking for a quick bite, Choi followers eager to taste anything he serves up and local employees relieved to find healthful dining options close to their job.
"We have to travel to Lakewood, Downey, Gardena and Huntington Park" for quality food, said Sandra Rogers, 51, of Hyde Park, who works nearby. "This a godsend for them to do this for the community."
Opening this week of LocoL by chefs Roy Choi and Daniel Patterson - Katie Falkenberg / Los Angeles Times
LocoL is part of a grand experiment by Choi, the man behind the Kogi BBQ food truck empire, as well as a handful of well-regarded restaurants in Los Angeles, and San Francisco restaurateur Patterson to re-imagine "fast food" by offering culinary-inspired fare at an affordable price in neighborhoods lacking casual and fine dining options.
The duo said they hoped to challenge the notion that chef-created dishes have to be costly and "fast food" has to be greasy and fried.
"The core of the idea is how do we get the food to be 99 cents and sit right next to a Popeye's and sit right next to a Church's or a KFC?" Choi said. "That's where the chef's mind comes in. "
As an example of their innovations, the chefs cut down on meat and add grains, tofu and seaweed to their burgers--called "burgs."
The addition of beef garum provides a meaty taste, Choi and Patterson explained in 2014 at a symposium in Copenhagen where they revealed their plans.
There are plans to open two restaurants in San Francisco and a second location in Watts "and a year after that, a million," Patterson said.
Burgers cost $4 and the bowl, which includes a hearty helping of noodles, beef chili and a tofu stew, rings in at $6. All drinks are $1. No soda is served at the restaurant.
Watts resident Twaunce Price, a towering man with a big appetite, said he normally orders the biggest burger on the menu with an extra patty. He thought the "LocoL cheeseburg" would leave him hungry, so he ordered barbecue turkey "foldies"--grilled folded tortillas stuffed with meat or vegetables.
"I'm full and I didn't think I would because of this little old burger," Price said, sitting outside on the restaurant's patio on the wooden cubes used as tables and chairs.
Price said he spoke with his mother recently about the lack of dining options in their community.
"She said 'there's no healthy food in America,'" the 26-year-old recalled. "I told her, 'There is. You just have to get out of the neighborhood to get it.'"
He said he can't wait to bring her to LocoL.
Los Angeles has been grappling with how to get more healthier restaurants into underserved areas. The city imposed a ban on some types of new fast food eateries, but there has been much debate about whether the law has been successful.
A Rand Corp. study found that from 2007 to 2012, the percentage of people who were overweight or obese increased everywhere in L.A., but the increase was significantly greater in areas covered by the fast food ordinance. A Times analysis found the law has not made a huge change in the fast-food makeup of the region.
Mesh screens cover the windows and doors at the restaurant, which gives the feeling of eating at a family cookout.
R&B and hip-hop jams from the '90s throb through the speakers, transporting diners to a time when Guy, Keith Sweat and Total topped the charts. Choi darts around the restaurant, serving up dishes and getting feedback from customers.
He stopped by Rhodella Mitchell's table to get her verdict on the "burg." Mitchell, 49, approved and thanked him for taking a chance and investing in Watts.
"I've been leading up to this my whole life," he told her. "I grew up in Koreatown. I know how hard it is to get great food and keep it at $2."
Join the conversation on Facebook >>
The restaurant is located at Wilmington Avenue and East 103rd Street, down the street from a strip mall with a fried chicken shack and a Chinese food spot. It has put a spotlight on a hard-luck community that is normally under a much harsher glare.
Xenia Galaviz, 40, of Buena Park had never been to Watts before. On Tuesday, she was there with her husband and two sons, 30 minutes before the doors opened to try Choi's latest creations. They shelled out $15 for enough food to feed the entire family.
"Growing up in Long Beach, I know our hoods don't get a lot of love," she said. "For him to open it in Watts, it is inspiring. We had to support. And the prices are cheaper than McDonald's. "
Customer Tracy Mack agreed.
"This is wonderful," she said. "It's long overdue."
For more California breaking news, follow @AngelJennings. She can also be reached at angel.jennings@latimes.com.
ALSO
South L.A. ban on new fast-food restaurants has little effect
Korean fluffernutter ice cream is real, thanks to Roy Choi and Salt & Straw
Roy Choi partners with Munchery, brings free food, 20 microwaves to Koreatown
---
Life is stressful. Our weekly mental wellness newsletter can help.
You may occasionally receive promotional content from the Los Angeles Times.