How DNA and social media led to suspect in 1973 killing of Linda Ann O'Keefe
L.A. Times Today airs on Spectrum News 1, Monday through Friday at 7 p.m. and 10 p.m.
It was a killing that haunted Newport Beach for years.
In July 1973, 11-year-old Linda Ann O'Keefe disappeared while walking home from school. The following day, her body was found among the cattails in Newport Beach's scenic Back Bay.
The case remained cold until last year, when the police department tried a new tactic using social media. In a series of first-person tweets, detectives highlighted details of Linda's killing in hopes it would yield new clues. They called it Linda's Story.
On Wednesday, a new chapter was added: the arrest of a Colorado man suspected in the girl's slaying and identified through the use of genealogical DNA. Detectives said the break occurred after a snapshot profile of a possible suspect in the killing was generated from DNA evidence found at the crime scene.
"Linda's death … rocked the community and took root in the heart of the men and women of their police department," said Newport Beach Police Chief Jon Lewis. "We never, ever forgot Linda's story."
James Alan Neal, 72, has been charged with special circumstances murder, kidnapping and lewd and lascivious acts on a minor under 14 in connection with Linda's death.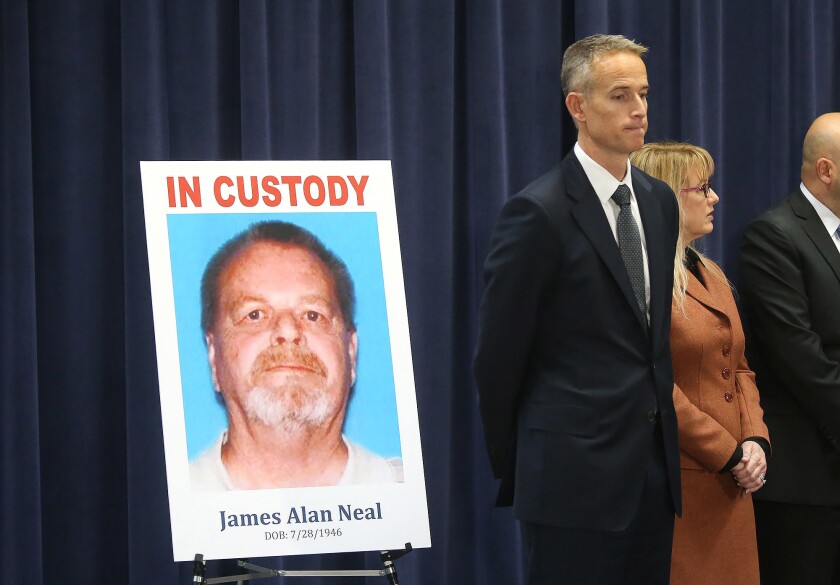 The girl vanished on July 6, 1973, on her way home from summer school at what was then Lincoln Intermediate — now Lincoln Elementary — in Corona del Mar. Her body, still clad in the white dress adorned with blue flowers that her mother had sewn, was found the next day. She had been strangled and her body discarded in the brush.
"This is a day that made parents in our community think twice before they let their children walk to school, walk out the front door, bike down the street or play with their friends," Lewis said.
A girl and her mother who saw Linda walking the day she disappeared told detectives at the time that she had stopped near Marguerite Avenue and Inlet Drive, where a turquoise van was parked along the curb with its door ajar. The driver was described as a man in his mid-20s or early 30s with curly hair. It was the last time Linda was seen alive by family or friends.
A woman who lived on the bluff above where Linda's body was found told detectives she heard a female scream, "Stop, you're hurting me," shortly after 11 p.m. the day Linda disappeared. An autopsy determined that Linda likely had been killed around midnight.
A sketch of a person of interest was circulated at the time, but generated no leads.
But in their telling of Linda's story, detectives in 2018 used a Virginia-based medical lab known for its work with genealogical DNA. Parabon NanoLabs was able to calculate a possible suspect's facial composite, gender, ancestry, freckles and skin tone, eye and hair color.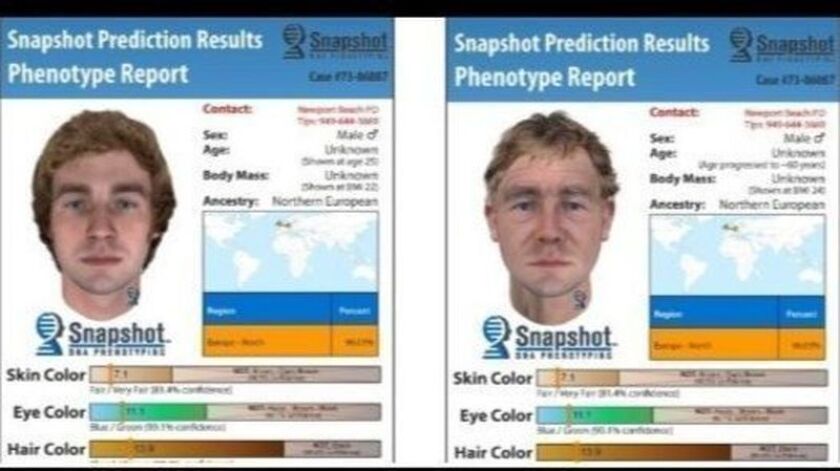 The lab provided two profiles — one showing a man in his mid-20s and another detailing what he might look like today in his late 60s or early 70s.
However, investigators still didn't have a name to put with the profile. They had checked the DNA against databases of convicted felons over the years but continuously came up empty-handed.
Neal was identified as a potential suspect in January after investigators submitted a biological sample from the crime scene to a database that scours for DNA profiles for close relatives of crime suspects. Police and prosecutors declined to provide additional details about the investigative tactic, including what database was used.
Once investigators located Neal in Colorado, they began watching him. Authorities said they collected additional DNA evidence from Neal during that time, though it is not clear how that was done. The DNA from that sample matched the one collected at the 1973 crime scene, officials said.
Genealogical DNA made a major debut as a crime-solving tool last year after authorities announced they had used it to catch Joseph James DeAngelo, the suspected Golden State Killer, so named for a string of attacks that included more than 50 rapes and at least 13 slayings throughout California from 1974 to 1986.
"Through both traditional DNA and genealogical DNA, we have every opportunity in the world to solve so many of these cold cases that we never had hoped in the past of solving — and that's a great thing for our community," Spitzer said.
The district attorney said if convicted, Neal faces a minimum sentence of life in prison without the possibility of parole. Prosecutors have not yet decided whether to pursue the death penalty in the case.
Twitter: @Hannahnfry
---
The stories shaping California
Get up to speed with our Essential California newsletter, sent six days a week.
You may occasionally receive promotional content from the Los Angeles Times.