The LAPD's next chief will have to meet a long list of demands from city residents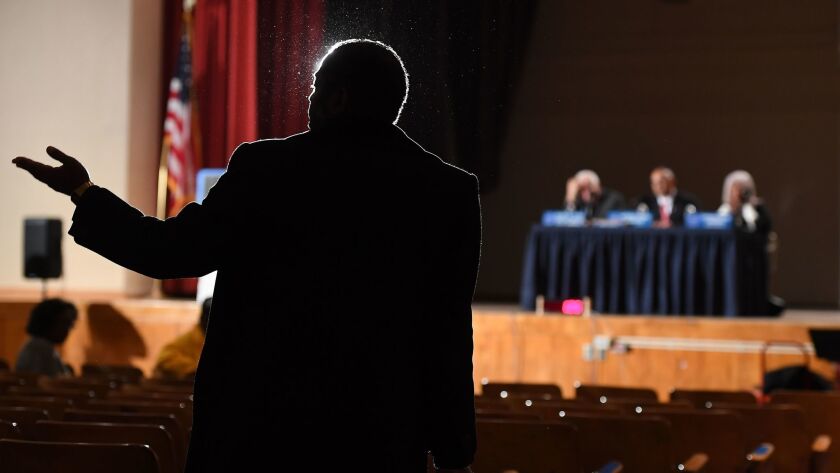 Wanted: New police chief.
Job description: Reduce crime. Increase transparency. Build trust in police, particularly among African Americans. Motivate officers. Crack down on problem cops. Tackle homelessness. Curb shootings by police. Put more officers on the streets. Stay away from immigration enforcement. Continue police reforms.
The distinct, often-competing needs of a city as vast and diverse as Los Angeles were underscored during the Police Commission's recent listening tour, on which members of the LAPD's civilian oversight panel canvassed residents about what they'd like to see in their next police chief. Their list of demands was long.
The series of meetings offered the first public glimpse at some of the Los Angeles Police Department insiders who are weighing whether to apply, but it also illustrated the challenges ahead for whomever is chosen.
The next chief will have to confront some of the most intractable problems facing the city and policing overall, including ongoing concerns over how LAPD officers use force, a sharp rise in homelessness, allegations of racial profiling, a stubborn uptick in crime and friction with a White House angry at the city's "sanctuary" policies that limit cooperation with immigration agents.
"I believe that what we're looking for is impossible," said Steve Soboroff, the president of the Police Commission. "It's not so much as what the person is right now, but are they on their way to getting to be what we want? Who's got the best chance to do it all?
"We're setting very, very high standards and expectations in a very difficult time."
Finding the city's next police chief will be one of the most closely watched decisions made by Mayor Eric Garcetti, who will make the final selection from a list of applicants narrowed down by his appointees on the Police Commission. Commissioners have said they hope to finish evaluating what could be dozens of candidates and offer Garcetti their top three suggestions in early June, a few weeks before Chief Charlie Beck's last day, June 27. The city began accepting applications for the job last week.
At the recent meetings, several residents called for the next chief to come from within the LAPD's ranks rather than an outside agency. They said they wanted someone who already knows L.A. and the dynamics of the city's different neighborhoods.
"We need someone with deep knowledge and understanding who can be effective right from the start," one resident, Steven Kaplansky, told a police commissioner at Van Nuys City Hall.
In West L.A., Shana Lloyd said the next LAPD chief needs to understand the history of the city's still-evolving relationship with the police, particularly the department's treatment of nonwhite residents.
"We also still have a huge gap between law enforcement and communities of color," said Lloyd, who is black. "I think Los Angeles has taken great strides, and Charlie Beck has done some things, but we can go further.
"For me, as a law-abiding citizen of Los Angeles, I'm still nervous if cop cars roll by if I don't know any of them," she continued. "I am concerned about myself and members of my community, and I want to make sure we can close that gap."
Some residents stressed the importance of continuing to train officers to guard against their own implicit biases and to de-escalate tense encounters without using serious force — renewed focuses in policing that the LAPD has incorporated into its training. And if officers act inappropriately, residents said, they want a chief who will swiftly take action.
In Watts, Perry Crouch said the incoming chief should encourage officers to get out of their cars and talk to residents, particularly in African American neighborhoods. The chief should do the same, he said — and "not just drive by and look at us like we're nothing."
We're setting very, very high standards and expectations in a very difficult time.
Steve Soboroff, president of the Police Commission
The City Council, which must confirm the mayor's choice for police chief, weighed in at a meeting Wednesday. Council members echoed their constituents in calling for a chief who understands Los Angeles' diverse neighborhoods and can relate to the people who live there.
"Young African American, Latino and Asian boys and men have a different experience than others in the city," said Councilman Gil Cedillo. "And as this city continues to diversify and become the place that everyone in the world comes to to realize their greatest hopes and aspirations, we have to have a police department that is prepared to embrace them and that they embrace."
Councilman Mike Bonin said the new chief needs to figure out how to put more officers on the streets without a huge increase in the department's budget.
"Particularly for internal candidates, if they can't articulate a strategy to do that, they're probably not right for the job," Bonin said.
Council members Joe Buscaino and Nury Martinez said it is time for Los Angeles to have its first female police chief.
Most of the community meetings were short and sparsely attended — generally drawing a couple dozen people and lasting less than an hour. A handful of current and former high-ranking LAPD officials whose names have circulated as potential contenders for the job were also in attendance, often sitting inconspicuously in the back of the room.
The list included Deputy Chief Robert Arcos, who heads the LAPD's Central Bureau; Sandy Jo MacArthur, a former LAPD assistant chief who retired in 2015 but is still a reserve officer; and Assistant Chief Beatrice Girmala, who oversees the department's counter-terrorism and detective bureaus.
Some residents who attended the meetings pitched specific people they said they'd like to see become chief. Arcos was mentioned, as was Michel Moore, an assistant chief who was one of three finalists for the job in 2009. Several people suggested Girmala, pointing to their experiences with her as a captain in Hollywood and while working with her on LGBTQ issues.
"She's a person who will say, 'Let's bring people together. Let's work this out. Let's come up with a resolution,' " said Troy Isaac, who first met Girmala after he was released from prison in 2008. "She's not a pushover. She's straightforward. And she will do the right thing for this city."
Girmala said Wednesday that she was considering applying for the job, as did Arcos. Moore said he would apply, calling it a "tremendous opportunity." MacArthur said she was also going to apply, saying she felt she had "more to give."
After announcing his retirement in January, Beck suggested that his successor should be an insider — or someone who recently left the department. That possibility appears to have gained momentum, as Soboroff has also said he believes the best candidate would be someone with experience working for the LAPD.
Matt Johnson, the Police Commission's vice president, said last week that it would be easier for him to judge candidates he's already worked with at the LAPD versus an outsider he meets for the first time during an interview.
"I can see what someone's track record is," he said. "It will be harder for someone to prove to me in an hour what they're really about."
His comments came during a meeting with members of the National Action Network, a civil rights organization, in a church in Jefferson Park. They talked for nearly 90 minutes about policing in Los Angeles, how to bring more black officers on the force and why the next chief must focus on his or her relationship with African American residents.
The next chief needs to be accessible and engaged, said Larry Morris, a 51-year-old pastor and insurance agent. Someone who genuinely spends time in the community — not just when there are television cameras covering a rise in crime or the opening of a new park.
Johnson agreed, adding that he believes the LAPD chief should live in the city of L.A. — "Watts," one person in the room suggested — and spend more time stopping by community meetings and walking through neighborhoods, just to say hello.
By doing so, the next chief would signal a genuine concern about the city's residents, Morris said after the meeting.
"They need to know that this police chief really cares about us," he said.
For more LAPD news, follow us on Twitter: @katemather and @cindychangLA
---
The stories shaping California
Get up to speed with our Essential California newsletter, sent six days a week.
You may occasionally receive promotional content from the Los Angeles Times.