HUD Secretary Ben Carson announces job funds for Nickerson Gardens tenants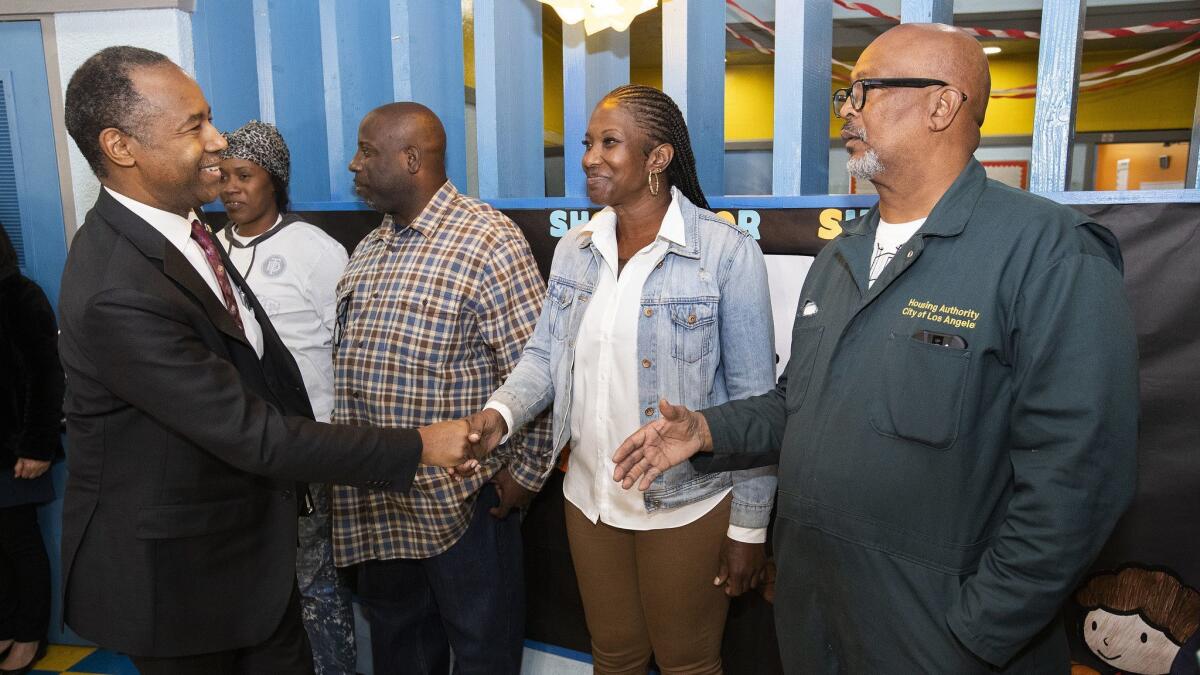 Ben Carson, the U.S. secretary of Housing and Urban Development, went to Watts on Wednesday to announce a $3.7-million grant for a new job center at Nickerson Gardens, the biggest public housing development west of the Mississippi.
The grant to the Housing Authority of the City of Los Angeles is part of HUD's Jobs Plus Initiative Program, which prepares and trains public housing residents for employment and places them in jobs. The program, which started in 2005, has proved successful in dozens of other housing projects, which are among the poorest communities in the country.
The Nickerson Gardens center, the first Jobs Plus project in Los Angeles, will concentrate on employment in the healthcare and construction industries, including union jobs at Los Angeles International Airport and the new NFL stadium in Inglewood, officials said. The housing development has 3,100 tenants; 44% of the working-age adults are unemployed, HUD said.
Participants who increase their incomes through the program will not face rent hikes for four years, a departure from normal housing authority practices.
Because public housing tenants pay 30% of their earnings for their units, marriage, a promotion or a new job can mean rising rents, which discourages some from improving their financial situation, Carson said.
"We want to give people ladders of opportunity to climb so public assistance doesn't become the end goal," said Carson during his brief appearance on the basketball court and gym at Nickerson Gardens.
Some residents of the 1,066-unit development were excited about the grant, which they said follows years of abandonment by federal and local agencies that once ran recreation, training and education programs at the projects, particularly for young people.
"I feel like we've been overlooked as a neighborhood," said Danny Joubert, who has lived at Nickerson Gardens for all but one of his 58 years. "Just knowing there is going to be a job center here is huge. It will give young guys an opportunity to ready themselves to get jobs."
HUD said Jobs Plus is aimed at "building a culture of work and making working families the norm," a point Carson underscored by saying that some people "don't have the vision they are going to be successful."
Eddie Williams, president of Nickerson Gardens' resident advisory council, said tenants want to work and can envision success. One of the most successful former residents, Anthony "Top Dawg" Tiffith, who founded hip-hop artist Kendrick Lamar's music label, arrived Wednesday at the housing project just as Carson, whose flight from Washington was delayed by weather, was leaving.
But Williams said as many as 75% of residents have criminal records — the result of over-incarceration and LAPD corruption, he said — that disqualify them from employment.
Others lack education for today's cutthroat job market, where even some McDonald's restaurants ask for college degrees, Williams said.
"Everybody wants to work," he said. "But everybody doesn't accept people with a background."
The Nickerson Gardens grant is part of a $10.6-million round of funding for the Jobs Plus program. Housing projects in Stockton; Toledo, Ohio; and Gainesville, Fla., were also awarded grants.
Twitter: @geholland
Sign up for Essential California for news, features and recommendations from the L.A. Times and beyond in your inbox six days a week.
You may occasionally receive promotional content from the Los Angeles Times.