L.A. residents could get more warning before parking tickets are issued in repair zones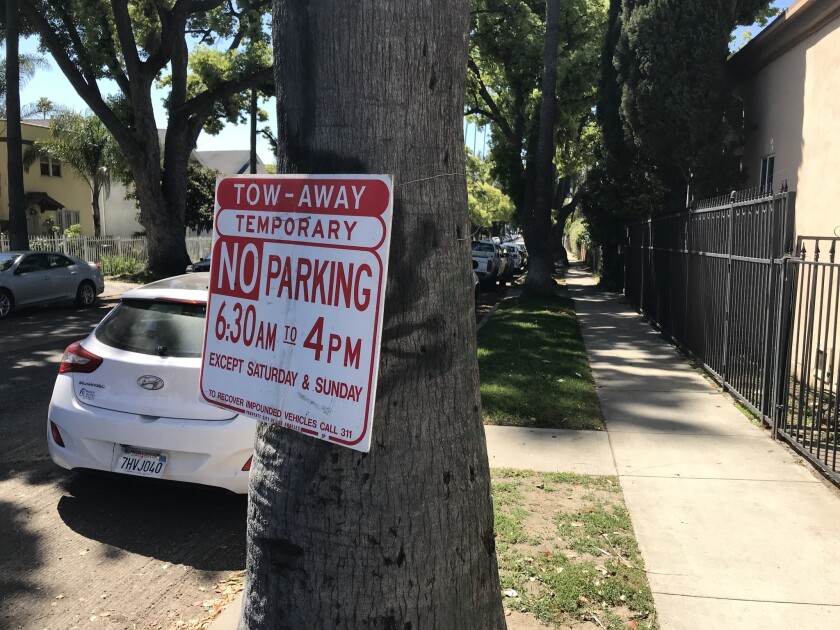 A Los Angeles City Council member on Wednesday called for the city's road repair agency to do a better job of alerting residents when their streets are being turned into temporary no-parking zones.
Councilman David Ryu, who represents neighborhoods stretching from Silver Lake to Sherman Oaks, introduced a motion to have the Bureau of Street Services put up temporary no-parking signs at least 48 hours before street repairs begin — double the current amount — to reduce the likelihood that cars will be ticketed and towed.
With officials looking to fix hundreds of miles of streets, "we need to make sure that the way we prepare and inform impacted residents is fair," Ryu said in a statement.
"The cost of retrieving an impounded vehicle is simply too high for us to ignore a flawed sign posting process," he said.
Ryu's proposal came nearly a week after The Times reported on a Hollywood resident who spent almost two years battling the city over a parking citation, the towing fee and assorted legal costs after temporary no-parking signs were placed on her street.
Lisa Soremekun, an actress and filmmaker who lives in Ryu's district, said city crews did not properly post the signs in her neighborhood before the second phase of street repairs, causing several cars on Van Ness Avenue to be ticketed and towed. Although Soremekun eventually got her money back — after two city hearings and nine trips to court — many of her neighbors did not.
Under the city's protocol, street repair crews are supposed to put up temporary no-parking signs — placards attached with wire to trees and existing signposts — at least 24 hours before resurfacing work begins.
Those signs go up before crews remove layers of deteriorating asphalt. After that first phase, the temporary no-parking signs are supposed to be turned away from the street, to let residents know it's safe to park.
Days or weeks later, when the city is ready to resurface, workers are supposed to turn the signs back toward the street at least 24 hours in advance of construction, to give residents time to move their cars.
Soremekun said that didn't happen on Van Ness Avenue in April 2017, and she wound up fighting the city in court.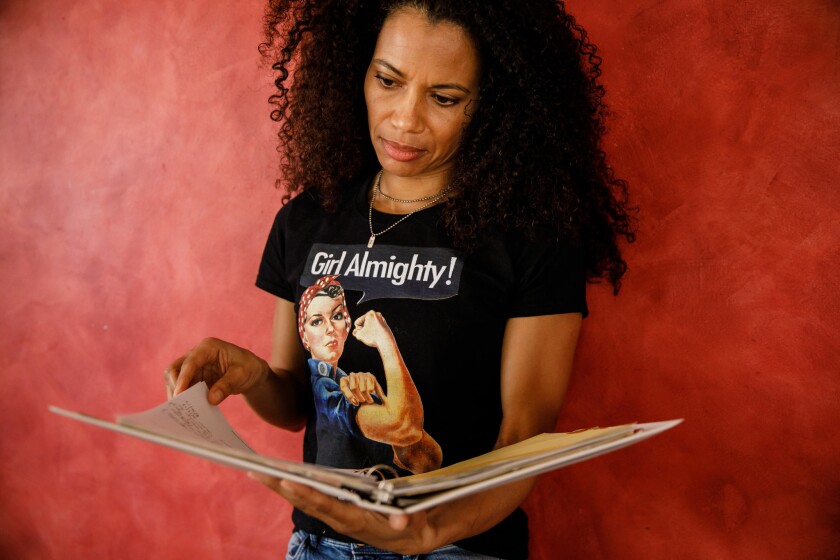 The judge who ultimately overturned Soremekun's ticket voiced doubts about the temporary signs, pointing out that residents might not check on their cars for more than 24 hours. Ryu, for his part, said he worried that the signs could be easily tampered with, and he wants street repair officials to spell out their current procedure for notifying residents.
Officials with the Bureau of Street Services say they try to avoid towing cars that are left on the street during repairs, sometimes even coming back to do the work on a different day. If the temporary signs have been removed or turned away, a "Notice of Street Work" is reissued for another date, they said.
In the wake of Soremekun's ordeal, city workers take a photograph of the street on the day that construction begins, to show that the temporary signs are facing the proper direction. Adel Hagekhalil, who heads the bureau, said Ryu's motion would allow his agency to improve its handling of temporary no-parking signs and "find ways to strengthen our practices and look for new innovative smart technologies to inform constituents."
Soremekun said she was thrilled that Ryu was looking to change the city's handling of the no-parking signs.
"That was the whole point of fighting for two years," she said. "My initial goal was to get people's money back. But if they could change their protocol, then ultimately it would save everybody in the long run."
Ryu's proposal now heads to the council's public works committee for review. In his motion, he called for the city's chief legislative analyst to report on the city's options for providing refunds to residents whose cars have been towed as a result of an improperly issued parking ticket.
The councilman also said he wants city officials to explore allowing residents to sign up for a notification service about temporary no-parking areas through 311, the city's hotline for requesting graffiti removal, pothole repairs and other municipal services.
Twitter: @DavidZahniser
---
For reporting and exclusive analysis from bureau chief John Myers, get our California Politics newsletter.
You may occasionally receive promotional content from the Los Angeles Times.