Here's what it was like to live through the terror of the Northridge earthquake, which hit 24 years ago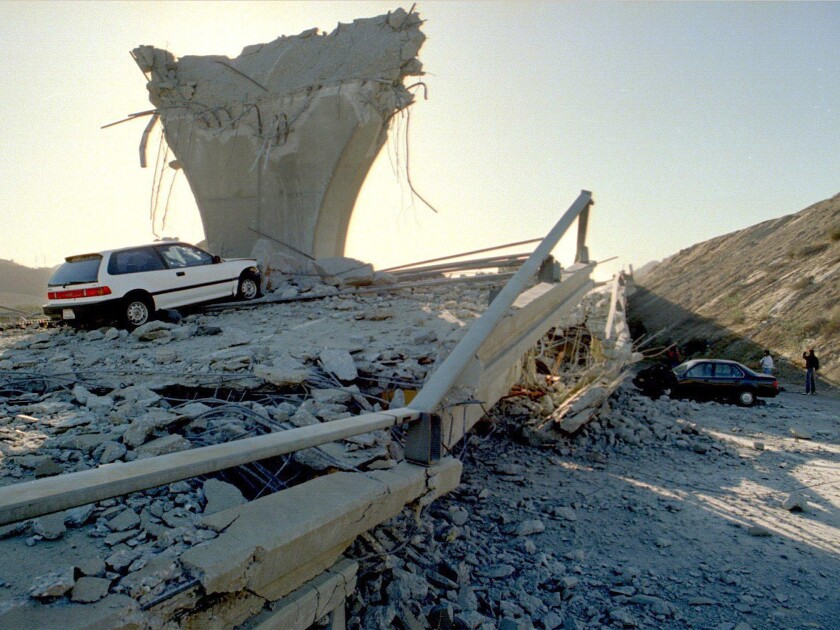 Only rubble remains at the junction of the 5 and 14 freeways following the 1994 Northridge earthquake.
(Jonathan Alcorn / For The Times)
The interchange of the 14 and 5 freeways, where LAPD Officer Clarence Wayne Dean died. Dean, 46, had left his Lancaster home after the quake struck. Driving south on the 14 in the dark, he rounded a bend on the transition road and plunged 30 feet from the roadway, which had collapsed in the quake.
(Los Angeles Times)
Before dawn, repairs begin on the collapsed 5 Freeway.
(Los Angeles Times)
Neighbors use a bucket brigade to fight a fire in the 11700 block of Balboa Boulevard in Granada Hills.
(Los Angeles Times)
Sylmar resident Brian Demetz flees from his burning home.
(Los Angeles Times)
Cars are dwarfed by a wall of flames that was created when a natural gas line ruptured in the earthquake.
(Jonathan Alcorn / For The Los Angeles Times)
Michael Evans walks through a mobile home park in Santa Clarita. His residence was among those that burned.
(Los Angeles Times)
The body of Los Angeles Police Officer Clarence Wayne Dean lies near his motorcycle, which plunged off the 14 Freeway overpass that collapsed onto the 5 Freeway during the earthquake.
(Jonathan Alcorn / For the Los Angeles Times)
A row of cars is crushed beneath a collapsed apartment building in Canoga Park.
(Los Angeles Times)
Rescue workers peer into the wreckage of a Studio City house that slid down a hill and collapsed in the earthquake.
(Los Angeles Times)
Dave Dutton found chaos at his Dutton's Books in North Hollywood.
(Julie Markes / For the Los Angeles Times)
People stand in line at a Canoga Park High School shelter to pick up children's sweat suits donated by a sporting goods manufacturer.
(David Bohrer / For the Los Angeles Times)
A mother's face reflects her grief on learning that her 14-year-old son had been found dead in a closet in their Northridge apartment.
(Los Angeles Times)
L.A. Mayor Richard Riordan, left, Gov. Pete Wilson and President Clinton listen on the 118 Freeway as Caltrans engineer Andrew Ponzi explains the extent of the damage to L.A. freeways.
(Los Angeles Times)
Jessica Hernandez, 7, clutches her teddy bear outside the makeshift shelter where her family and other residents of a Van Nuys apartment complex are living because they are afraid of return to their homes.
(Al Seib / Los Angeles Times)
Cal State Northridge President Blenda J. Wilson said: "The moment of returning to the campus and seeing the parking structure demolished ... was the most terrifying moment of my life."
(Los Angeles Times)
Unable to bathe since his Canoga Park apartment was condemned, Jose Aguilar rinses off in a pool.
(Ricardo DeAratanha / Los Angeles Times)
Heavy-equipment operators remove pieces of the 118 Freeway's eastbound lanes.
(Los Angeles Times)
Both ends of this medical administration building collapsed, and the second floor pancaked.
(Ricardo DeArantha / Los Angeles Times)
A man stares out to the street from his wall-less home at the devastated Northridge Meadows apartments.
(Joel P. Lugavere / Los Angeles Times)
Flowers line a fence at the Northridge Meadows apartment complex a week after the quake.
(Julie Markes / For the Los Angeles Times)
There are many people living in Southern California today who have never experienced the terror and destruction of a huge earthquake. Seismic experts have long feared this has made some apathetic about the threat in California. The Northridge quake struck just five years after another massive temblor, the Loma Prieta earthquake, which hit Northern California. Two years before that, a smaller but deadly quake erupted in the Whittier area.
Here are some descriptions of what it was like to live through the quake — which killed 60 people and left more than 80,000 structures damaged or destroyed — from the pages of the Los Angeles Times as well as from reader memories The Times published in 2014.
---
Everything was flying all over. I felt glass on top of me. I grabbed my daughter, Amber, and I said, "Dear, God, let us live through this, and we're going back to New York."
---
The first impression I remember forming was that the motion was up and down, not the shimmy of all previous quakes. Crossing to the doorway, I think my feet left the ground more than once. I barely dodged the overturning of my chest of drawers. The sound, as always, was as shocking as any motion. Everyone wants to know what it's like for the earth to move under your feet, but the scary part is how a whole city sounds as it shakes around you. While my roommates and I gathered in our respective doorways, I smelt a queasy mixture of all the cologne bottles that had been on my dresser and that now were broken and puddling on the floor.
---
After a week of suffering from a nasty cold and getting very little rest, I was roughly shaken out of a deep, restful sleep. I recall holding onto my bed to keep from being shaken off. It was pitch-black in my Sylmar condo and I was thinking, "This is the Big One. I'm going to die." I held on forever as I listened to the rumbling and things falling around me. Finally, it stopped, I got out of bed, managed to find something to put on and made my way to the front door, slipping and sliding on the way. I heard water rushing as the water heaters from the other units had broken away as the aftershocks kept coming, freezing me on the spot. My husband and I went outside, where we thought it was safer. I looked up at the sky and saw more stars than I've ever seen anywhere — so gorgeous, and it calmed me for a little while. We waited until the sun came up before going in to assess the damage. It was a mess, but no serious damage. We were very lucky, but that fear is still with me and always will be.
---
---
I was going 40 miles an hour, and all of a sudden, I couldn't steer my car anymore. I thought I had a flat, but then I saw the lights from Point Mugu going off and on, and the radio started getting staticky. … I started to say the "Our Father" because I thought it was the end of the world. I thought it was a nuclear bomb.
---
I was so excited because I had my 5th birthday party scheduled for that afternoon. It was a Power Rangers birthday party, and I couldn't think about anything else. Just as my digital clock turned 4:31, the shaking started. I was so terrified. I looked around my room and saw all my books falling along with my giant blue bookcase. Downstairs, I could hear our cabinets open and all of my mother's Deruta ceramics crashing on the tile below. I stayed in my bed, frozen and petrified. I heard my parents running down the hall toward my room. On their way down the hall, my mother had tried to hurdle a giant bookcase and had cut her leg pretty badly. When they got to my room, we all went down the back staircase and into my kitchen. The red tile was smothered by broken ceramics and glassware. It was something I'll never forget. We went on our back patio and spent some time on the chaise lounge chairs and waited for the sun to rise.
---
I remember waking up to the shaking and quickly grabbing my shoes and making it to the living room. The living room floor was soaking wet due to a broken saltwater fish tank and the pool just outside the door that had splashed so much water that it came into the apartment. I tried throwing the fish into the pool thinking I was saving them (obviously I know now that wouldn't work — lol). After, we all got out of the apartment and went to a parking lot next door that had a Denny's in it.
---
---
As a single working parent in a one-story home, I yelled to my 7- and 4-year-old girls to stay in bed: I would come and get them when the shaking stopped. I leaned over and grabbed two shoes out of the closet to head down the hallway. I had over 38 pictures on those walls, and the crashing, shattering glass was making a great deal of noise. The house felt like it was picked up, twisted violently from side to side about four times and then dropped. The noise was horrific, and it was pitch-black as all my windows were shuttered. I felt my way down the hall, grabbed the 4-year-old onto my back and headed to the 7-year-old's bedroom. SHE WASN'T THERE! She must have passed me in the hall because when I yelled, "Where are you?" she replied, "In your bed." We huddled through the aftershocks until it got light.
---
There's this huge bang, and it felt like my bed had dropped 5 feet. Then the rumbling began. I ran to my door and opened it, and my roommate ran into me and grabbed me. I held onto both her and the doorjamb, as the apartment began to shake all around us. And it just went on and on.
Already a subscriber? Thank you for your support. If you are not, please consider subscribing today. Get full access to our signature journalism for just 99 cents for the first four weeks.
---
The perils of parenting through a pandemic
What's going on with school? What do kids need? Get 8 to 3, a newsletter dedicated to the questions that keep California families up at night.
You may occasionally receive promotional content from the Los Angeles Times.