UC schools receive record number of applications, topped by UCLA and UC San Diego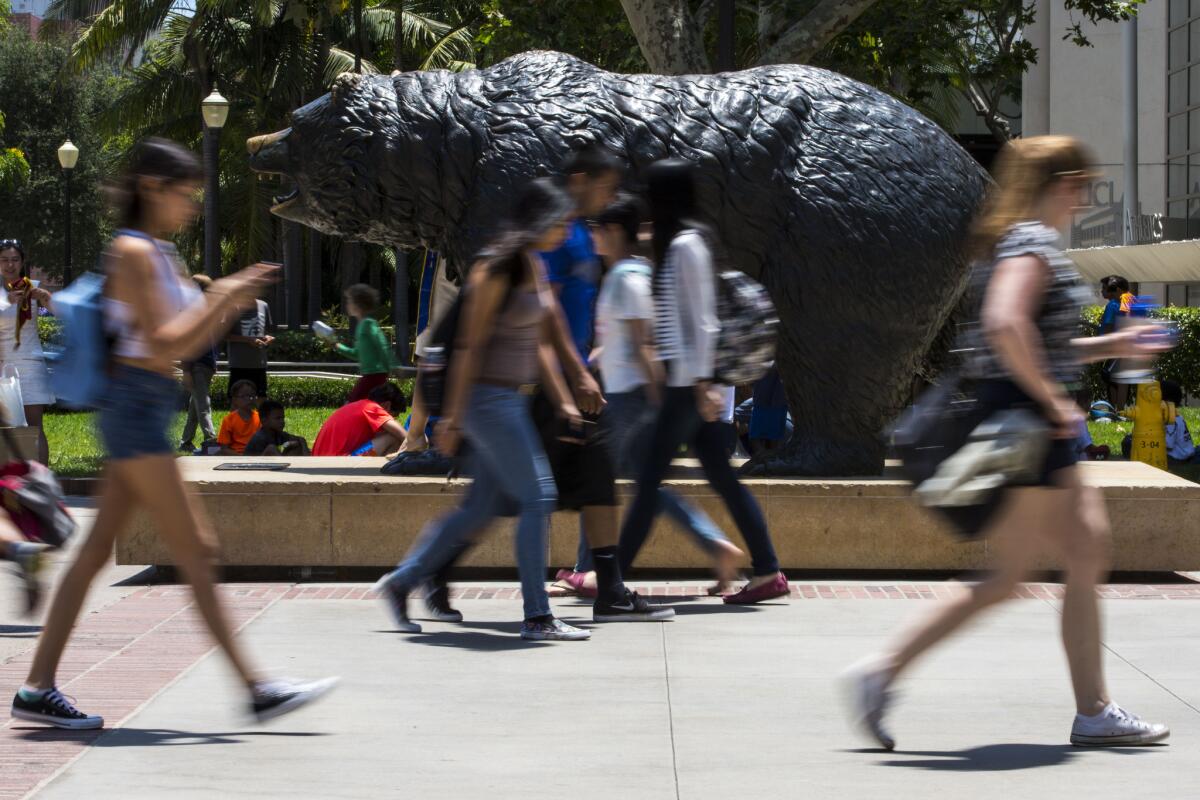 More than 206,000 people applied for admission to at least one University of California campus for the 2016 fall semester, setting a new record for the 12th year in a row, officials announced Monday.
The number of potential first-year and transfer students was 6.4% higher than it was a year ago, when almost 194,000 people sought admission to at least one of the nine campuses that serve undergraduates.
Nearly 58% of last year's applicants were admitted, although acceptance rates differed drastically among campuses, according to UC statistics.
Once again, UCLA had the largest number of applicants for this fall with about 119,000. The Westwood campus was followed by UC San Diego and UC Berkeley with nearly 103,000 and 102,000, respectively.
It was the first time in five years that the San Diego campus drew more applicants than the flagship campus in Berkeley.
Many hopefuls applied to multiple campuses, though UC officials did not give details about this. A year ago, California residents applied to an average of four UC schools.
Applications were up at every undergraduate campus, officials said. UC Merced saw the biggest jump, with 13.5% more applicants; UC Berkeley saw the smallest increase, at 5.8%.
Latino students made up the largest group of applicants, accounting for 34.1% of all students seeking admission as freshmen or transfer students. That's up from 32.5% a year ago.
Asian Americans were the second-largest group of applicants, accounting for 29% of students seeking UC admission. That's a drop from 30.1% last year.
See the most-read stories this hour >>
The proportion of applications from white students fell slightly, to 26.6% this year from 27%. Meanwhile, applications from African Americans rose to 6.3% in this admissions cycle from 6% of the applicant pool last year.
The number of out-of-state applicants grew by nearly 11%, and applications from international students increased nearly the same percentage. Four campuses — Irvine, Santa Barbara, Santa Cruz and Davis — saw applications from international students rise more than 20%.
UC schools have been accepting more nonresident students who pay higher tuition as a way of dealing with budget cuts. But system leaders are seeking to boost in-state enrollment by 10,000 by 2018. A look at the number of applicants per campus:
Berkeley
2015
96,082
2016
101,655
Increase:
5.8%
Davis
2015
79,930
2016
86,041
Increase:
7.6%
Irvine
2015
88,792
2016
97,759
Increase:
10.1%
Los Angeles
2015
112,744
2016
119,326
Increase:
5.8%
Merced
2015
19,932
2016
22,632
Increase:
13.5%
Riverside
2015
47,669
2016
52,467
Increase:
10.1%
San Diego
2015
94,280
2016
102,692
Increase:
8.9%
Santa Barbara
2015
85,208
2016
94,015
Increase:
10.3%
Santa Cruz
2015
54,333
2016
59,102
Increase:
8.8%
Total
2015
193,873
2016
206,339
Increase:
6.4%
Follow @byjsong on Twitter
Sign up for Essential California for news, features and recommendations from the L.A. Times and beyond in your inbox six days a week.
You may occasionally receive promotional content from the Los Angeles Times.