Woman dead, man wounded in homicide, attempted suicide at the Oaks mall in Thousand Oaks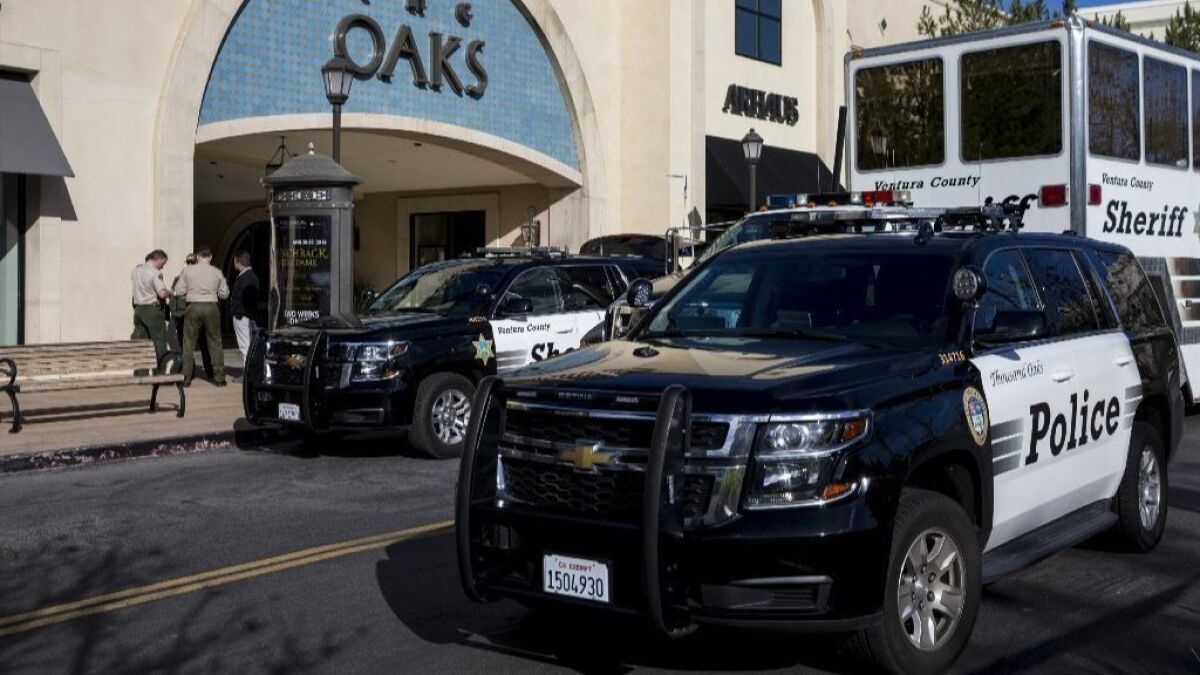 Leo Juarez was working at a jewelry store inside the bustling Oaks shopping mall Saturday afternoon when panic swept through the upscale Thousand Oaks center.
"We heard commotion, people running to the opposite end of the mall yelling 'Shooter!'" said Juarez, who heard police helicopters overhead as he watched people evacuate.
A man shot and killed his ex-wife and then shot himself in a murder and attempted suicide at the mall, causing panicked shoppers to stream for exits and prompting a huge police response.
Coming just weeks after a mass shooting at a Florida high school, the incident prompted minutes of fear amid reports of an active shooter. Authorities later described the incident as an act of domestic violence.
Samantha Castle, a 23-year-old manager of a GameStop near the site of the shooting, said she saw dozens of people running inside after the incident Saturday afternoon. As police raced toward the courtyard with rifles in hand, she hid inside the store for an hour behind an electronic gate.
Castle said she saw a "whole herd of people running" but didn't hear any gunshots. With mass shootings a frequent topic of news coverage in recent weeks, Castle said she has been increasingly concerned about the potential for incidents at the mall.
The shooting came a week after another incident at the Glendale Galleria, when a security guard fired a gun trying to stop an attempted "smash-and-grab" robbery of a jewelry store. The sounds of the gunfire sent shoppers running for the exits, fearing an active shooter.
In the Oaks mall shooting, authorities received a call at 2:17 p.m. about gunfire inside a stationery store called the Paper Source, said Sgt. Eric Buschow of the Ventura County Sheriff's Office.
Deputies found the 30-year-old Thousand Oaks woman dead of an apparent gunshot wound and her 33-year-old ex-husband with life-threatening injuries inside the store, authorities said. The man, a Los Angeles resident, was transported to a local hospital, where he remains in critical condition.
Buschow said detectives reviewed surveillance footage that showed the man park near the mall at 2:09 p.m., and walk straight to Paper Source, where he knew his ex-wife was an employee. He began an argument with her, then quickly opened fire, according to Buschow.
"It appears that that was his purpose in going there," Buschow said. "He didn't linger or shop."
Police were withholding the identities of the shooter and victim, pending notification of the families. The couple's children, who were staying with a family member, were found unharmed and no one else was injured.
A handgun was recovered at the store, according to Buschow, who did not know if the shooter had a criminal record.
Patrons were evacuated from the popular suburban shopping center and advised to go to Fire Station 30 across the street. Buschow said the indoor portions of the mall, on the northwest and east sides, were reopened but the open-air portion, where the Paper Source is located, remains closed amid the investigation.
Video posted on Twitter by Anthony A. Angelini showed armed sheriff's deputies outside one of the mall exits with guns drawn as visitors were directed out of the building.
Angelini, a 23-year-old Thousand Oaks resident, said he and his girlfriend were in the outdoor section in the middle of the mall when he saw a crowd of at least 100 people running toward him.
At first, he thought it was a flash mob. But then he heard a teenage girl say, "Do you think we're going to live through this?"
Angelini's instinct was to flee. He and his girlfriend joined the group, running as fast as they could to the J.C. Penney store at one end of the mall.
An alarm went off when they got to the store. A worker told them to come hide in a stock room. But they spotted an emergency exit and became some of the first patrons to make it outside.
"I said, 'I'm not just going to be sitting ducks hiding behind clothing racks,'" he said.
Just as they got outside, Angelini saw authorities pull up and heard them call over the scanner for all units to respond.
Two deputies surrounded the doors with assault rifles, he said, while others set up a perimeter. People stood around, confused. One woman frantically searched for her child, while strangers tried to comfort her.
Angelini called his mother just after he made it outside, at 2:27 p.m., to tell her he was OK. A couple minutes later, he watched another few dozen people stream outside.
At that point, a handful of deputies ran inside, he said. Around 4 p.m., Angelini was still at the mall, waiting to retrieve his car at the other end.
"I'm still shaking," he said.
The scene at the mall was relatively calm by Saturday evening, with a few dozen people walking around the shopping complex, some unaware that a slaying had occurred just hours earlier.
Leslie Seifert, 65, of Camarillo, had been shopping at another mall earlier in the day and was curious why the mall was so empty on a Saturday night.
"I walked in and thought, 'Wow, that's weird all these stores are closed,'" said Seifert, who was informed of the shooting by a Times reporter.
Several Thousand Oaks police vehicles were parked outside entrances as a handful of shoppers perused the mall. Some could be overheard talking about the shooting, while others waited in line to get dinner at the Cheesecake Factory as if nothing had happened.
The shooting took place on the second floor of an outside courtyard area that was cordoned off by yellow police tape, with security guards and Ventura County sheriff's deputies patrolling the entranceway.
---
UPDATES:
9:45 p.m.: This article was updated with additional information from police.
6:45 p.m.: This article was updated with new comments from patrons at the mall.
5:25 p.m.: This article was updated with new information from Ventura County sheriff's officials about the shooter.
4:45 p.m.: This article was updated with new information from sheriff's officials and from patrons at the mall.
This article was originally posted at 3:35 p.m.
---
Life is stressful. Our weekly mental wellness newsletter can help.
You may occasionally receive promotional content from the Los Angeles Times.