Obama to publicly name San Gabriel Mountains a national monument today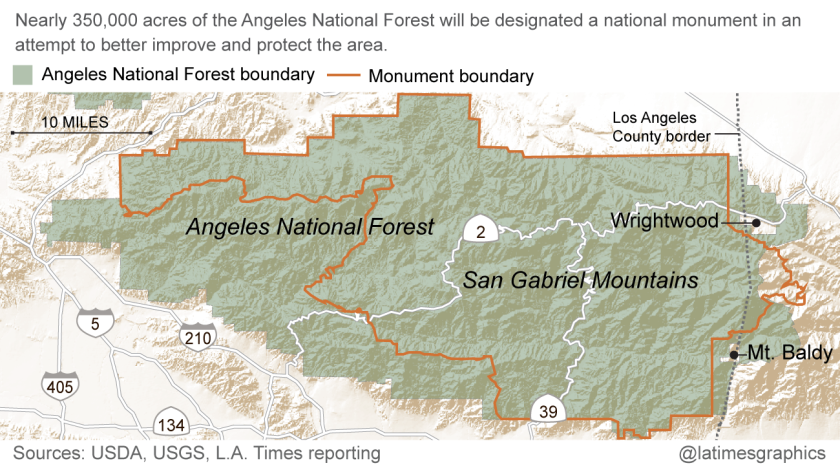 Beyond the typical traffic headaches and streets closures, President Obama will leave Los Angeles on Friday with a national monument in its backyard.
Obama will be at Frank G. Bonelli Regional Park in San Dimas to announce his plans to carve out roughly half of the Angeles National Forest to create the San Gabriel Mountains National Monument.
Stretching from Santa Clarita to San Bernardino, the San Gabriel watershed is within a 90-minute drive of 17 million people. It provides Los Angeles County with 70% of its open space and roughly 35% of its water. The rugged slopes and canyons are home to rare and endangered species, including Nelson's bighorn sheep, mountain yellow-legged frogs and Santa Ana suckers.
The allure of the San Gabriel Mountains wilderness is strong, drawing 3 million annual visitors. But the chronically underfunded Forest Service cannot keep up with the demand. Graffiti, trash, crowding, crime and wildfires are constant problems.
Advocates say that the designation of the 350,000-acre monument will enable the Forest Service to give priority to managing the safety of visitors, protecting natural resources and installing improvements, including new parking areas, restrooms, signs, educational kiosks and trails, federal officials said.
But detractors, particularly residents within and near the monument's footprint, say they've been kept in the dark about the effects of the designation, and fear that the new status will hamper growth and fire safety.
Anticipating the new designation, about 150 people protested Monday in front of the Pasadena office of Rep. Judy Chu (D-Monterey Park). Many said they were unsure about its potential effects on private property rights, flood control and emergency services.
And the San Bernardino County Board of Supervisors recently approved a resolution opposing a monument designation in its region, where there has not been a public meeting held to discuss the issues.
"As far as I know, there's no more money that Congress has available to fund this proposal in some of our most fire-prone areas," said Janice Rutherford, a San Bernardino County supervisor. "We asked that they leave us the heck out of it."
However, Daniel Rossman, a spokesman for San Gabriel Mountains Forever -- a coalition of environmental and community groups that has long campaigned for the designation -- said such concerns are unfounded.
"The designation will not infringe on existing rights," Rossman said. "It will open up new recreational opportunities without sacrificing the natural beauty of the San Gabriel Mountains."
The designation marks the 13th time that Obama has used his executive powers to establish or expand a national monument without congressional approval. He joins a long list of chief executives who see creating a monument as a way to enhance their legacy.
Follow the reporter for environmental news on Twitter: @LouisSahagun
---
For reporting and exclusive analysis from bureau chief John Myers, get our California Politics newsletter.
You may occasionally receive promotional content from the Los Angeles Times.