Judge bars former ethics panel member from running for L.A. City Council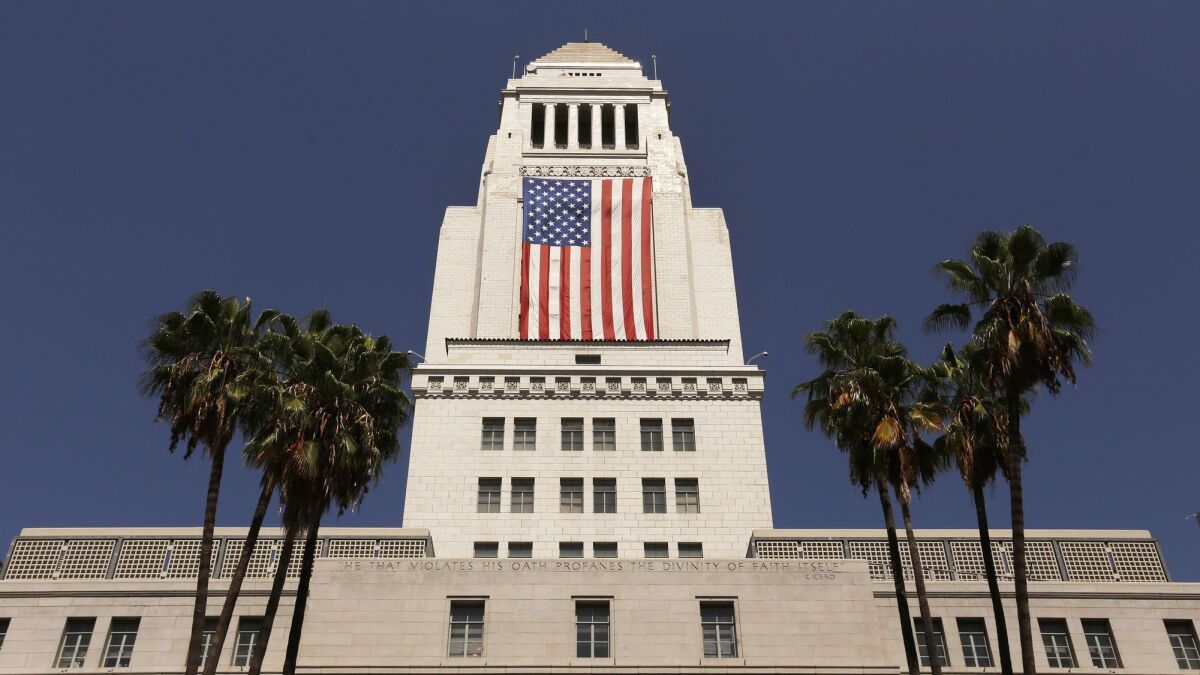 Former L.A. Ethics Commissioner Serena Oberstein is barred from running for a Los Angeles City Council seat that is up for grabs this summer, a Superior Court judge ruled Thursday.
The legal battle revolved around a section of the City Charter that restricts ethics commissioners from running for any city office "concerning which the commission has made a decision during the term of the commissioner" — a ban that applies for two years after the end of their terms.
Oberstein stepped down from the commission in November and launched her campaign in January, billing herself as an ethics watchdog who would root out corruption at City Hall. She has been among more than a dozen candidates vying to represent a council district that includes the San Fernando Valley neighborhoods of Granada Hills, Porter Ranch and Chatsworth.
In his ruling, Judge James C. Chalfant wrote that voting to impose fines on two people who ran unsuccessfully in the past to represent Council District 12 made Oberstein ineligible to run for that council seat, since "these decisions concern the very office for which Oberstein seeks election."
He directed the city and the county "to take all action necessary to remove her from the ballot."
Immediately after the Thursday hearing, Oberstein said she did not plan to challenge the decision, citing a lack of resources and tight timing. (County officials were finalizing information for the ballot Thursday, according to a county attorney.) Oberstein complained that the judge had failed to consider "key evidence" about the original intent of the rule.
"It's unfortunate that a Republican-appointed judge and a Republican candidate who used to be a City Council member from Santa Clarita came over here and are maintaining the status quo," Oberstein said, referring to rival candidate Frank Ferry, who challenged her candidacy in court.
Oberstein added in a later statement that "I did what any reasonable person in my situation would do — I asked the city whether I was eligible to run, and the city deemed me to be eligible."
Ferry, a West Hills attorney and educator, argued that Oberstein was barred from running under the charter rule. Following the hearing, he said he would have filed the court case whether the candidate in question was a Democrat or a Republican and had nothing against Oberstein personally.
"This is 100% a citizen frustrated that they had to hold the city of Los Angeles accountable for their own ethics laws," said Ferry, adding that he had to pay roughly $15,000 to pursue the case.
The Times first reported on questions about Oberstein's eligibility in February. In a lawsuit filed last week, Ferry and his attorneys pointed to the fact that Oberstein had voted to fine two unsuccessful candidates who previously ran in Council District 12, and also recommended boosting taxpayer funding to candidates through the city's matching funds program.
Some of those decisions "will directly benefit her candidacy for City Council," attorneys representing Ferry wrote in a court filing. They argued that the charter rule was probably drafted to guard against ethics commissioners "utilizing their position on the commission to pursue commission regulations that would assist them in a campaign for city office."
Attorneys representing Oberstein argued that Ferry was using an excessively "broad brush" to interpret the City Charter.
The rule was merely meant to stop ethics commissioners from targeting an elected official and then attempting to run for his or her seat, they contended. Since neither of the candidates fined by Oberstein and her fellow commissioners ultimately won the seat, the attorneys argued, "they never held an 'office' that was affected by the commission decisions."
City attorneys backed up that interpretation, pointing to the debate at a council meeting nearly three decades ago at which the proposed rules were vetted before going on the ballot.
At that 1990 meeting, then-Councilman Joel Wachs raised concerns about a commissioner "having the temptation to make decisions against people with the idea that they're then going to run against them … criticize them for things and then go after their job."
Oberstein and her attorneys also argued that the move to boost taxpayer matching funds for city candidates was not truly a "decision," since the Ethics Commission merely made recommendations to the City Council and "has no authority to increase the amount of matching funds or to change the campaign finance ordinance … in any way."
Being able to run for office, they added, is a "fundamental right," and "the California courts have been clear that any ambiguities in laws that would limit the access to seek public office must be narrowly construed" to protect it.
Ferry and his attorneys countered that cities can and do limit who is eligible to run for office, pointing to restrictions in Sacramento and San Diego. In addition, they argued that the debate at the 1990 meeting had also revealed concerns that a commissioner might use their position to prevent a new candidate from running, not just to damage an incumbent.
Chalfant said that no matter what the council members had intended when they debated the charter rule, what mattered was what voters intended when they approved it at the ballot box. He declined to consider a video and transcript of the 1990 meeting but told an attorney representing Oberstein that it wouldn't help her case anyway.
The "plain language" of the law did not back up how narrowly Oberstein was reading it, Chalfant said in court.
More than a dozen remaining candidates will compete for the San Fernando Valley seat in a June special election, with a likely runoff set for August. Oberstein said Thursday that she didn't know yet if she would throw her support to another candidate.
Her elimination from the race could end up benefiting other Democrats hoping to win a district long represented by Republicans. The seat was vacated last year by former Councilman Mitchell Englander, who left to take a job with a sports and entertainment firm, and is currently held by interim appointee Greig Smith.
Twitter: @AlpertReyes
---
The stories shaping California
Get up to speed with our Essential California newsletter, sent six days a week.
You may occasionally receive promotional content from the Los Angeles Times.