Los Angeles pays $8 million to settle wrongful-imprisonment lawsuit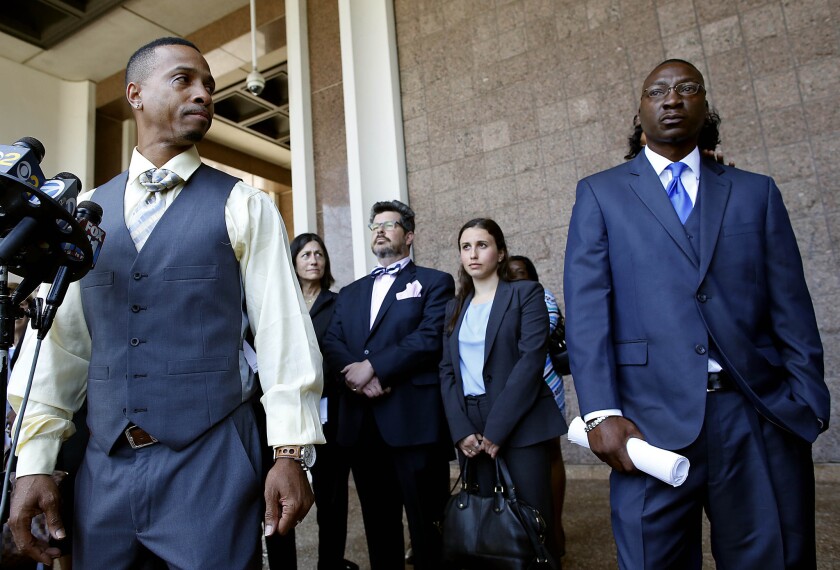 A man whose murder conviction was thrown out by a judge after he spent 17 years in prison said Monday that an $8.3-million legal settlement from the city of Los Angeles could not make up for the years he lost behind bars.
"We've suffered and we're still suffering," said Obie Anthony, 40, gesturing toward Reggie Cole, his co-defendant in the case whose conviction was also thrown out.
The payout, reported by The Times this week, settled a lawsuit that portrayed a murder investigation rife with problems — including the withholding of potentially exculpatory evidence, perjured testimony and the ignoring of leads that pointed to a different suspect.
"No compensation...can give me my years back," Anthony said.
The city admitted no wrongdoing in the settlement. The city's attorneys argued that detectives had conducted the investigation properly.
Anthony and Cole were convicted in the murder of Felipe Gonzales Angeles, who was shot to death outside of a South L.A. brothel in 1994. There was no physical evidence connecting Anthony and Cole to the crime, and the case relied almost entirely on eyewitness testimony.
A key witness in the case was John Jones, a pimp who ran the brothel.
The men were found guilty of murder and sentenced to prison without the possibility of parole.
Their journey toward freedom began in 2000 when Cole stabbed a fellow inmate to death.
Cole said he had acted in self-defense. He was charged with murder, which would have made him potentially subject to the death penalty because of his conviction in the Angeles killing. The California Innocence Project, which reviews inmates' claims of wrongful conviction, began looking into his case.
The group determined that Jones, the pimp, had fabricated his testimony. A Los Angeles County judge in 2009 overturned Cole's murder conviction.
Two years later, after a petition by Anthony, another Los Angeles County judge concluded that not only did Jones lie during his testimony, but prosecutors had failed to disclose an agreement to give him a lighter sentence on pimping and pandering charges in exchange for his testimony. He was released and later found factually innocent.
Anthony and Cole sued the detectives and the city of Los Angeles for wrongful imprisonment.
The lawsuit alleged that detectives protected Jones by ignoring his ongoing illegal activities and by refusing to pursue an alternative theory that he, or someone he knew, was the killer.
The lawsuit also alleged that detectives wrote reports that mischaracterized the accounts of eyewitnesses and suppressed evidence that was favorable to Anthony and Cole.
"The city of Los Angeles doesn't pay $8.3 million to guilty men. They paid Obie Anthony $8.3 million because he's innocent and the police engaged in wrongdoing," said David McLane, who along with attorney Marilyn Bednarski, represented Anthony in the civil case.
Anthony said he plans to open a transition center for those exonerated — who often have nobody to rely on after their release from prison, he said.
"The system that falsely accuses them sends them back out into a revolving door," he said.
For court-related news, follow @sjceasar
---
For reporting and exclusive analysis from bureau chief John Myers, get our California Politics newsletter.
You may occasionally receive promotional content from the Los Angeles Times.