Lawyer duo saw a need and now their nonprofit firm is fighting for the homeless in O.C.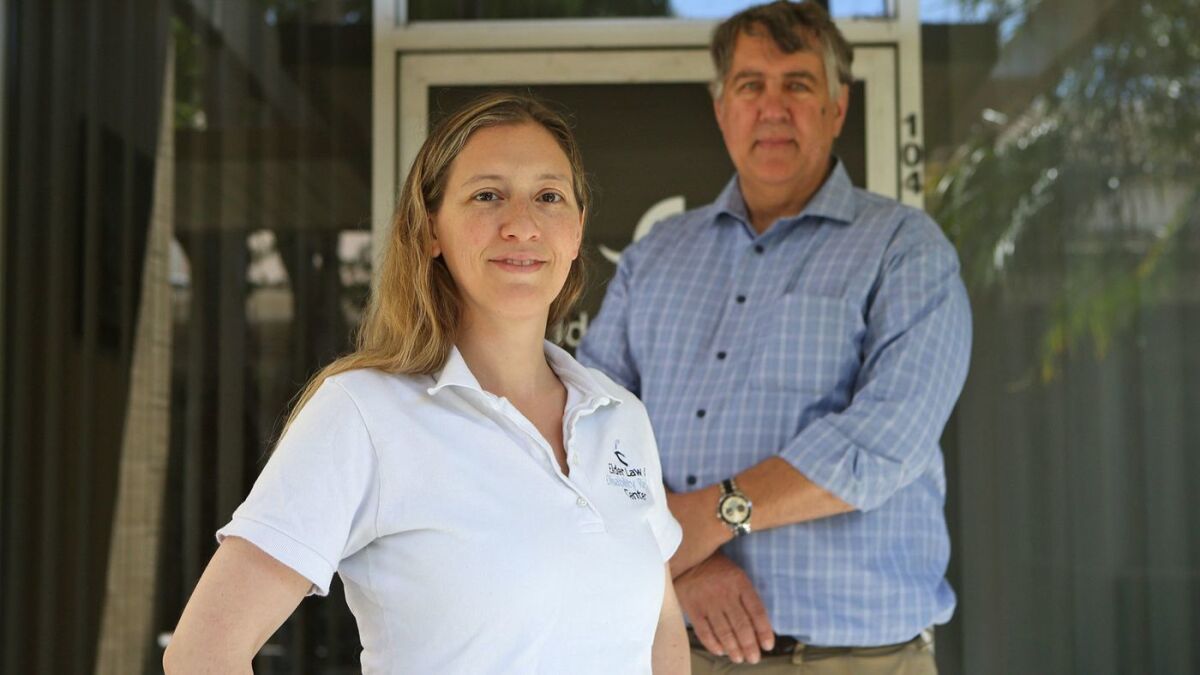 Brooke Weitzman believes the homeless crisis in Orange County is solvable, with the only obstacle a lack of resolve from local political leaders.
"There are places where it's a more complicated issue, where they don't have the land or the money," Weitzman said. "But in Orange County, there's plenty of money and land. The only thing we are missing is the political will."
Weitzman, 35, of Tustin is co-founder of the Elder Law and Disability Rights (ELDR) Center, a Santa Ana-based nonprofit legal service for seniors and people with disabilities.
The firm is always embroiled in a number of homelessness-related cases because seniors and the disabled usually make up a significant portion of that population. Most notably, the firm filed a federal lawsuit in January to try to stop officials from clearing an encampment at the Santa Ana River.
The ELDR Center is comprised of two full-time lawyers — Weitzman and co-founder William Wise, 61, of Los Angeles. The duo moved into a small office in Santa Ana in April 2017 after incorporating in late 2016. Before, they'd been working out of a coffee shop.
The lawyers employ the help of a few volunteers and law students from various universities including UC Irvine and Chapman. There's also a part-time administrative assistant.
Weitzman said their days can start as early as 5 a.m. and end as late as 10 p.m. But the schedule is emblematic of the drive that fuels Weitzman and Wise — who've sworn off the six-figure salaries at more traditional firms.
Weitzman chose to seek a future in law after graduating from high school and working in homeless shelters with AmeriCorps at the 2002 Winter Olympics in Salt Lake City.
She left her New Jersey home to attend UC Irvine School of Law, graduating in 2014.
"I decided after working in the shelters that the way to change things is through the law, not in the shelters," Weitzman said.
UC Irvine's law school tends to steer students toward public advocacy work.
Carrie Hempel, associate dean for clinical education at the school and a former professor of Weitzman's, said Weitzman was legendary for her enthusiasm.
"She has tremendous energy and an ability to think outside the box to come up with creative solutions to legal problems," Hempel said. "She has a deep devotion to public service."
Wise is a veteran of public legal work, having spent about 30 years at the Legal Aid Society of Orange County, a pro bono firm based in Santa Ana. Weitzman spent a few years working at another pro bono Orange County firm, Public Law Center, before the duo decided to go out on their own.
Weitzman said she and Wise took the step after both realized they were turning away a certain portion of the population that couldn't qualify for pro bono work, but also couldn't afford a private lawyer. They felt the answer was the sliding-scale payment plan of the ELDR Center, which caters to the client's income. Homeless clients are not charged.
"We felt we could create this to fill that justice gap," Weitzman said.
Currently the firm has about 60 open cases and still has to turn people away. Their cases deal with elder abuse, end-of-life planning, disability rights and assisting homeless people with citations.
Weitzman said the firm is always on the lookout for federal cases with social implications. The federal homelessness lawsuit involving the Santa Ana River camp is their primary engagement.
In that case the ELDR Center's lawsuit asked for a restraining order so the county couldn't move homeless people from the sprawling riverbed encampment unless there were adequate alternative places for them to go. U.S. District Court Judge David O. Carter granted the order, and then the county and the ELDR Center agreed that the homeless would be temporarily housed in motels.
At the latest hearing on Wednesday, Santa Ana, Huntington Beach and Anaheim agreed to provide 700 new shelter beds.
But, Weitzman said that if the county doesn't live up to its side of the bargain at any time, the firm may ask for a new restraining order or seek a suspension of the enforcement of anti-camping and anti-loitering laws.
Hempel said the lawsuit has been instrumental in forcing local government to face and respond to the homeless crisis.
"Someone had to bring a lawsuit to get the problem addressed," Hempel said. "A case like this takes a lot of dedication, time and energy. I think the [ELDR Center] demonstrated tremendous courage in bringing the suit."
Jordan Hoiberg, of the Santa Ana-based Orange County Catholic Worker, said the group has worked with the ELDR Center on a number of occasions, serving as "on-the-ground people."
The OC Catholic Worker, a homeless advocacy group, is a plaintiff in the federal lawsuit.
"The homeless population is a maligned population, particularly in Orange County," Hoiberg said. "There's a lot of misconceptions that drive this. But, the firm is really filling an important gap."
While dealing with the demanding legal aspects of the job, Weitzman and Wise have been learning how to run their own organization. Weitzman said they were still figuring out how and where to obtain funding. Once they get a handle on the business component, Weitzman said they'll be able to hire staff and grow.
While nonprofit legal work can be strenuous, the duo said they wouldn't have it any other way.
"Of course I would like to pay my bills and live comfortably and not have roommates," Weitzman said with a laugh. "But I went to this law school that taught me how to be a good lawyer. I am in a place where work desperately needs to be done. We aren't trying to be a voice for the people who can't speak, but to make space for their voice. This was always the mission."
Brazil writes for Times Community News.
The stories shaping California
Get up to speed with our Essential California newsletter, sent six days a week.
You may occasionally receive promotional content from the Los Angeles Times.