O.J. Simpson murder case: 'Bloody glove' was key for detectives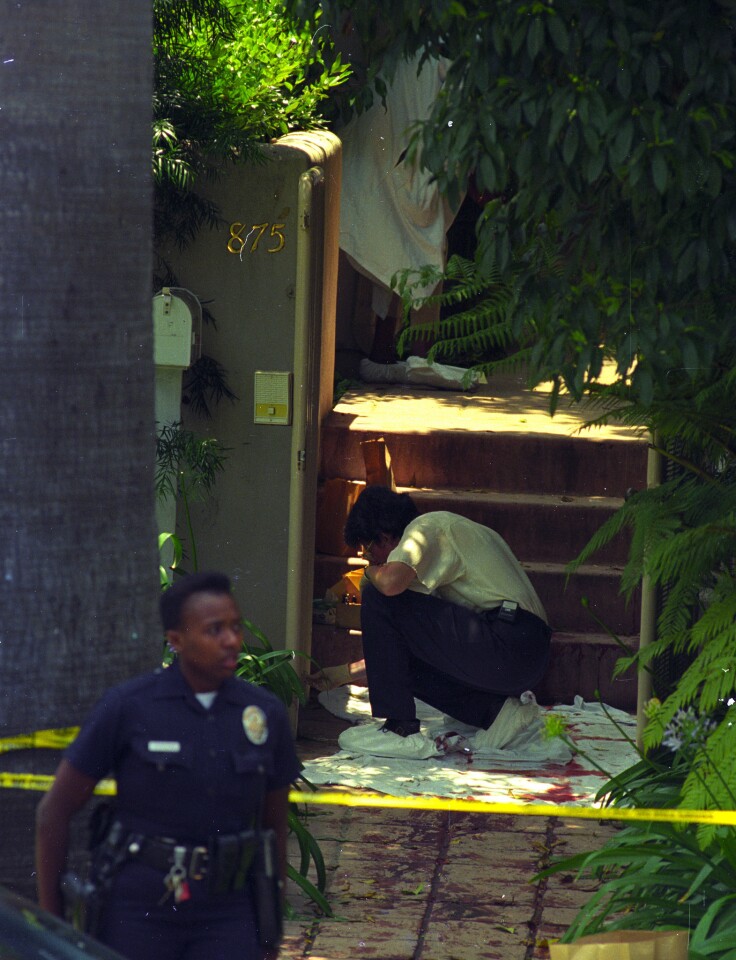 Nicole Brown Simpson's body was found outside her home at 875 S. Bundy Drive in Brentwood. Police examine the area where her body was found.
(Francine Orr / Los Angeles Times)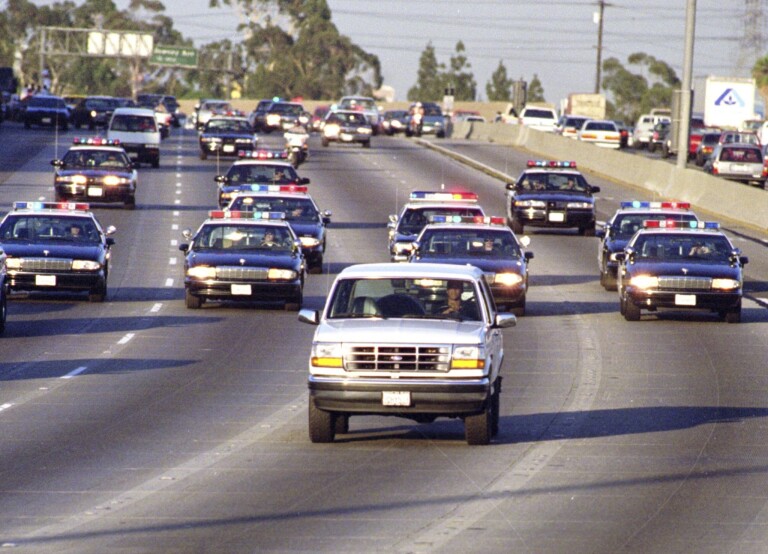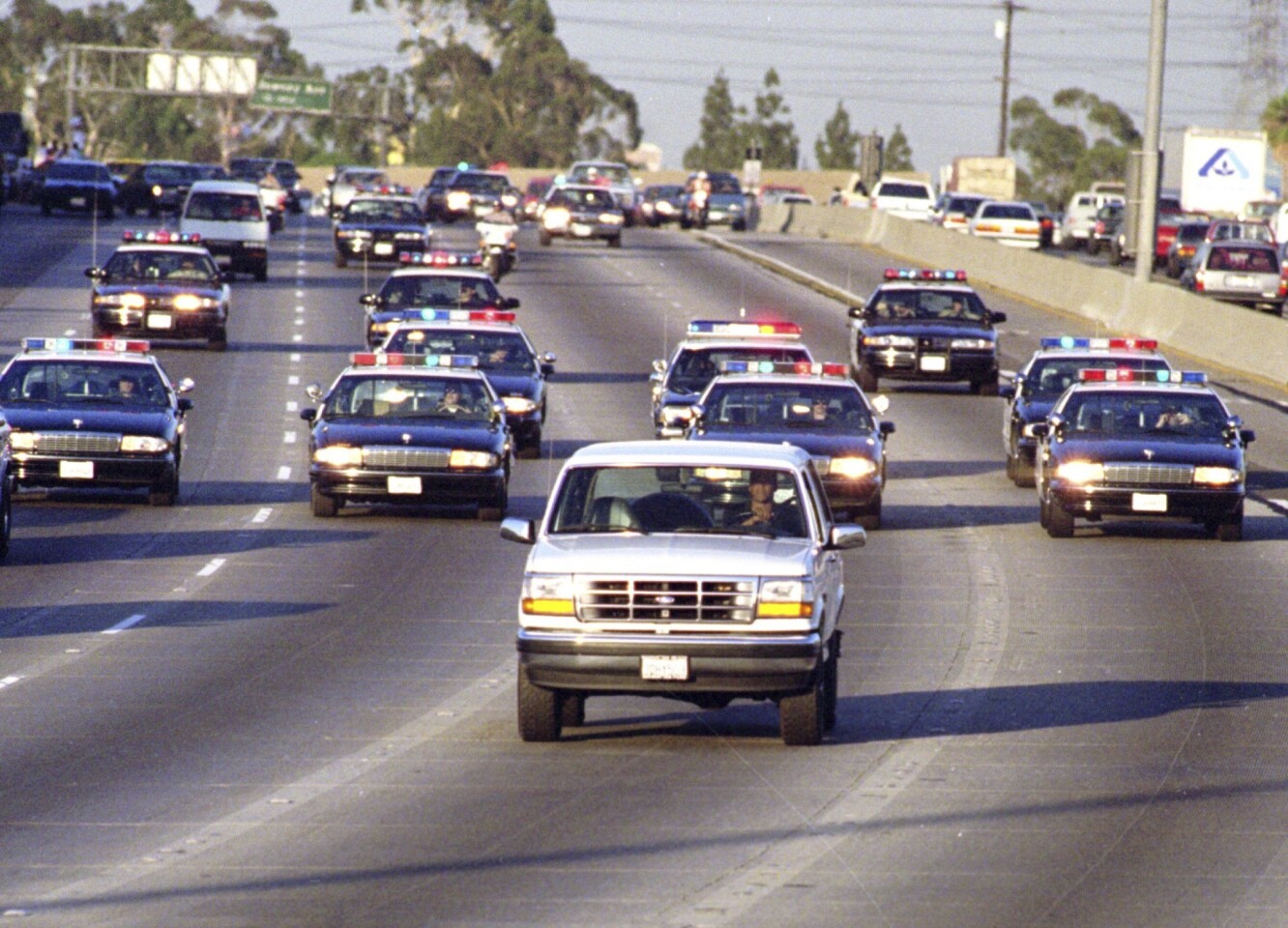 California Highway Patrol units chase Al Cowlings, who is driving the white Bronco, and O.J. Simpson, hiding in the rear, on the 91 Freeway shortly after Simpson was charged in slayings.
(Al Schaben / Los Angeles Times)
Simpson holds up his hands before the jury after putting on a new pair of gloves similar to the infamous bloody gloves during his double murder trial in Los Angeles.
(Vince Bucci / Associated Press)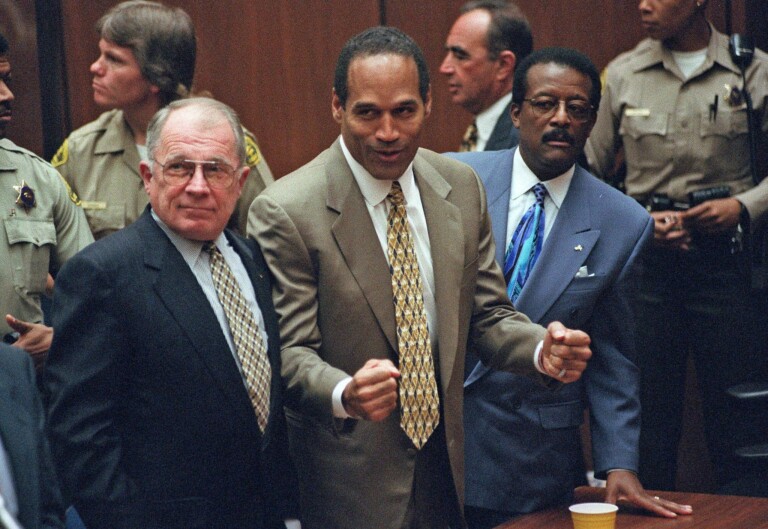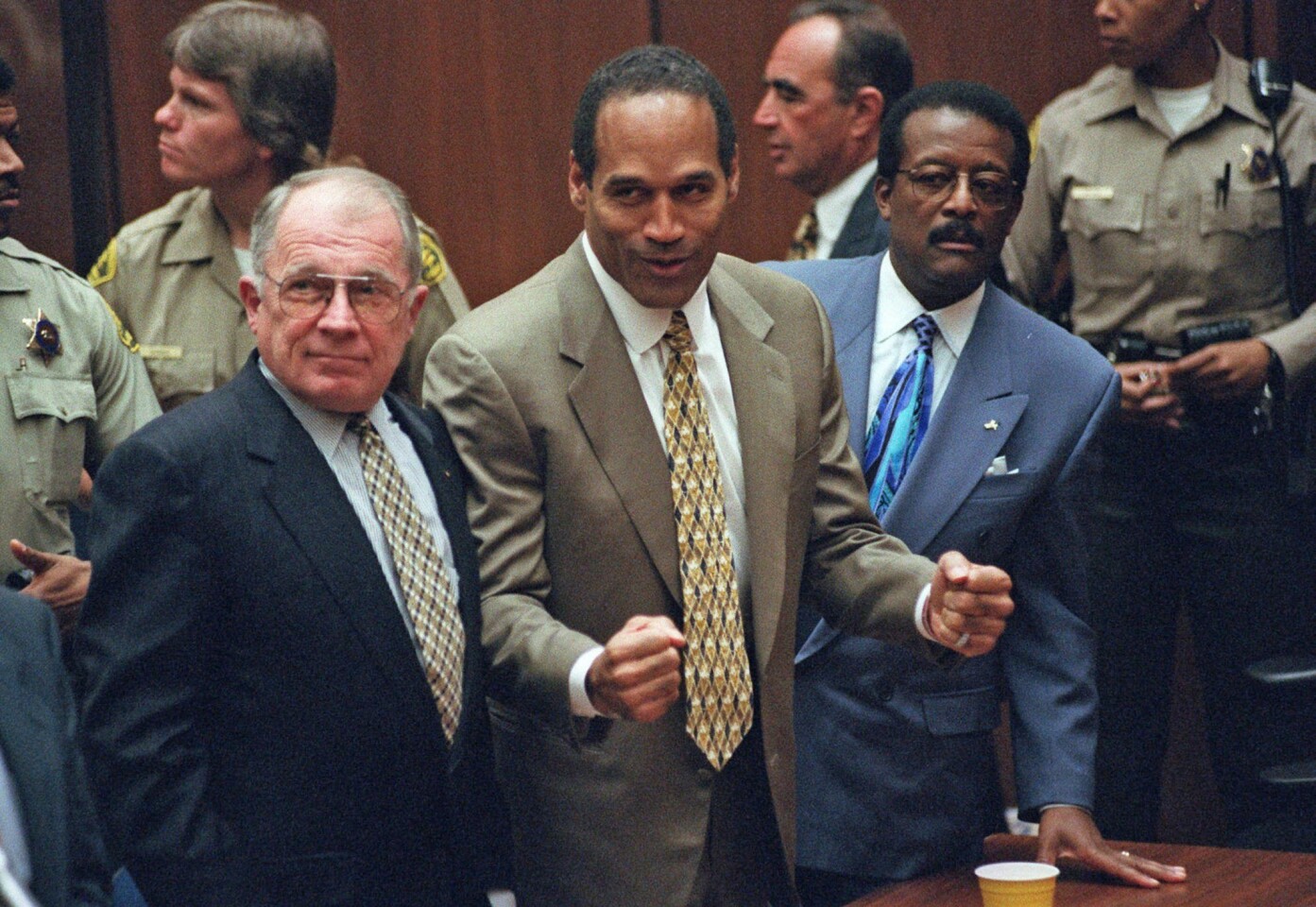 O.J. Simpson reacts in 1995 as he is found not guilty of murdering his ex-wife, Nicole Brown Simpson, and her friend Ronald Goldman. With him are members of his defense team, F. Lee Bailey, left, and Johnnie Cochran Jr.
(Myung J. Chun / Los Angeles Times)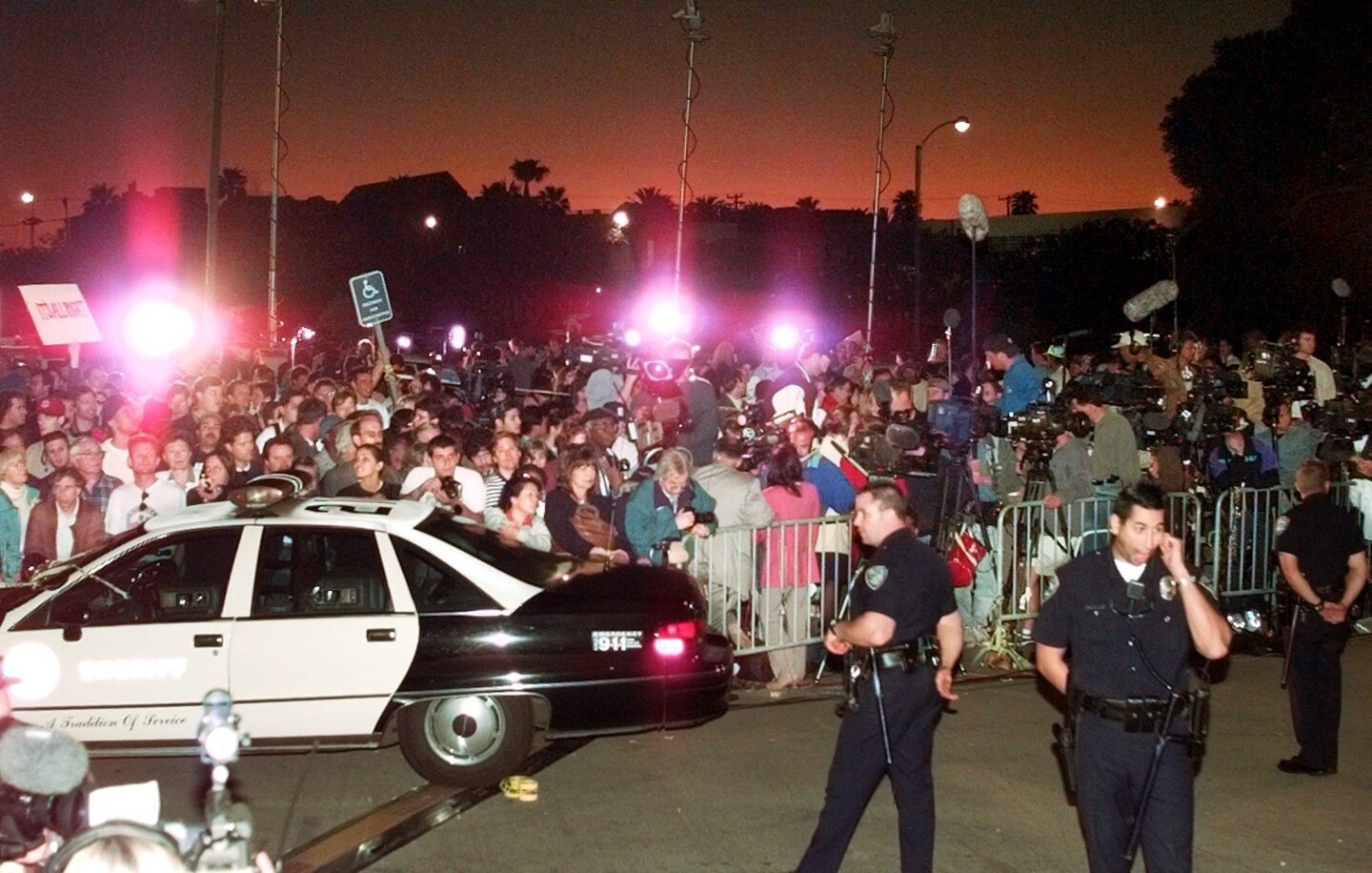 A large crowd gathers outside Los Angeles County Superior Court in Santa Monica to hear the verdict in the wrongful death civil trial against Simpson. He was found liable in the deaths of Nicole Brown Simpson and Ronald Goldman.
(Mark J. Terrill / Associated Press)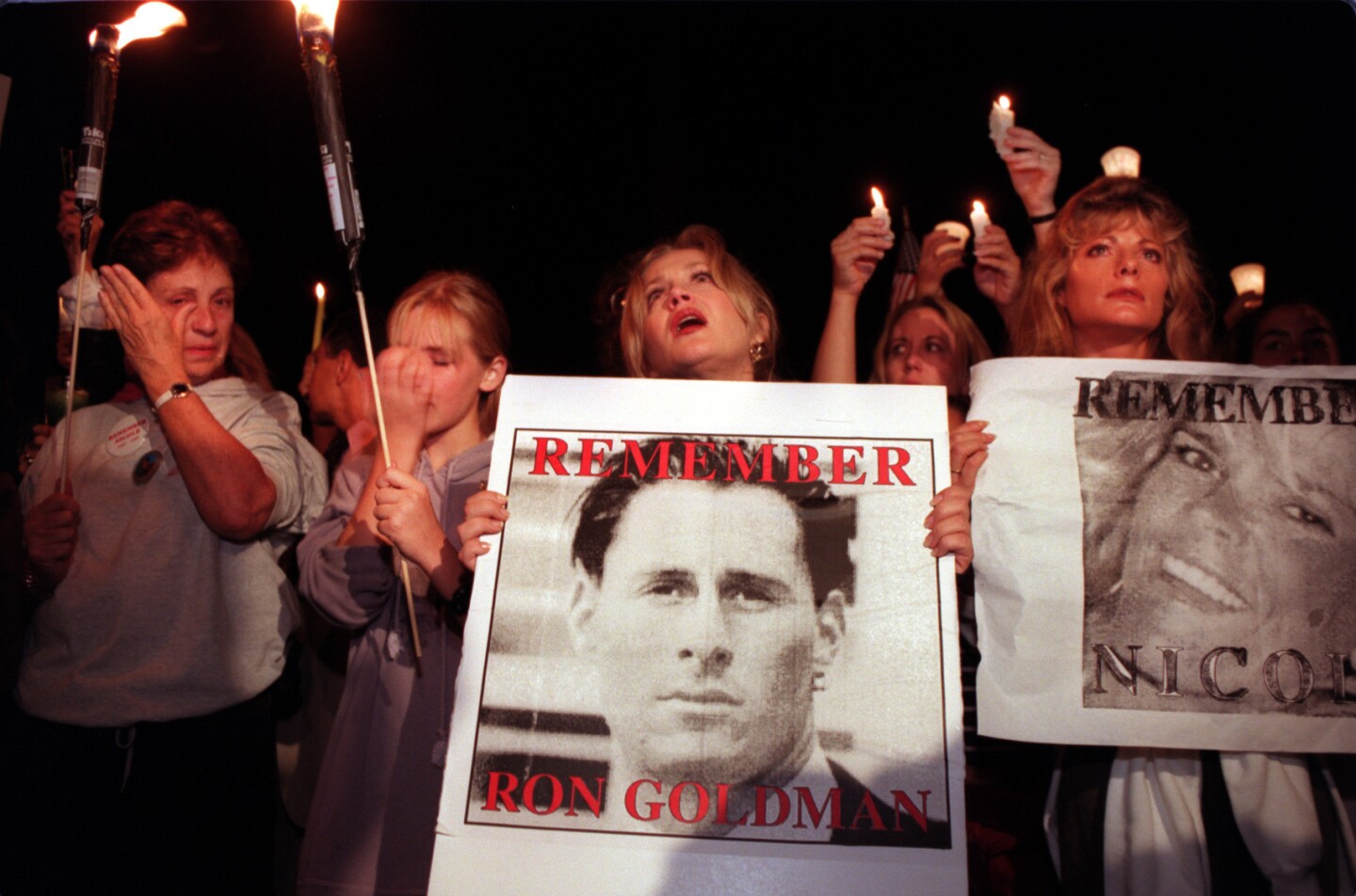 A candlelight vigil is held for Nicole Simpson Brown and Ron Goldman near the murder scene on Oct. 7, 1995.
(Francine Orr / Los Angeles Times)
From the very beginning, the "bloody glove" was at the center of the O.J. Simpson murder case.
And from the beginning, Simpson denied any role in the slaying of his ex-wife, Nicole Brown Simpson, and her friend, Ron Goldman.
The pair were found dead at Brown Simpson's Brentwood condo 20 years ago. That first full day of the investigation was filled with twists and turns.
Bodies discovered
The first Times story on the slaying provided graphic details about the crime scene:
Police said a passerby found Nicole Simpson's body sprawled on the steps of a walkway in front of the townhouse shortly after midnight. Goldman's body was found a few feet away, in shrubbery.
"Sharp-force injuries," such as stab wounds, appear to have played a part in the deaths, but other causes have not been ruled out, said Scott Carrier, a spokesman for the county coroner's office.
The bodies were discovered by a man walking along the sidewalk who glanced up the walkway in front of the townhouse. Police were called and the area was cordoned off.
As dawn broke, neighbors and passersby gathered outside the crime scene.
Denise Pilnak, a jogger who lives nearby, remembered hearing dogs barking shortly before midnight.
"It was nonstop barking," she said. "It made me think something was going on with the neighbors."
Pauli Orchon, 35, a marketing director who lives in the neighborhood, said she was there Monday morning when officials removed the sheet they had been using to cover Nicole Simpson's body.
"She was lying on her side, just crumpled down," Orchon said. "I could see some abrasion to the side of her face. . . . There was a lot of blood on both bodies."
Bloody glove
With sources pointing to Simpson as a likely suspect, the bloody glove emerged as a key piece of evidence:
Los Angeles police said they were not ruling out anyone's possible involvement in the Sunday night slayings of Nicole Brown Simpson, 35, and Ronald Lyle Goldman, a waiter at a trendy Brentwood restaurant. Sources close to the case, who asked not to be named, said the football star was considered a suspect.
However, Simpson's attorney, Howard Weitzman, insisted that his client is innocent.
"He had nothing to do with this tragedy," Weitzman told reporters. "He is in shock."
Although police refused to identify any suspect, a knowledgeable source said a blood-soaked glove believed used during the killings was found at O. J. Simpson's house in Brentwood.
Simpson in handcuffs
On that first day, one of the searing images from the case was Simpson briefly in police custody as detectives searched his house:
Police took the former football star into custody at his house Monday afternoon -- handcuffing him briefly -- before transporting him Downtown to the Police Department's Parker Center headquarters for questioning. Two hours later he was released, and Weitzman said Simpson would spend the night at the home of a friend.
"No one has said to me that he is a suspect," Weitzman said. "No one has said to me that he could be or would be charged with a crime. . . . I don't believe that O. J. would even contemplate doing something like this, to Nicole or any other person."
One source close to the case said Simpson's release was "a temporary thing." The source said an arrest was being delayed until forensic tests are completed.
Chicago connection
Simpson's supporters immediately questioned whether he had anything to do with the slaying, noting he found out about it while in Chicago:
When Simpson had gone to Chicago was not clear, although Weitzman said his client took a "red-eye" flight sometime in the "late evening" on Sunday.
Pete Phillips, general manager of the O'Hare Plaza Hotel near Chicago's O'Hare Airport, said Simpson checked into the hotel at 6:15 a.m. CDT, which meant he could have taken any of at least three flights that left Los Angeles after 11:30 p.m. Sunday.
Phillips said Simpson had made a reservation three to five days earlier, and he showed up "just about the time" his reservation had indicated.
The hotel manager said Simpson told him that Hertz, the auto-rental company for which the former football player has long been a spokesman, was holding "a function" in Chicago. "He was in here to talk to the people and play a little golf," Phillips said.
Los Angeles police said they telephoned Simpson Monday morning and asked him to return home. "He was in Chicago when we contacted him," Lt. John Dunkin said. "Where he was last night is something we don't know."
Simpson checked out of the hotel about 8:30 a.m. CDT.
"He asked the desk clerk to get him a taxi," Phillips said. "He was in a hurry to get to the airport."
The manager said Simpson was so upset that he cut into a line of other guests waiting to check out and demanded service.
"He wanted to go right now," Phillips said.
Chicago police arrived about an hour later and searched Simpson's room, taking unspecified hotel property with them when they left.
Meanwhile, Simpson took a late-morning flight back to Los Angeles. Shortly after he reached his luxury home in Brentwood, police went to the house.
Power couple
The Times also wrote about Simpson and his wife. She had accused him of domestic violence.
Whether at star-studded parties, trendy clubs or just shopping at neighborhood boutiques in Brentwood, O. J. Simpson and his ex-wife, Nicole Brown Simpson, were a couple that grabbed attention.
Fit, attractive and accustomed to expensive cars and lavish lifestyles, the former Laguna Beach residents were strong-minded and witty people who seemed to command a room, even during a stormy marriage and fitful attempts to reconcile, friends said.
The former football great and the athletic Nicole Simpson, who divorced him in 1992, were seen together frequently during much of the last year as they made what appeared to be a sincere attempt to reunite, especially on O. J.'s part, friends said. But Nicole Simpson--who was killed late Sunday night outside her home--apparently told Simpson in recent weeks that they could not hope to resolve their differences, police sources said.
"They were definitely courting each other again," said one friend, who declined to be named, recalling times when the couple were seen at popular Brentwood restaurants and at the Brentwood Mart, a mall of shops and eateries on 26th Street. In addition, they had begun sharing more time together with their two children--Sidney Brooke, 9, and Justin, 6--the friend said.
"They were very visible. . . . He had the highest regard for her, and for her as a mother," the friend said.
---
The stories shaping California
Get up to speed with our Essential California newsletter, sent six days a week.
You may occasionally receive promotional content from the Los Angeles Times.