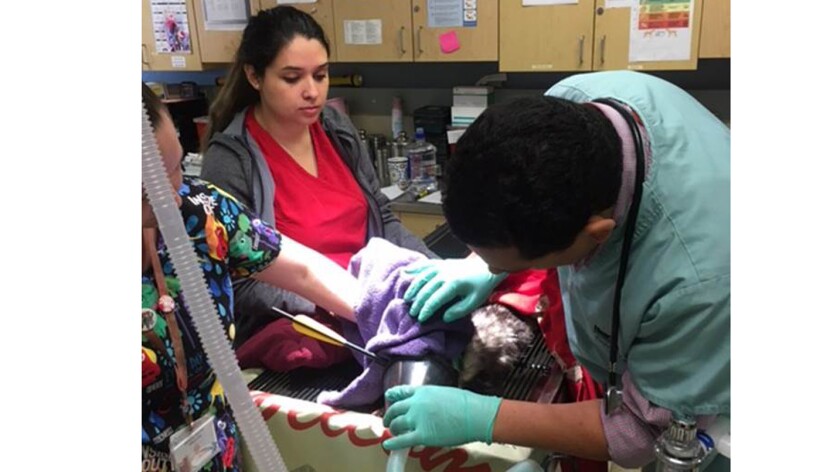 Riverside County Animal Services is looking for the person who shot a male opossum in the head and body with arrows and left it for dead in a La Sierra neighborhood. The department plans to send letters to residents and advise them about the incident.
"To do this is just sick," spokesman John Welsh said. "The animal was suffering and in a lot of pain."
See the most-read stories this hour >>
The officer who found the opossum took it to the Western Riverside County/City Animal Shelter in Jurupa Valley, where it underwent surgery to remove an arrow from near its right eye and another arrow from the right side of its body.
Animal Services Sgt. Cynthia Lee said the animal was alert and grabbing at the arrow in vain as it tried to remove it.
The critter's lung tissue was damaged, but it is expected to survive the injuries, officials said.
Veterinary staff affectionately nicknamed the opossum "Robin."
The opossum will later be transferred to a rehabilitation facility so it can transition into the wildlife.
"No animal, whether it's a domesticated dog or cat, or a part of our wildlife, deserves to be treated in such a cruel manner," Animal Services Director Robert Miller said in a statement. "Anyone who has any information about who might have done this are encouraged to contact us. This is a sick act."
For breaking news in California, follow @VeronicaRochaLA
ALSO
Kia dancing hamster pleads no contest in disability fraud case
1 dead, 1 injured after fire rips through Norwalk home
More than $4,000 in church donations stolen from Boyle Heights parishioner
---